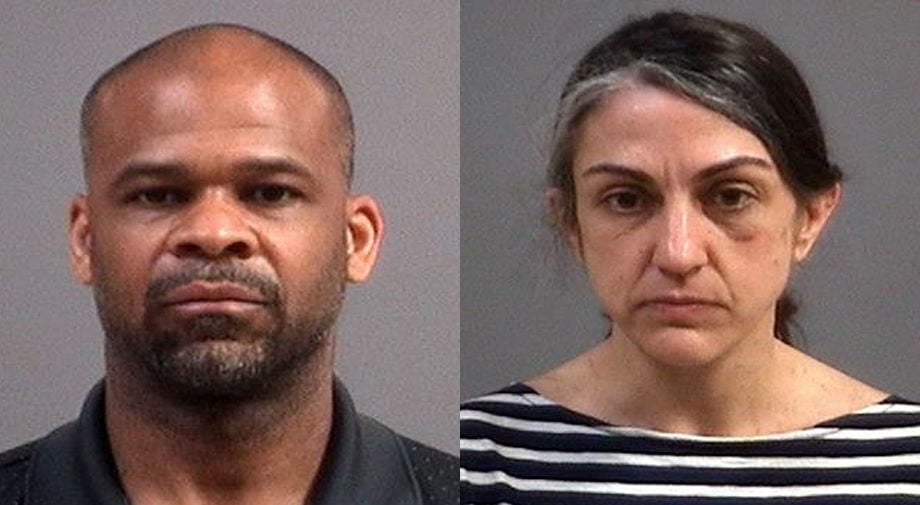 The parents of a Chesterfield County child whose body was found in a freezer at the family's home have been charged with conspiring to conceal the body as police continue to investigate what caused the boy's death. The child, who was under the age of 5, may have died more than two years ago.
The parents, Kassceen Weaver, 49, and Dina D. Weaver, 48, also were charged with failing to render medical aid to the child — identified as Eliel Adon Weaver — after investigators discovered his remains May 4 at the family's home in the 6400 block of Lookout Point Circle near Woodlake, county police said.
Kassceen Weaver also has been charged with physically concealing the body. Court papers indicate he wrapped the child and placed it in the freezer about two years ago. He also faces charges of domestic assault and maliciously wounding his wife, who according to court papers was manipulated by her husband and suffered years of abuse.
According to a criminal complaint filed in Chesterfield Juvenile and Domestic Relations Court, a brother of Dina Weaver called police on May 4 "about concerns he has with his sister in a domestic violence situation."
The brother told police that her sister had stopped having contact with the family until about two years ago, when she started speaking with her brother during her work hours. She advised that she does not have her own vehicle and her husband does not allow her to have a phone.
"She calls [her brother] from work where she is a pharmacist to be able to speak with him, and her husband is not aware," according to the complaint filed by police.
In a conversation with police at Rite Aid, where she was employed, Dina Weaver described situations of domestic violence where her husband would tie her up with an electrical cord and burn her with a curling iron, according to the complaint.
Dina Weaver also spoke to her brother about her "deceased son," and during a detailed conversation on May 3, she said the boy died "two years ago." She said her husband "had wrapped up his body and placed it in a freezer in the garage; the remains were still to be [found] on the scene," the complaint says.
Further, Dina Weaver told her brother "that police were not called for [the boy's] death due to his body having bruising," the complaint says.
When detectives went to Dina Weaver's place of work she initially denied any domestic abuse, "but later admitted that for the past 5 years, Kassceen had been acting erratic and she was concerned for her wellbeing," according to the complaint.
The complaint also notes that during the execution of a search warrant on the family's home, investigators recovered "extensive written documents," some written by Kassceen Weaver and some written by his wife.
"The documents showed a detailed history of grooming and manipulative behavior from Kassceen, detailing how and what Dina was allowed to do," the complaint says.
Police on Wednesday said they received information May 4 that the remains of a child may be located at the Weaver family's home, but they declined to say who provided the tip. An investigation was commenced and investigators obtained a search warrant for the residence.
In a freezer inside the garage of the house, detectives discovered human remains, which were transported to the state medical examiner's office for identification and determination of cause of death. The medical examiner confirmed the remains are those of the child, whose precise age at the time of death has yet to be determined.
The medical examiner is still working to determine Eliel's cause and manner of death.
"This is definitely a very unique death investigation," Maj. Michael Louth, commander of the department's criminal investigations bureau, said Wednesday. "There were so many unknowns, and so many things that had to be done differently than a normal death investigation."
"One of the obstacles that we have in this, is that we have the human remains of a child that we estimate has been in the freezer a year and a half to two years," Louth said.
Louth said the state medical examiner's office "had to bring in some specialists — forensic anthropologists — to determine a way to 'thaw' those remains out so we didn't lose anything, or do any damage to the remains, so we'd still be able to determine whether there was anything of evidentiary value. So this was a very slow process ... and took a long time to do it properly."
Louth said investigators also had to make certain whose remains were in the freezer. "While we believed it was the child of Mr. and Mrs. Weaver, we still had to verify it. We had to do some DNA testing to verify that it was Eliel. So that took a little bit of time, too."
Louth said investigators "took many things from the house," such as phones, computers and documents as part of their investigation. The search warrants and police affidavits used to obtain them have been sealed by the court until Aug. 5, a circuit court clerk said Wednesday.
Court papers indicate the child's body may have been concealed in the freezer longer than the two years that Louth noted. The dates of offense listed in copies of the arrest warrants says the concealment occurred sometime between Jan. 1, 2016, and Dec. 31, 2018.
Kassceen Weaver and Dina Weaver have been released on bond. They are the child's custodial parents. Police said they have confirmed through DNA testing that Dina is Eliel's biological mother; investigators have not yet confirmed whether Kassceen is his biological father. They have another child, about 10, who had also lived at the home, a court record says.
According to court papers, Kassceen Weaver has lived in the community for 30 years, has no prior criminal record and is self-employed in the construction industry.
Attorney Ali Amirshahi, who represents Kassceen Weaver, declined to comment on the case for now. Greg Sheldon, an attorney representing Dina Weaver, said his client's bond was modified to allow her to leave Virginia.
"She is staying with family out of state at this time," Sheldon said in a text message. "She's never had any legal issues before and has always worked as the sole financial provider for the family."
The Weavers are scheduled to appear in Chesterfield Juvenile and Domestic Relations Court on Aug. 5.
Police said their investigation is continuing and anyone with information should contact the department at (804) 748-1251 or Crime Solvers at 748-0660.