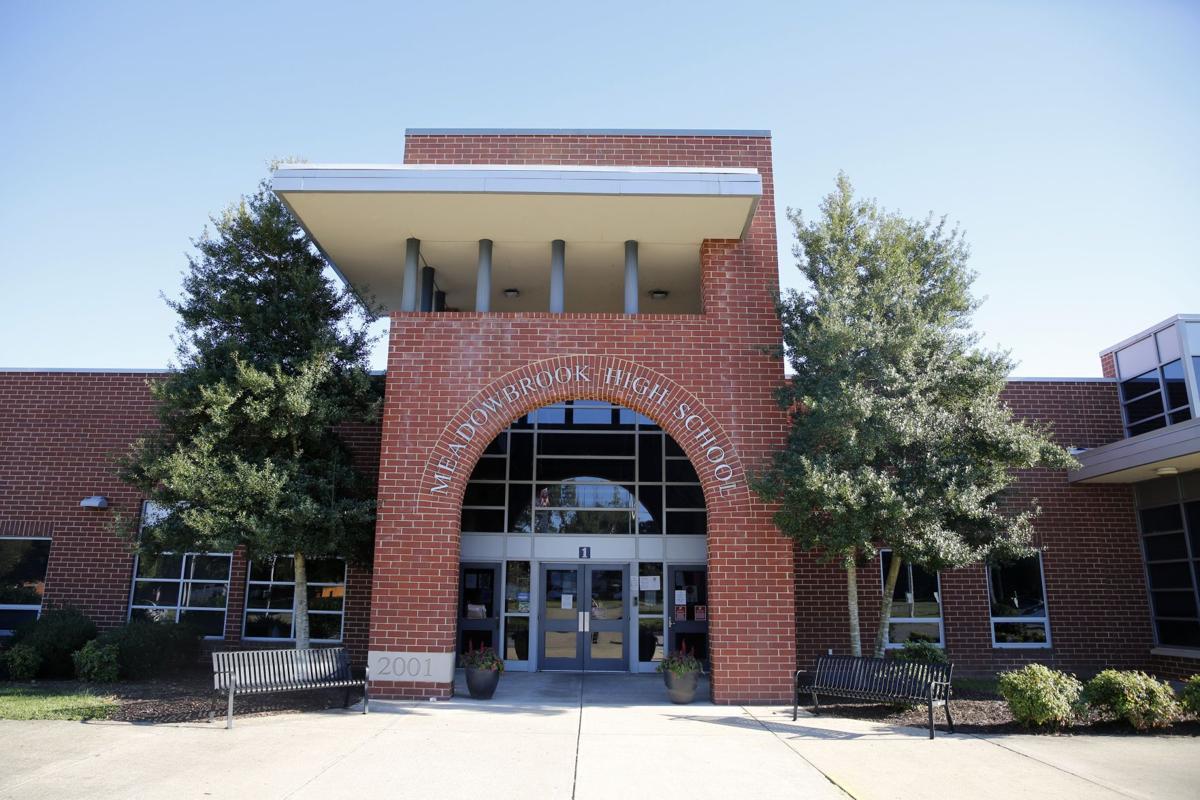 Three Meadowbrook High School students have been charged with assaulting a school resource officer during a brawl inside the school last month in which, according to police, the officer used his body to shield a student who was being attacked by a mob. A fourth student has been charged with assaulting a school administrator during the same series of fights, police said.
The students, ages 14, 15, 16 and 17, were charged in juvenile petitions in connection with the Sept. 23 fights at the school, which required multiple school resource officers and roughly 20 outside police officers to bring under control. Police identified at least 13 teenagers as being involved in the fights, which police said initially started over a girl. The school briefly was placed on lockdown until the violence was quelled.
The three teens accused of assaulting the officer have been charged with felonies and will go to court. The teen accused of assaulting the administrator was charged with a misdemeanor, but she was placed into a diversion program and will not go before a judge, said Chesterfield Chief Deputy Commonwealth's Attorney Jennifer Nesbitt. The teens were not identified because they are juveniles.
Police arrested a fifth person, an 18-year-old who doesn't attend Meadowbrook. Police said their investigation shows that he came to the school with others to pick up some juveniles who had been involved in an earlier altercation. But when he learned that one of those juveniles was at that moment involved in an altercation, he left the school office and joined the fight. Police said he ignored repeated verbal commands to stop fighting.
He was charged with two counts of assault, obstruction of justice, disorderly conduct and trespassing.
In a Facebook post the day after the fights, Chesterfield Police Chief Jeffrey Katz noted that Anthony Bowen, a school resource officer, was assaulted while using his body to shield a young man being attacked by a mob. The officer was struck several times in the process, Katz said.
Katz posted a screenshot of the officer on the ground with his back to the camera. The image was taken from a cell phone video of the fight that was posted on social media. The video shows students, police officers and at least two school staff members in the midst of fights in a school hallway.
"The officer conducted himself bravely, selflessly and without regard for his own well-being," Katz wrote. "That's how our people are expected to perform and with rare exception, that's how we conduct business. We are human, and we often work within challenging conditions, under great stress and with incomplete information."
"I'm proud of this officer, thankful for his service and want to make it known exactly why I remain committed to ensuring our children remain safe within their learning environments," the chief added.
Katz also used the opportunity to address the role of school resource officers in public schools, which in some school districts is being reexamined, including Richmond, where Superintendent Jason Kamras has said he doesn't believe police belong in schools.
"Reasonable people can disagree about the role of officers in school," Katz wrote. "However only an unreasonable person can make the argument that students are safer in schools when officers are removed from assignments where they can build relationships with the youth in our community and come to the aid of others when threatened with violence."
In Alexandria last week, the superintendent of public schools and some parents pleaded for the return of school resource officers in Alexandria schools after a series of incidents involving guns, according to a story published in InsideNova.
"I'm pleading with our city council this evening that we reinstate our school resource officers immediately. We cannot wait for extended conversations about this matter as this situation has really escalated," Superintendent Gregory Hutchings Jr. said during a joint committee meeting with City Council and School Board members, InsideNova reported.
Hutchings noted that a student brought a gun to Alexandria High School on Oct. 6, and separately, a student was shot at nearby McDonald's in late September. A parent who said his son was recently beat up at school told the gathering that "innocent kids are getting assaulted on a daily basis," according to InsideNova.
In May, against the wishes of the School Board, Alexandria City Council voted to eliminate $789,909 for the SRO program from the city's 2022 budget. The money was redirected to fund more mental health therapists, a human services specialist, a mentoring partnership and an additional public health nurse, InsideNova reported.