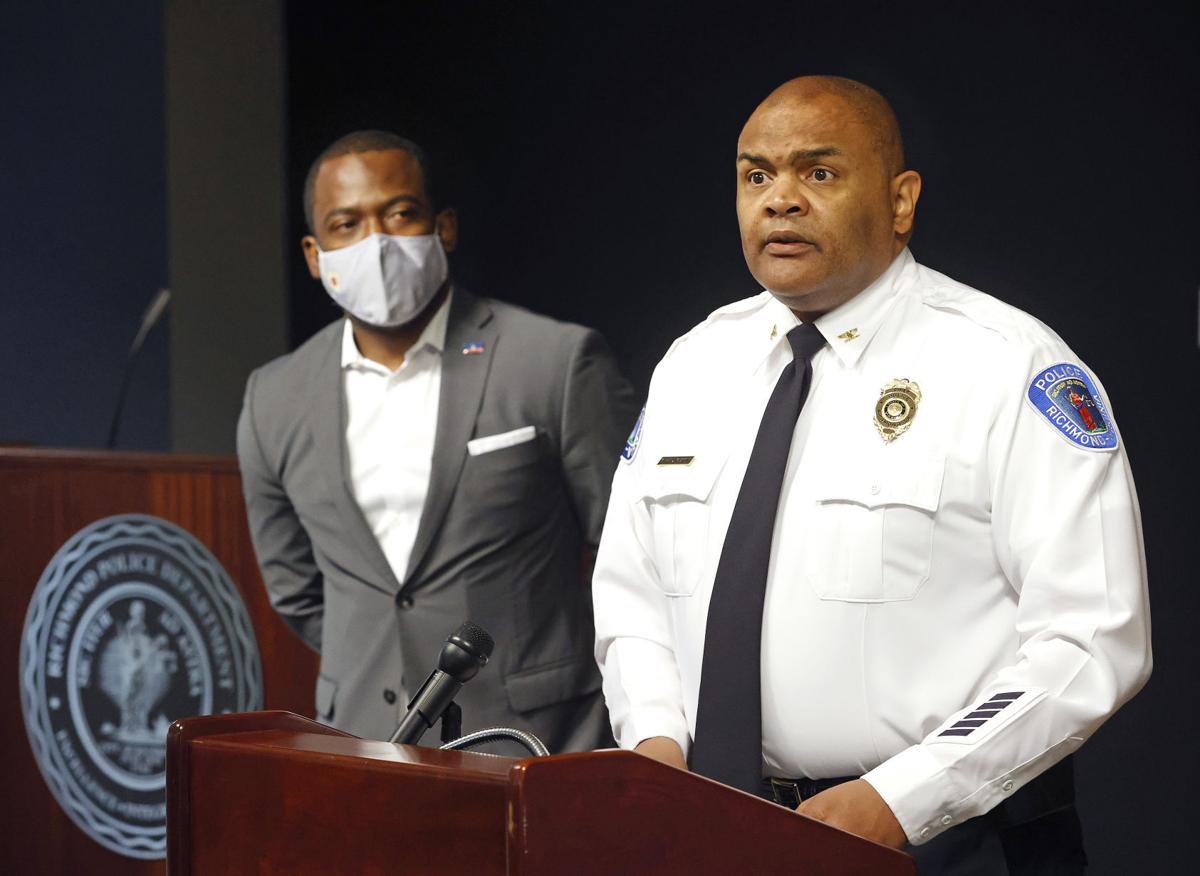 The task force working to establish a plan for independent oversight of Richmond police by Aug. 31 got its first look at the department's inner workings last week, but also saw one of its nine members resign.
Top police brass, including Chief Gerald M. Smith, detailed the department's internal investigation, disciplinary and grievance processes and answered questions for two hours Wednesday night, to thanks from task force members who initially struggled to bring police to the table.
While the presentation lacked data to show how effectively the department's internal system holds officers accountable for misconduct, task force members were armed with some details needed to scrutinize an agency critics say over-polices Black and brown communities.
Instead, the panel found itself focused on its own governance following a public critique of members' behavior.
"I just want to remind us why we're here," said Kalia Harris, a co-executive director of the Virginia Student Power Network who organized and participated in many of the protests during last summer's uprisings. She has sat in on most of the task force meetings, including Wednesday's, and spoke during the public comment period near the end.
"I'm concerned by some of the behavior of task force members on this committee," Harris said. "I've seen macroagressions happening to Black folks on the task force throughout the entire meeting, and talking over Black women the entire time so that questions weren't able to be answered.
" ... Spending over 30 minutes thanking the police doesn't help build community and trust with folks who have been victimized by them," she continued. "We need you all to be critical, asking questions that we are not able to get the answers to except in this space."
Her comments sparked a debate that ended in the board establishing a five-minute time limit for speaking and prompted an argument involving task force member Erik Nielson, a University of Richmond professor whose research focuses on hip-hop culture and African American literature.
Nielson, a white man who drew criticism for speaking over Black women, ultimately resigned and credited his decision to concerns he'd raised "that this body does look too blatantly anti-police."
"We're fighting for the same cause and not against each other," task force member Teenora Thurston said at the end of Wednesday's meeting. "We need to focus on the big picture."
Interim Council Chief of Staff Joyce Davis said the group can move forward with its work, developing recommendations about the form and function of a civilian review board, so long as it maintains a five-member quorum.
Last July, in the midst of near-daily protests calling for police reform in the wake of George Floyd's death in Minneapolis, the City Council approved an ordinance establishing the task force, but then took months to approve its members. The task force first met March 15, two weeks after the initial deadline set in the council ordinance.
The only power the council mandated that the eventual board must have is to subpoena officers or civilians to testify. Otherwise, the nine-member task force can recommend how the board should investigate officer misconduct and potentially dole out punishment.
Police presented the task force Wednesday with how that process currently happens internally. The department's Internal Affairs Division's goals are to "impartially investigate all complaints of alleged employee misconduct, equitably determine whether the allegations are valid or invalid and take appropriate action," said Capt. Jason Hudson, who leads the division.
Examples of complaints fell under several categories: criminal offenses such as excessive use of force or domestic assault; traffic offenses; code of conduct violations like discourtesy, disrespect or lying; human resources complaints including sexual harassment or hostile work environment; and violations of body-worn camera, social media or other policies.
Internal Affairs investigates only serious violations — Hudson didn't explain what is considered "serious" — and cases where an officer or employee has a history of similar complaints. Otherwise, he said complaints of rudeness, harassment, improper or unlawful arrest, failure to take action, and minor code of conduct violations are referred back to the "service area," the chain of command that supervises the accused officer.
Criminal investigations are initiated if an officer or employee is believed to have broken the law and may lead to prosecution and jail time, he said.
An administrative or fact-finding investigation is prompted if departmental policies or procedures are believed to have been violated, and could lead to internal discipline and/or corrective action. Administrative investigations typically follow criminal ones in more serious allegations, like instances of deadly force.
Investigations should be resolved within 45 calendar days, Hudson said, but added that extensions can be granted.
As of May 31, the department had received 25 complaints — only two of which have been resolved, according to the most recently monthly report available on the department's website. One complaint was not substantiated, meaning the evidence could not prove or disprove the allegation.
A second was substantiated, which means the allegation is true. The report does not indicate whether the officer was punished.
In 2020, Internal Affairs investigated 84 complaints, down 23% from the 109 it investigated in 2019, according to its annual analysis, which is also posted on the department's website. Less than half were substantiated or found improper action was taken by the officer, and 29 of the 84 remained open by the end of 2020.
Capt. Marty Harrison, who heads the department's disciplinary review office, said that once an investigation is complete, his office reviews it and, if necessary, recommends discipline — in the form of reprimand, suspension, reduction in pay, demotion, up to termination — and/or corrective action, such as counseling, training or a performance improvement plan.
The office's recommendation then goes to the chief, who can approve or recommend more or less punishment. When asked how often he exceeds or lowers the recommendation, Smith said he couldn't say but promised to provide the data. He said he wasn't sure what that would prove, since it won't show what the actual punishment was or the reasoning behind the decision.
"This is largely an issue with police data generally, that we can't necessarily understand the nuance," said Eli Coston, co-chair of the task force who worked with a group called Richmond Transparency and Accountability Project that pushed the department for years to publicly post this complaint data, as well as use-of-force data. "In terms of a CRB, those things are more accessible, the reasoning is more accessible."
Harrison said his office also "ensures uniformity and consistency within disciplinary process," which has been a frequent talking point against civilian boards, which have rotating members who may hold officers to differing standards. A disciplinary matrix was shown that assigns punishment based on the level and number of offenses; it did not delineate which offenses fall under which level.
The 2020 Internal Affairs annual report, which is posted on the department website, includes a graph of the "top 25" officers with the most complaints that year: One officer had four complaints or investigations; six officers each had three; and the remaining 18 had two complaints. It's unclear if more officers outside of the 25 had two complaints.
An "early intervention tracking system" tracks "possible patterns of undesirable behavior" if an officer has three significant incidents within six months, Hudson said.
Significant incidents include complaint investigations, vehicle pursuits, police vehicle crashes, discipline imposed, officer injury, use of force, and missed court, according to the presentation.
But the presenter didn't say how often the system rooted out problematic behavior.
A member of the public asked how many officers reach a third offense. Police officials couldn't immediately say.
"If the CRB does, in fact, have final disciplinary authority, some of the investigatory procedures may look very similar to the IA process, however the investigations themselves would be carried out by independent investigators," co-chair Coston said in an emailed response to questions. "If Internal Affairs still wanted to investigate or review, I don't think anything would prevent that, but officers couldn't be held to dually-imposed disciplinary procedures."
Task force member Oliver Hale, who just graduated from St. Christopher's, said in an email that his understanding is that a CRB would not replace the current internal process, "but would work parallel and independently of it. Whether the CRB simply reviews internal decisions, or makes its own binding decisions has yet to be decided. However, it's considered best practice for civilian oversight to have binding power, and not just make recommendations."
He agreed with Coston that some work would be duplicative.
"That's a natural consequence of civilian oversight, but there are ways to minimize that," Hale said. "I imagine this discussion will be a difficult one when we get to it, as it strikes at the heart of the power balance that is at stake."
(804) 649-6527
Twitter: @AliRockettRTD