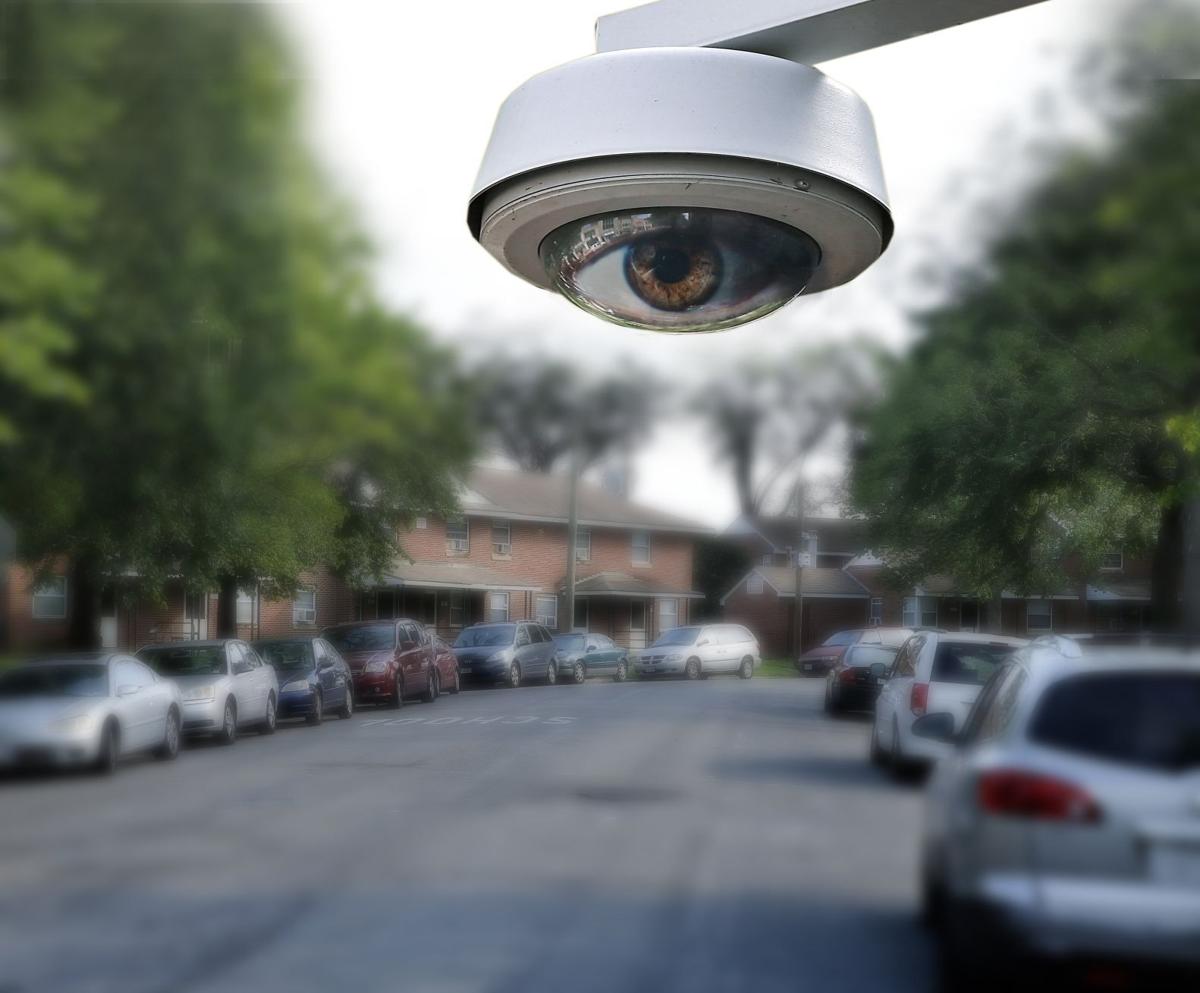 Richmond police plan to install cameras that capture every license plate that passes in neighborhoods where mostly Black and brown populations live or frequent.
Police say the license plate readers are a crime-fighting tool that will enable them to find stolen cars, wanted individuals or suspects fleeing from crimes that occurred in the area, assuming they are in a vehicle with a tag. But critics call them invasive and another method of surveilling neighborhoods that are already over-policed.
The department said it plans to install readers in Shockoe Bottom, a district of downtown where clubs and bars cater to a largely Black clientele at night, though census data shows only 24% of area residents are Black; Southwood, whose census tract data says the area is 48% Hispanic and 38% Black; and Richmond Redevelopment and Housing Authority properties, which are largely Black neighborhoods; among other locations. Police later added that the locations weren't finalized.
"Following crime trends, input from officers, precinct leadership and command staff, and after several site surveys throughout the city, it was identified that these areas would benefit from the utilization of the license plate readers regarding criminal activity," the department said in an email in response to questions from the Richmond Times-Dispatch.
In an RRHA meeting last month, a similar justification, to solve and deter violent crime, was provided. In that meeting, it was reported that, compared to last year, shootings and homicides were down across RRHA's six largest properties, which are Gilpin, Creighton, Mosby, Fairfield, Whitcomb and Hillside courts. Residents of the census tracts that include every court but Hillside are over 90% Black. The tract that includes Hillside, in South Richmond, is 84% Black.
"The use of technology, such as LPRs, helps to more narrowly focus investigations as opposed to casting a wider net," said Richmond Police Chief Gerald M. Smith in a statement. But the department didn't go into further detail about how they will be used, or who will have access to the data.
Last month, Brian Swann, director of public safety for RRHA, told the Property Management Committee that RPD would be installing three or four of the cameras across the six courts. Police and Swann said the devices can be moved as needed. Swann said the license plate readers would help solve shootings and other violent crime that occur in their communities — though he added that crime was down across RRHA properties, but up citywide.
As of Aug. 4, homicides were down 9% in RRHA's six biggest housing projects compared to same period last year, according to police data. Twenty-seven people have been shot in RRHA communities, which is down 43% over last year. Citywide, those figures, for homicides and people shot, had increased 25% and 11%, respectively.
In Shockoe Bottom, violent crime is up 114% year-over-year, police data shows. But the figures are inflated because of the low number of total crime there. So far this year, there have been two homicides and four people injured in shootings, compared to one homicide and one person shot last year.
Violent crime has risen in the Southwood neighborhood this year, according to police data. One person has been killed and four have been shot so far this year, where there had been no homicides or shootings there at this point last year.
If police do want to install a license plate reader inside the Southwood apartment complex, which is private property, the department would have to seek permission from the owners. They have not done so yet.
Yohance Whitaker, an organizer with the Civil Rights & Racial Justice Program at the Legal Aid Justice Center in Richmond, said the police have not been transparent with these communities, all of which are being criminalized in order to find a few bad actors.
"Policing and criminalization work hand and hand," he said.
Increased surveillance sends a clear message, Whitaker said: "Police are ever present and always watching — it's a constant reminder not to step out of line."
A RRHA spokeswoman said in an email that agency leadership and RPD made the Richmond Tenant Organization "aware of the installation of LPR's, their purpose, benefit and status regarding installation," and some individual residents were informed. When asked whether any privacy concerns were raised, she said the overwhelming concern was seeing a decrease in crime and violence.
But the RRHA residents Whitaker talked to "are generally opposed to increased surveillance," he said. "They do not trust that RPD will use these in ways that are for the betterment of the community."
"Who asked for this? Folks who live in Gilpin have been asked for the Calhoun Center to be opened, and after-school activities for youth," Whitaker said. "Not license plate readers."
Barrett Hardiman, who sits on the agency's Board of Commissioners, raised concerns about the use of this technology for minor infractions or as a pretext for more invasive stops.
"We need to be cautious and direct with the police department that we're not just open for surveillance," Hardiman said in the July 14 committee meeting. "We don't want to create a police state in our neighborhoods. We want our residents to feel safe, but we can't make them feel like they are just being monitored constantly. It's an intrusion.
"We need to understand if they're effective and, if they're not effective, we need to take them out."
In an interview after last month's meeting, Hardiman said that while RPD is an important partner in ensuring safety, "I think we need to have a frank discussion about how and why crime prevention looks different in our neighborhood versus other city neighborhoods."
When the department told The Times-Dispatch that it would be installing the cameras in some neighborhoods other than RRHA, Hardiman said it didn't change his opinion really.
"I would like updates on where, when and how the readers will be used at RRHA neighborhoods and updates on the usage of the data collected," he said in a text last week.
To Hardiman's concerns voiced at the July meeting, Swann responded: "Those LPRs will be used in a responsive way — when a violent crime or other crime is committed within our communities to help identify suspects. Other than that, they will not be proactively monitored."
If the readers are used only after a crime has occurred to find a potential suspect, how is it preventing crime, asked Omari Al-Qadaffi, a housing advocate and an outspoken critic of the authority, which is working with RPD to install the cameras on its properties. He said it sounds like a waste of time and money.
"They are taking on that expense to search for a needle in a haystack," he said. "It makes it hard to believe that what they are saying is what they're using them for."
"The issue is the gradual over-policing of public housing," Al-Qadaffi said.
Richmond police spent $108,240 of a $137,148 grant from the Department of Justice to purchase five license plate readers and accessories needed to connect them, and the data they collect, to the Virginia State Police's system. The department was notified of the grant in September, and between April 30 and May 10 of this year, purchased the cameras and other components directly from state police, according to three invoices provided to The Times-Dispatch. A spokesman for the department said the devices haven't been delivered or installed yet.
The remaining $28,908 was awarded to the Richmond City Sheriff's Office, which was a partner in the grant, Richmond police said. The sheriff's office didn't respond to an inquiry about how it used the funds.
"The system only retains plate information collected through these devices when the data specifically pertains to active investigations and intelligence gathering related to criminal activity," Richmond police department spokesman James Mercante said in an email in response to an interview request from the newspaper. "If the LPR (license plate reader) information does not specifically pertain to active investigations and/or intelligence gathering related to criminal activity, the information is purged from the system within 24 hours."
Adam Schwartz, senior staff attorney for the Electronic Frontier Foundation, an international digital rights nonprofit, said the 24-hour purge is a step in the right direction as most police departments keep the license plate reader data for months or even years.
LPRs are fairly common among police departments across the nation since they emerged within the past two decades. Leonardo, a company that sells a type of license plate reader that matches those RPD bought from state police, says at least 70% of crimes in the U.S. involve a vehicle. The company's brochure boasts that its systems automatically process up to 900 license plates per minute providing understaffed police "extra sets of eyes" on the roads.
But Schwartz said the exception Richmond police cites for "intelligence gathering related to criminal activity" is troubling. That exception "potentially could swallow the rule," he said.
The foundation discourages any dragnet use of the technology.
"It is wrong for the government to surveil the entire population, even though there is no reason to think any of the people being surveilled had done anything wrong, because it might later turn out that this data gathered about pre-emptively innocent people turns out to be helpful in creating a lead in a criminal investigation," Schwartz said. "In the United States, people are presumed innocent, and we don't surveil innocent people and gather information about them in the expectation that someday they might do something wrong."
Schwartz said it's more concerning, and follows a pattern seen in departments across the nation, that the use is aimed at minority communities.
"A pattern we have seen for a very long time is surveillance technologies are disproportionately deployed against neighborhoods that are low-income, that are people of color, that are immigrants," Schwartz said. "And we find it unfair to overburden these communities with surveillance technologies."
The foundation, or EFF, along with the ACLU of Virginia, has pushed to ban police departments from using this type of data-gathering technology. Earlier this year, the groups backed legislation that died in a House of Delegates committee limiting when license plate readers could be used and how long the data could be kept.
Richmond police's 24-hour limit for holding data irrelevant to crimes far exceeds the 30-day and seven-day retainers discussed in the General Assembly.
"The thing that is super scary about license plate reader data is that it only takes a small number of hits involving one car to figure out who this person is," Schwartz said. "For most of us, our car is located most of the time right around our house and right around our job. And once you know that a particular plate corresponds to a particular person, you can see them go into a bar, to a defense lawyer, to a political protest, to a reproductive health care facility.
"Orwellian," he called it, referencing novelist George Orwell, who wrote "1984" that depicts a dystopian account of a future totalitarian state in which citizens are under constant surveillance by authorities.
Here's how license plate readers work: a high-speed, computer-controlled camera mounted on street poles, streetlights, overpasses and mobile trailers or attached to police squad cars captures an image of a plate, and sometimes the vehicle or its driver. An algorithm converts the image of the plate into alpha-numeric series, along with the location, date and time, which is uploaded to a central server.
"Typically, at that point, the system compares the car that just went by or the plate that just went by, to what often is called the 'hot list,' a list of plates that are of interest to the government, for example, because the car was stolen," Schwartz said.
Schwartz said 99.9% of cars that pass a given license plate reader are not on a hot list or involved in any criminal activity.
"That's to say, you know, 99.9% of the people who drive by are completely innocent, as far as the government knows, but they're still vacuuming up their location data," he said.
It is unclear if Richmond police will use a "hot list," but the state police do, according to a 2020 ruling from the Supreme Court of Virginia on a similar license plate reader program in Fairfax County. In it, the court said "the Virginia State Police publishes this 'hot list' twice daily. The list consists of all active stolen license plates and vehicles from two databases, the National Crime Information Center (NCIC) and Virginia Criminal Information Network (VCIN). The hot list also contains license plates associated with suspected criminal activity, such as abductions."
The ACLU of Virginia sued the Fairfax County Police Department over its license plate database, which it stores for a year and shares with other departments. The organization argued, ultimately unsuccessfully, that the practice violated that state's Government Data Collection and Dissemination Practices Act.
But the state Supreme Court sided with the police department, saying its database didn't "identify particulars" of a given driver or vehicle owner and could be used to identify individuals only after officers consulted information in a separate database, like the state police hot list.
The ruling led privacy rights groups like the EFF and the ACLU to lobby the legislature last year to amend the act so it required a warrant if law enforcement or regulatory agencies wanted to use the technology. The bill's chief patron was Sen. Chap Petersen, D-Fairfax City.
(804) 649-6527
Twitter: @AliRockettRTD