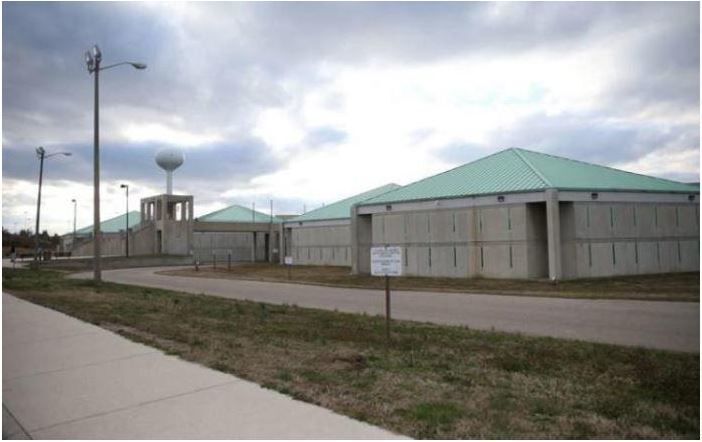 An inmate at Riverside Regional Jail died of a fentanyl overdose just over a month after liability concerns were raised at a meeting of the jail's governing body about a major security breach that allowed outside smugglers to break exterior windows of the jail and throw contraband inside.
The Office of the Chief Medical Examiner of Virginia recently disclosed that inmate Anthony Gholson died in custody March 26 of fentanyl toxicity. Fentanyl is a synthetic opioid that is 80 to 100 times stronger than morphine. Fentanyl often is added to heroin to increase its potency and has become one of the deadliest illicit opioids in the state.
How the fentanyl got to Gholson apparently has not been determined. He died two days after being transferred to Riverside from the Chesterfield Jail, where he had been incarcerated since Dec. 12, 2020.
A month before Gholson's death, members of the Riverside Regional Jail Authority were briefed by Superintendent Larry Leabough about a serious "security risk" at the facility that involved people knocking out windows of jail buildings at night that were unprotected by a barrier fence.
"When they built this jail, they put substandard glass in these windows — a rock will knock the glass out," Leabough told the jail board, according to a recording of its Feb. 25 meeting. "We have people coming in at night, knocking windows out and passing contraband through. You can see them on camera running across the yard. It's a real security problem, a security risk."
The smugglers were using a public access road to a nearby park that runs right by the jail, said Leabough, who at the time was seeking estimates to have a new section of barrier fence installed topped with razor wire to shore up the exposure. The board set aside $260,000 for the project, which apparently wasn't completed until June.
Board members received notice June 7 that metal panels were placed over the windows and the fence was being installed.
Riverside is one of the largest jails in central Virginia and houses roughly 1,300 inmates for Petersburg, Colonial Heights, Hopewell and the counties of Chesterfield, Charles City, Surry and Prince George. The facility is governed by a regional authority consisting of representatives from each locality.
The possibility of an inmate dying of a drug overdose because of the security breach was raised at the February meeting by Chesterfield Sheriff Karl Leonard, who represents Chesterfield on the Riverside board.
"If we've identified this as a problem and that drugs are getting in through this deficiency in our barriers — and if we don't immediately fix it and drugs get in there and somebody overdoses and dies — do we have a liability?" Leonard asked Attorney Jeff Gore, who represents the board.
Gore replied, "No, I don't think it automatically creates liability on the authority's part if someone breaks the law and crosses property, and breaks into the jail, or breaks a window."
"But I do think ... that now that it's been identified, I think it is, at the very least, a policy obligation, a moral obligation, for the board to look at ways to shore that up," Gore added. "It doesn't look good if we've identified this problem and do nothing to address it."
At the time, Leabough told board members that his staff had put out contracting bids for a new section of fence, but only one company responded and its bid was too high. The staff then contacted Chesterfield Jail officials for the contractor they used to erect a similar fence; that company assessed Riverside's needs and was to provide a cost estimate. In the meantime, "We're putting mesh over all the windows outside," Leabough told board members at the meeting.
Leabough has not returned multiple phone and email messages since Friday about what jail investigators may have learned about Gholson's death. He also has declined to respond to questions about the new section of barrier fence and whether it's been fully installed.
Petersburg Sheriff Vanessa Crawford, who serves as chair of the Riverside board, deferred questions to Leabough.
Prince George County police investigators, who assisted with Gholson's death investigation because the jail is in Prince George, were not able to determine how Gholson obtained the drugs, a department spokeswoman said.
The inmate's drug overdose death comes as Leabough and the Riverside board are working to improve operations and address serious allegations raised by a state jail review committee, which in April recommended that Riverside be decertified and closed. An investigation found that jail staff may have directly or indirectly been responsible for three prisoner deaths in 2019 and 2020 by failing to comply with minimum state correctional standards.
The jail review committee, which is the investigative arm of the Virginia Board of Local and Regional Jails, said conditions in the jail "represent a clear and present danger to the health and safety of the inmates," according to a letter sent to Leabough.
The Riverside Jail Authority immediately took issue with the committee's findings, calling them unwarranted and "particularly shocking, given that over the past year the jail passed its unannounced Department of Corrections audits related to health care and mental health screening and services, as well as three comprehensive federal agency audits."
The authority also noted that since it hired Leabough, a retired DOC administrator, as superintendent in June 2020, "great strides have been made to improve all facets of the facility, from inmate health care and mental health services to inmate safety and programming."
The jail review committee findings came as Riverside remains on state probation, which was imposed in July 2019 after the same committee found staff failings that may have directly or indirectly contributed to the deaths of two other inmates who killed themselves in 2017.
Since hiring Leabough, the jail has taken several significant steps to improve its operations and recruit and retain new jail officers to fill more than 80 vacancies.
The measures include increasing jail officer starting salaries from $36,000 to $40,000 annually and boosting the pay of existing employees by 5% as of July 1. That is on top of 4% increases that went into effect on Jan. 1.
The board also approved funding in May to fill 40 jail officer positions out of a total of 82 vacancies, and it is developing a plan to reach full staffing.
In addition, the board awarded a contract to the consulting firm CGL Inc. to perform a comprehensive study and needs assessment of Riverside Regional Jail's operations and organization, which will include inmate health care and mental health services, staffing, inmate classification and the facility's physical plant.
A hearing before the Board of Local and Regional Jails is scheduled for later this summer on Riverside's objections to the state jail review committee's findings and decertification recommendation. Riverside officials are in the process of negotiating with BLRJ in hopes of reaching an agreement that would avoid a formal hearing and decertification.