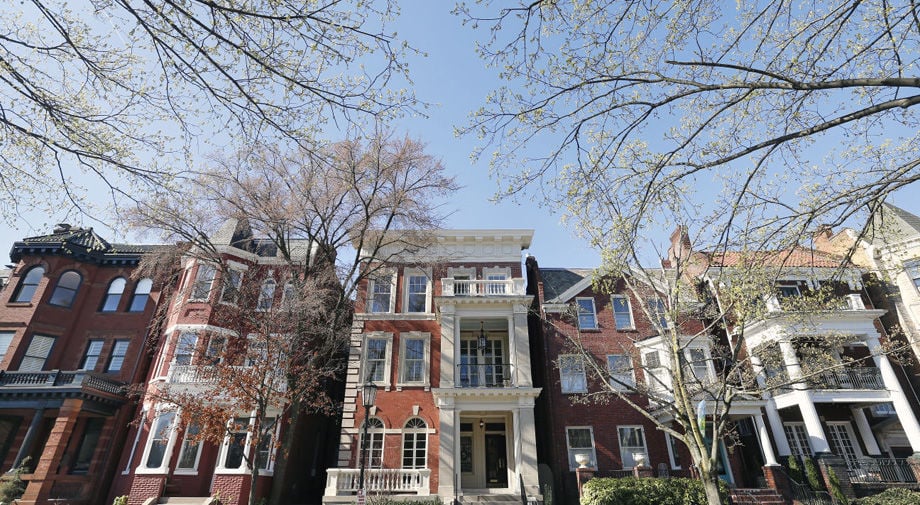 Black fades to burgundy, to deep purple. Purple dulls to blue.
A series of photos captured the injuries to Katie's left eye, initially swollen shut, as the bruises encircling it faded and the swelling receded.
The first photo was taken immediately after she arrived home from St. Mary's Hospital on May 6, 2018. But the wounds told only part of her story.
It was months before Katie found out some of what happened that night, before she awoke, beaten and naked, on her bedroom floor.
She's waited even longer for justice.
On June 24, Justin Harvey was sentenced to 127 years in prison, convicted in large part because of videos of the attacks shot on his cellphone. Katie was one of at least nine women who reported sexual assaults between 2015 and 2018 in the Fan District before police linked the cases to Harvey.
Police found pictures and videos of multiple sexual assaults on Harvey's phone, including one involving two women who were attacked the night before Katie.
The Richmond Times-Dispatch doesn't typically identify survivors of sexual assault without their permission. A 33-year-old survivor in this case asked to go by Katie.
In court, a prosecutor asked Katie how long it had been between the first and last photos in the series.
"It was about a week and a half," she told a jury.
"How can you tell?" the prosecutor asked her.
"I finally smiled a little bit again," Katie said.
Katie had been carefree. A bartender, she was quick to smile; when she did, dimples dented her cheeks. There was a light, too, in her crystalline blue eyes, she said in a recent interview.
Now she constantly looks over her shoulder. She checks in with women at the bars where she works to make sure they're not getting unwanted attention. She wakes at the slightest noise and frequently makes sure her doors and windows are locked. She got two pit bulls to feel safe at home.
But three years ago, she had no idea a predator prowled the Fan District, where she lived and worked, looking for his next victim. Virginia Commonwealth University police had issued several crime alerts, but Katie said the warnings didn't reach her — she never attended the college and moved to the area only a year earlier.
"He picked at random," Katie said. Authorities believe Harvey trolled bars in the Fan for unsuspecting, and often inebriated, victims.
As other similarities among the cases emerged — nine incidents over a three-year period, some within hours of one another and within a 2-mile radius — police began looking for a "serial" offender, according to court documents.
The night before Katie was attacked, about half a mile away, two women were assaulted as they slept in the same room.
The pair awoke confused. Their clothes had been cut from their bodies — a similar method was used in a 2015 assault.
Like Katie, it would be months before they learned what happened.
"Three years ago, when the cops sat me down and asked what I remembered from the previous night, one of them offhandedly said, 'If you had been raped or anything like that, you would probably remember it,'" one victim wrote in an impact statement she read aloud at a trial earlier this year. "Even as I stared down at the thumb-shaped bruises on my inner thighs, I thought I was immune."
On Sept. 27, 2018, Harvey turned himself in to VCU police, who arrested him.
He was questioned about two "up-skirting" incidents near the Monroe Park campus that had occurred a few days earlier.
At 12:45 a.m. on Sept. 21, 2018, a VCU student reported that while she was walking in the first block of South Harrison Street, near West Cary Street, a man approached her from behind and pulled up her dress.
The next night, at 3:45 a.m., a different student was walking in the first block of South Brunswick Street, and reported the same thing: A man ran up behind her and lifted her skirt. The student reported seeing a flash, which police believed could have been the flashlight or camera flash on a cellphone.
Photos from security camera footage of a possible suspect were released to the media, prompting four anonymous tips. All four identified the man in the pictures as Harvey, according to court documents.
Police got a warrant to search Harvey's phone, on which they found hundreds of photos and videos. Katie's assault had been recorded. So had the assault on the two women Harvey attacked the night before.
According to the search warrant, Harvey identified himself in the surveillance photos and admitted to lifting the skirts of the two VCU students. VCU and Richmond police, which worked closely together on these cases, showed Harvey a photo from security footage just before another reported assault on March 28, 2018, in which a woman was pushed to the ground from behind and a man reached up her dress.
Harvey again identified himself walking closely behind the victim in the photo captured by a nearby surveillance camera.
Authorities have linked him to at least nine cases through confessions, images on his cellphone or DNA he left at scenes, according to court documents.
On Oct. 15, 2015, a woman awoke in her living room in the Fan. A man she did not know was standing over her. He had cut her clothing off. DNA swabbed from an interior door handle linked Harvey to the scene.
A month later and just 200 yards away, a woman was showering when she noticed a cellphone pop under the shower curtain. She chased the man with the cellphone from the apartment. DNA from the back door matched Harvey.
Along with videos from the May 5 and 6, 2018, assaults, police found scissors — missing from the desk of one of the victims — discarded on an exterior windowsill. Harvey's DNA was found on the scissors and an exterior door.
On May 19, 2018, between 1:50 and 2:20 a.m., a woman awoke as she was being beaten as she tried to sleep. She was dragged out of bed and onto the floor before the assailant fled. A video on Harvey's phone captured the assault.
Around 1:55 a.m. on Sept. 21, 2018, a woman awoke as she was assaulted. The man fled through an unlocked rear door, on which Harvey's DNA was found.
The 29-year-old from Colonial Heights has been held since his September 2018 arrest. He is still awaiting trial for many of the charges.
Earlier this year, prosecutors Sarah Heller and Joshua Boyles tried the cases stemming from the May 5 and 6, 2018, incidents — those involving Katie and, the night before, the two women who had their clothes cut off as they slept.
Getting a conviction in these cases first was essential, according to prosecutors, to show a pattern of behavior and prove the intent to rape in the remaining cases.
Harvey's defense team, headed by the public defender's office, fought to keep the jury from seeing the videos and photos recovered from his cellphone.
Heller, an assistant commonwealth's attorney, called the videos Harvey's "trophies."
They were also essential to the case, everyone agreed.
"I knew if we didn't get those videos, I would never see my day in court," Katie said.
But it meant allowing a jury of 12 strangers to watch her brutal assault. And letting Harvey relive it.
"I just wanted to pick up that girl," Katie said. "I was in pain."
Separate juries convicted him of six felonies including rape, malicious wounding, aggravated sexual battery and statutory burglary, and two misdemeanors for unlawful filming from the May 5 and 6 attacks. Combined, they recommended a 127-year sentence, which Richmond Circuit Judge William R. Marchant imposed on June 24.
Marchant said the charges against Harvey stood out among his years on the bench and decades practicing law.
"There are no parallels to this case," said Boyles, one of the prosecutors, adding that these juries saw only a small portion of the whole case. He called Harvey "a serial predator."
Richmond police said the long sentence sends a message to the community that sexual assaults won't be tolerated.
Harvey's criminal history shows six prior convictions for sexual-related crimes. All were misdemeanors for which he served no more than six months in jail.
In 2012, he was arrested for sexual battery in Colonial Heights, but the charge was amended to battery. That same year, he was convicted of two counts of public masturbation in Chesterfield County.
Then in 2013, he was arrested for indecent exposure on VCU's campus. Court records show he was banned from the property.
In 2014, Harvey was sentenced to six months each for two counts of unlawful filming. According to news reports at the time, he filmed women in the dressing rooms at two Kohl's locations in Chesterfield.
A year later, the assaults in the Fan began.
Katie said there were clear signs that he wasn't going to stop attacking women.
"Did you not see the warning signs?" Katie said. "Do you not see that he can hurt other citizens? What did they think was going to happen?"
At trial and during sentencing, Harvey's defense team called his younger brother, who said the boys were sexually assaulted when they were children.
A clinical psychologist said Harvey could benefit from or even be rehabilitated with group therapy — treatment he hadn't been able to receive before because he hadn't been previously convicted of a felony, according to court documents.
The same detective who arrested him in 2013 interviewed Harvey again in 2018, according to court documents. Harvey told the VCU detective: "You know my story. I don't have a choice, but to be like this."
In his apology, during which he turned and read aloud to the three women he'd violated, he blamed "urges" he could not control.
"He made it about him," Katie said. "It's not what happened to him. It's what happened to us that's been forgotten here."
Now, three years later, long after the physical wounds have healed, Katie and the women he victimized are grappling with unseen scars.
"I have lived every day in fear. Justin Harvey robbed me of the ability to feel safe and comfortable in my own home," one of the survivors wrote in an impact statement read at trial. "Harvey saw me [ … and my friend] that night and decided that we were nothing more than objects to be violated. I live every day in fear that no matter what I do that someone else will see me that way again."
The woman continued talking about the guilt she's dealt with: "I've had the reassurance of several different counselors that I did nothing wrong and while I know that to be true, the events of that night will always haunt me."
Katie said her story, her voice — and that of other survivors — has been lost as this case has dragged on.
At first, she didn't talk about what happened, partly because she didn't know all the details, but also because of the self-doubt and shame that came with being victimized. It was isolating, she said, but it doesn't have to be.
"I lost my voice for a very long time," she said. "He stole so much from me."
The one-minute, 30-second video he took provided a Richmond jury proof of the three-hour assault, during much of which Katie was knocked unconscious, to convict him. But she said it was violating every time it had to be played — for strangers, for her mother, for Harvey to see in court.
"All I ever wanted to know was what happened to me," she said. "I don't think my mind would have ever settled if I hadn't faced this guy."
At one point last year, it looked as if the case had stalled. So she took to Facebook and found her voice again writing about what happened. With opening up, her dimpled smile returned more easily, her eyes brightened again, and she found more compassion for other people — including Harvey, for whom she said she has shed tears.
"The system failed him," Katie said. "And us."
But there are still hard, dark days, she said.
Initially, an officer asked whether she was sure she didn't just fall and knock herself out. All three survivors said Harvey's defense team made them feel like they were to blame, because they were drunk. It's instances like these that make it difficult for victims to come forward.
"It's OK to talk about what happened," she said. "There's help."
She posted the pictures that the jury saw of her injuries.
"Some victims have to stay silent because there are more trials," Katie said.
To them, she said: "You're never alone."
(804) 649-6527
Twitter: @AliRockettRTD