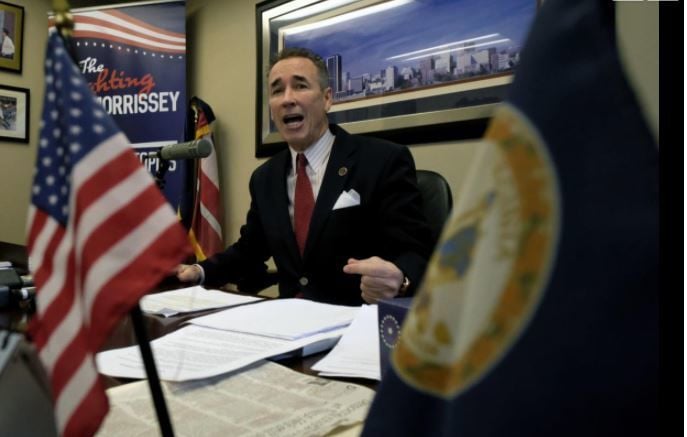 Virginia lawmakers have advanced a bill to create a public defender office in Chesterfield County staffed by state-funded attorneys who would represent the county's indigent criminal defendants. If passed, the measure would largely supplant the current system of court-appointed private attorneys who receive state stipends for their work.
Legislation introduced by Sen. Joe Morrissey, D-Richmond, to establish a 33-position public defender office in Chesterfield — which would be the 27th such office in the state — cleared the Senate Finance and Appropriations Committee on Tuesday on a 16-0 vote, with a condition that the state budget can absorb its $3.06 million annual cost. The bill now will be considered by the full Senate.
Morrissey, who represents part of Chesterfield, told committee members Tuesday that the court-appointed fees that private attorneys in Chesterfield would no longer collect from the state if the measure passed would "wash" the $3 million expense.
In addition, Sen. Creigh Deeds, D-Bath, said if the General Assembly abolishes capital punishment in Virginia during the current session, some of the current funds allocated to operate four capital defender offices in the state could be used to fund the new public defender office in Chesterfield.
"It seems to me that [the public defender office] makes all the sense in the world; it's just a question of whether we can come up with the $3 million," Deeds said.
According to a planning and budget proposal submitted to lawmakers, the office would be staffed by 33 people, including a chief public defender, a deputy defender, five senior assistant public defenders, one senior trial attorney and 14 assistant public defenders. The office also would have two investigators, two mitigation specialists (to assist with sentencing) and seven office support staff. The total projected cost is $3,060,354.
"Chesterfield County is one of the largest counties in the commonwealth with over 350,00 citizens, [and] currently it doesn't have a PD office," Morrissey told committee members. "As many of you know, we first established PD offices almost 45 years ago, and since that time we have [26 PD offices] in the state serving 54 jurisdictions, including some of our largest counties and cities."
"Right now there are a cadre of court-appointed lawyers that do good work — no question about that," Morrissey added. "But with a public defender's office you get specialization, you get training, you get supervision, you get resources."
The bill is co-sponsored by state Sen. Ghazala Hashimi, who also represents part of Chesterfield, and by Sen. Scott Surovell, D-Fairfax. Del. Rodney Willett, D-Henrico, has signed on as a House patron.
Chesterfield Commonwealth's Attorney Stacey Davenport has thrown her support behind the proposal.
"I have shared my position on this issue with Senator Morrissey, as well as the county," Davenport said. "As a former PD, I am fully aware of the benefits having an office in Chesterfield would bring, and I have long thought that both Chesterfield and Henrico should have offices."
The plan has caused some discomfort and, in some cases, outright opposition among criminal defense attorneys who regularly practice in Chesterfield.
"Having practiced law in Chesterfield County for over 23 years, with a large amount of that practice dedicated to criminal law, including court-appointed cases, I am writing to express my opposition to the creation of a public defender's office in Chesterfield," attorney Todd Ritter said in response to a Tuesday query from the Chesterfield Bar Association.
"Having weighed the pros and cons of this proposal, the chief reason for my opposition arises from my observation (made from a near constant schedule of court appearances) that the court-appointed attorneys we are blessed to have in Chesterfield are already serving the needs of indigent defendants exceptionally well. Put simply, 'if it ain't broke, don't fix it.' "
Ritter also expressed concern "about the sudden manner in which this issue has seemingly arisen." He said a similar proposal surfaced some years ago, and at that time it seemed the bar had more time to consider and debate the proposal.
"On this occasion, it appears we were never asked," he said. "Understanding that the legislature may do as it pleases, or shun thoughtful input if it chooses, I believe a hasty process over such a major change is unwarranted."
Irene Delcamp, who serves as president of the Chesterfield Bar, said she did not receive from Morrissey or other lawmakers a draft of the bill nor was the association asked for its input on the matter. "That's not to say that the senator did not consult with individual attorneys he knows who practice here," she added.
The bar on Tuesday sent out an email blast asking members for their feedback.
Attorney John Rockecharlie, who also does court-appointed work, said change is always concerning to those involved, and he noted there are a number of members of the Chesterfield criminal bar who make their living as court-appointed attorneys.
"Clearly those folks are concerned about their livelihood," Rockecharlie said. "I have the utmost respect for the public defender system. A public defender office, when properly administered, has proven to be cost effective and beneficial for the citizens of the community it serves. But I also believe that historically, the attorneys who serve the Chesterfield Bar by accepting court appointments have, on the whole, provided excellent representation to their clients."
Said attorney Randy Rowlett: "In terms of serious charges, we've got some of the best attorneys in the Richmond area who do court-appointed work and get appointed in murders and robberies and major drug cases. And you're not going to get anything better than that in the public defender's office."
But having said that, Rowlett said he's not opposed to a public defender office. "I think there's some merit to the benefit it would bring," he said.
When he outlined the bill before the Senate Judiciary Committee on Jan. 25, Morrissey said public defender attorneys receive "constant and consistent high-quality training" specifically designed for criminal defense, and newly hired public defenders attend a weeklong training program staffed by experienced public defenders. In addition, all public defenders attend an annual, two-day conference. "This training is not unlike what commonwealth's attorney's offices go through."
"Each [chief] public defender is also tasked with overseeing an in-house training program to provide regular additional training," Morrissey said.
Supervision is another key benefit, Morrissey said.
"Each public defender's office has a chief public defender and an additional supervising attorney," he said. "These attorneys provide mentoring, supervision, performance management and support. Importantly, each public defender's office has a designated appellate supervisor that will help attorneys" with appealing defendants' convictions.