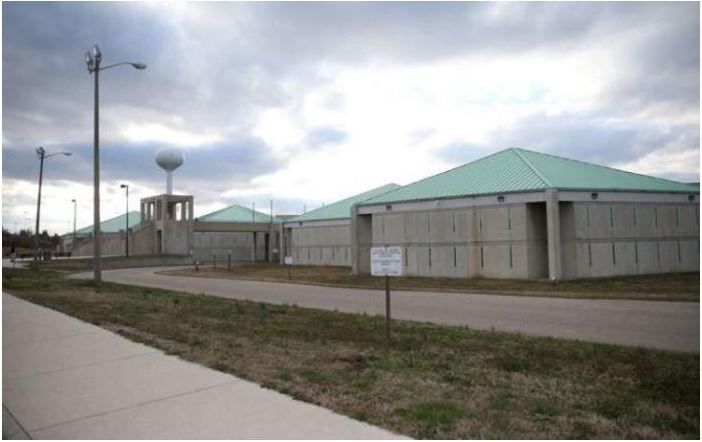 A state jail review committee has recommended that Riverside Regional Jail in Prince George County be decertified and closed after an investigation found that jail staff may have directly or indirectly been responsible for three prisoner deaths in 2019 and 2020 and failed to comply within minimum correctional standards set by the state.
The Jail Review Committee, which is the investigative arm of the State Board of Local and Regional Jails, said conditions in the jail "represent a clear and present danger to the health and safety of the inmates," according to a SBLRJ letter dated Friday and sent to Riverside Regional Jail Superintendent Larry Leabough.
The jail committee voted unanimously last week to recommend to the Local and Regional Jail Board that Riverside be decertified and that all inmates be transferred back to their jurisdictions of origin. The board likely will consider the committee's preliminary findings and recommendations and take a vote at its June meeting.
Riverside is one of the largest jails in central Virginia and houses roughly 1,300 inmates for Petersburg, Colonial Heights, Hopewell and the counties of Chesterfield, Charles City, Surry and Prince George. The facility is governed by a regional authority consisting of representatives from each locality.
The Riverside Regional Jail Authority immediately took issue with the committee's findings, calling them unwarranted and "particularly shocking, given that over the past year the jail passed its unannounced Department of Corrections audits related to health care and mental health screening and services, as well as three comprehensive federal agency audits," Authority Chair Vanessa Crawford, who also serves as Petersburg sheriff, said in a prepared statement.
"For the past two years, RRJA has continued to develop and implement compliance measures, file quarterly reports with the Board, perform well in unannounced state inspections, and house hundreds of state responsible inmates for the Department of Corrections and federal inmates without complaint," the statement said.
The authority also noted that since it hired Larry Leabough, a retired DOC administrator, as superintendent last June, "great strides have been made to improve all facets of the facility, from inmate health care and mental health services to inmate safety and programming."
Nearly half of Riverside's inmates have serious mental health conditions, and over two-thirds are on physician-prescribed medications. The jail spends more than $6 million annually in local funds on inmate medical and mental health services, and partners with a national corrections health care company to provide treatment, the authority said in its statement.
"This recommendation appears to be misplacing the responsibility for systemic criminal justice and mental health failures on Riverside, which like most large jails has sadly become a de facto health and mental health institution," said the authority, which held an emergency virtual meeting Thursday afternoon after learning of the state's findings; authority members received the SBLRJ letter with more specifics Friday morning.
The authority said it looks forward to presenting "all the facts to the committee and the full board when given the opportunity."
The jail review committee findings come as Riverside remains on state probation, which was imposed in July 2019 after the same committee found staff failings that may have directly or indirectly contributed to the deaths of two other inmates who killed themselves in 2017.
The committee found that jail staff failed to keep close enough watch on an inmate who committed suicide, and that an officer subsequently falsified a logbook related to keeping watch on that prisoner. In the second case, the jail was faulted for not having proper supplies available to respond to a second prisoner's suicide.
The SBLRJ, formerly known as the State Board of Corrections, accepted the committee's findings and placed the jail on "probationary certification" for three years, which requires two unannounced audits every six months.
In the letter sent Friday to Riverside, the dates of the inmate deaths are listed but not their names. Based on Virginia Department of Corrections records and news stories published from jail news releases about prisoner deaths, the inmates are:
William Antonio Brown, 42, who died July 24, 2019, after jail officials at the time said Brown experienced a medical emergency while being examined by medical staff. Jail officials that year said it appeared Brown died of natural causes. In the letter, the jail review committee said Riverside failed to meet minimum acceptable standards in Brown's death with regards to medical history and treatment needs, 24-hour emergency medical care, medical screening of an inmate and access to medical services. The letter also indicates that policies and procedures of Riverside's health care provider were not followed, such as how to treat patients with chronic disease or other special needs.
Fred Lavigne, 53, who died Feb. 21, 2020, although the letter lists his date of death as Feb. 17. Jail staff found Lavigne unresponsive in his cell and officials said at the time that he appeared to have committed suicide. The jail review committee said Riverside failed to meet minimum standards with regards to 24-hour medical and mental health care, screening of an inmate and access to medical care. The letter also indicates that the jail's health care policies and procedures were not followed, including those involving suicide intervention and suicide risk assessment.
Michael Dillon, 29, who died just after midnight on March 24, 2020, after jail officials at the time said he experienced medical distress while being examined by medical staff. The jail review committee said Riverside failed to meet minimum standards with regards to 24-hour medical and mental health care, medical screening of an inmate, access to medical services and inspection of inmate housing areas twice per hour at random intervals. The committee also cited Riverside's employee rules of conduct with regard to "falsification of any work-related record [or] making misleading entries or statements with the intent to deceive," but details of the alleged violation were not included.
About a month after Dillon's death, The Times-Dispatch reported that Dillon was a mentally disabled man reported to be in good health who, at the time of his arrest, was living in a residential treatment facility in Petersburg for people with intellectual or developmental disabilities. Dillon was arrested and charged with misdemeanor assault and destruction of property after attacking one of the residential home's employees and destroying furniture during an outburst.
The Board of Local and Regional Jails has declined to publicly release specific details of the deaths because they include prisoner records, including medical and mental health information, which can be withheld under state and federal law. But those records will be released to Riverside's superintendent and its legal counsel in an addendum upon request, the letter says.
The Riverside Jail Authority, in its statement, said two of the inmate deaths were from natural causes resulting from acute health conditions, as certified by the state medical examiner's office. The third death involved a suicide of an inmate "who had been under close supervision of licensed mental health professionals at the jail," the authority said.
Government officials in Chesterfield, which by far holds the largest number of inmates at Riverside of the three cities and four counties that pay to house inmates there, are particularly troubled by the recent revelations. The county's Board of Supervisors held a special meeting Wednesday in closed session to discuss the matter, prompting a letter they sent to Leabough, the superintendent.
The jail review committee's findings "comes on the heels of your representation to the [Chesterfield] Board that your plan was 'to get us off probation by March' and your assurance that 'we are on our way to get us off probation,' " the supervisors wrote to Leabough. "Not only is RRJ still on probation, but the very problems resulting in that probation have worsened."
The Chesterfield supervisors reiterated an earlier message they sent to Leabough in November: If conditions didn't improve at Riverside soon, "the county would be left with no choice but to consider all possible options to reduce its inmate population at the jail."
In March 2020, Chesterfield Sheriff Karl Leonard announced the county had begun a process to remove by attrition and transfer nearly 200 inmates from Riverside because of what county leaders described as a lack of adequate medical care in a facility dogged by controversy and allegations of mismanagement.
The plan called for keeping the next 96 inmates booked into the Chesterfield Jail at that facility, instead of transferring them to Riverside, where most of Chesterfield's inmates have been held. Those inmates would be housed in an unused wing of the Chesterfield Jail that contains four prisoner pods.
The second stage of the plan called for transferring an additional 100 Chesterfield inmates at Riverside to another regional jail in the state.
"Given the definite possibility that RRJ could be decertified as a correctional facility, as well as the possibility that the State Board of Local and Regional Jails could elect to compel RRJ to return all RRJ inmates back to the member jurisdictions, Chesterfield is left with no alternative but to plan for the disposition of all of the inmates which Chesterfield has sent to RRJ, currently 550 men and women," the Chesterfield supervisors wrote.
The committee recommendations are a major setback for the Jail Authority and Leabough, who was tapped to become Riverside's new superintendent four months after the facility's former leader resigned in frustration after only nine months on the job.
When he began work July 2, Leabough became Riverside's sixth superintendent, which includes three interims, in less than three years.
Leabough replaced Carmen I. DeSadier, who resigned Feb. 7, 2020. In her resignation letter to the Riverside governing authority, DeSadier said the jail's operations were plagued by dysfunction and a toxic work environment arose after the jail's governing body failed to support her reform efforts, which the authority has disputed.
DeSadier was hired to essentially lead the jail in a new direction after its previous administrators endured harsh public criticism from Chesterfield judges for the alleged mistreatment of inmates and had undergone increased state scrutiny.