Black drivers are disproportionately stopped and arrested, and they have their cars searched at higher rates than any other race statewide and in the Richmond region, according to a Richmond Times-Dispatch analysis of a trove of recently released traffic stop data from 314 law enforcement agencies across the state.
In Virginia, drivers who are Black are 1.6 times more likely to be stopped than white drivers based on their respective populations. And once stopped, Black drivers are 1.6 times more likely to have their car searched than white drivers, and 1.3 times as likely to be arrested.
The data is collected as part of the new Virginia Community Policing Act passed by the General Assembly last year. It requires every law enforcement officer in the state to document the details of the stop, including who they stopped, where, why and what happened. The first year of data was recently made available and covers 878,190 stops from July 1, 2020, to June 30, 2021.
While our analysis is based on state and locality populations, the data release doesn't specify whether the driver stopped was a resident of Virginia or the locality where they were stopped.
While accounting for less than 20% of the state's population, Black drivers made up 30% of all stops in Virginia, 43% of all vehicles searched and 37% of all arrests during traffic stops. Black drivers were also behind the wheel in 40% of all stops in which a person was searched, but the data doesn't differentiate whether it was the driver or a passenger who was searched or their race.
Though white drivers accounted for more stops (551,798) than Black drivers (268,311), they were stopped nearly proportionately (63%) to their share of the state's population (60%).
The stop data and census data consider ethnicity and race separately, meaning a person can identify as both white and Hispanic. This makes comparisons between the two data sets impossible.
Here is more of the analysis from Ali Rockett and Justin Morrison of The Times-Dispatch.
Reason for stops broken down by race and result of the stop, statewide
Traffic violations accounted for nearly 84% of all 878,190 stops in Virginia, as indicated by the largest section of the middle gray bar. Other reasons for stops included: equipment violations; calls for service; checkpoints; and Terry stops, which are commonly referred to as "stop-and-frisk" and allowed if there is a reasonable suspicion of criminal activity. But in nearly 4% of stops, police officers, sheriff's deputies, state troopers and agents from various regulatory agencies failed to provide the reason they stopped a driver. Those stops are captured under the categories of missing, N/A or other.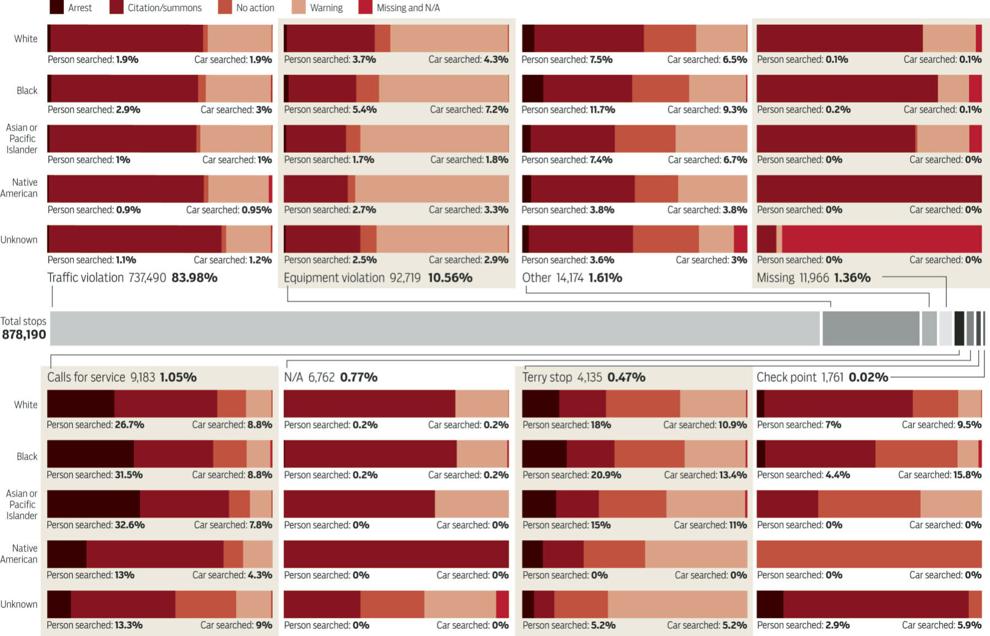 For each reason provided by law enforcement, we analyzed how often they arrested the driver, wrote a citation, took no action, gave a warning or did not indicate what action they took. These actions are broken down into shades of red.
Drivers were most likely to get a ticket or summons when officers didn't indicate the reason for the stop. Tickets were issued in 67% of stops for a traffic violation, and that rate is nearly consistent across all races. Calls for service resulted in the most arrests. Overall, less than 2% of total stops statewide ended in an arrest.
A vehicle or person was searched in less than 3% of all stops statewide.
The police data doesn't differentiate whether it was the driver or a passenger who was searched. Because the passenger could have been a different race, we couldn't draw conclusions based on the information as provided.
Top violations, statewide
Speeding was the most frequently cited violation for all stops statewide and in the Richmond region. Five different statutes dealing with speeding were among the top 10 violations cited by law enforcement officials.
Stops by gender and race, by locality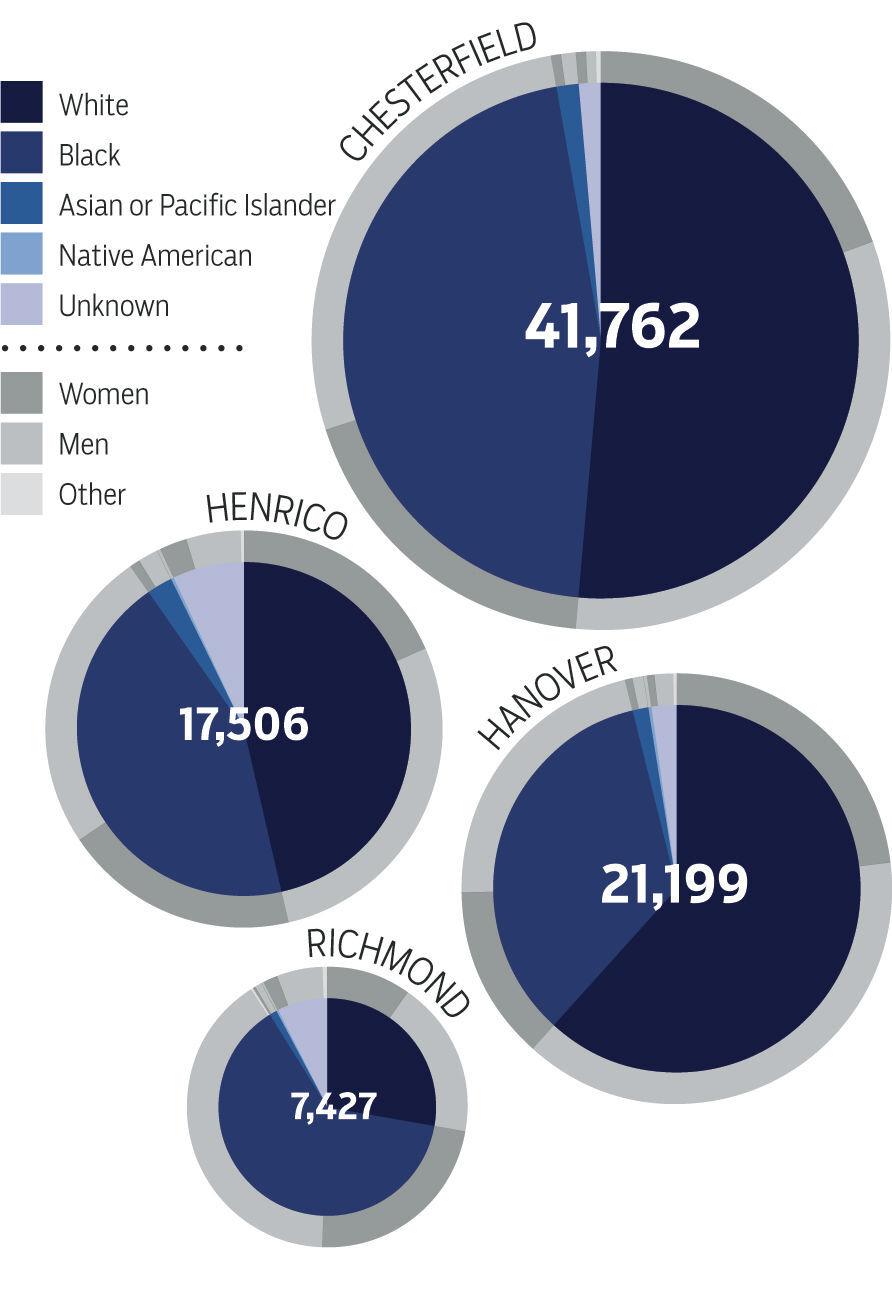 More motorists were stopped in Chesterfield County than in any other locality in the state except Fairfax County, Virginia's most populous locality. Chesterfield is the state's fifth-largest locality by population. Each bubble chart's size is based on the number of stops in that locality.
Despite Henrico County's and Richmond's larger populations, Hanover County had the second-most stops in the metro region.
The outer ring depicts the gender breakdown of stops, showing that men are more frequently stopped than women, regardless of race, as shown by the inner circle, across all four localities.
Population vs. stops by race, statewide and by locality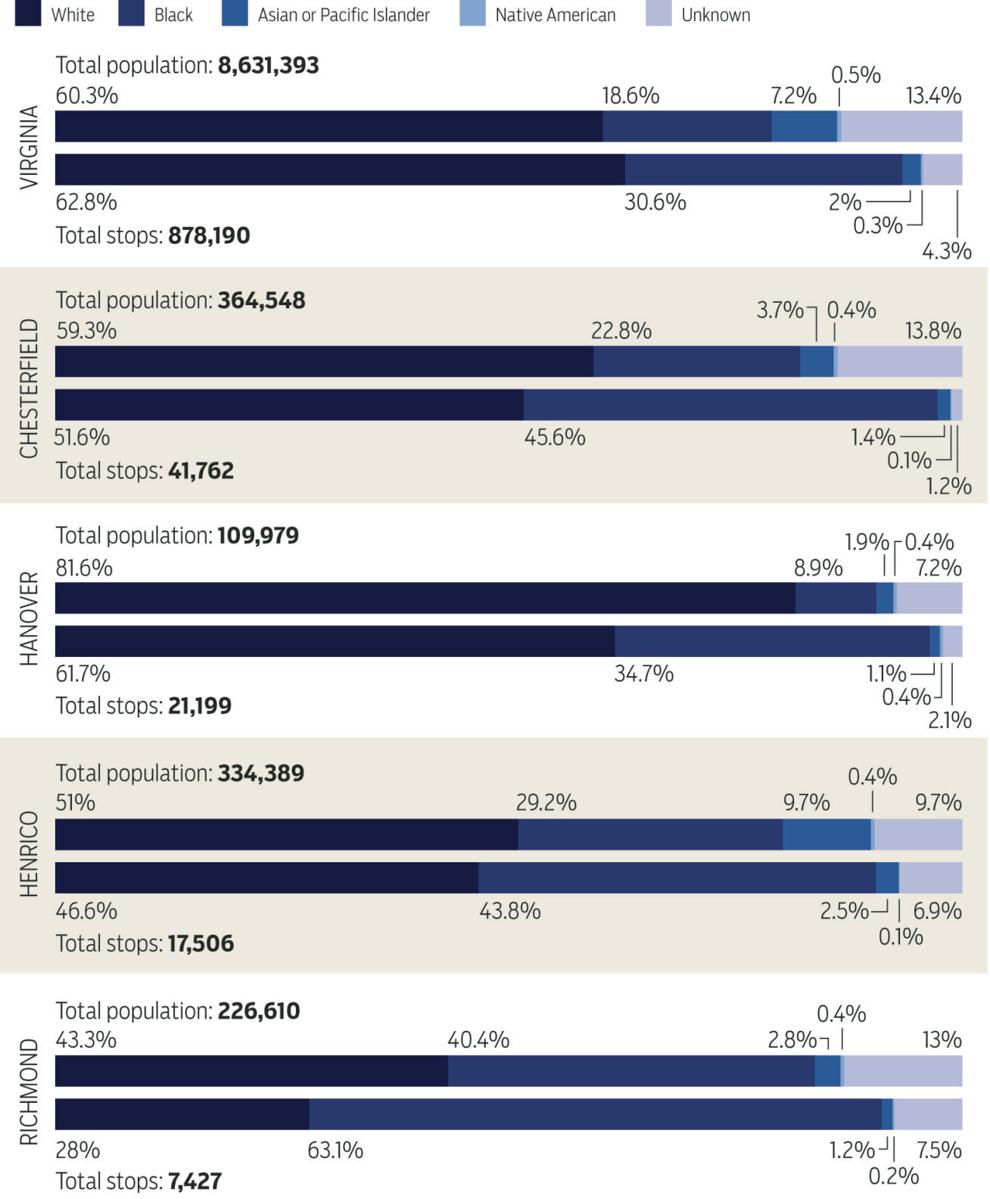 Across Virginia, Black drivers are pulled over disproportionately when compared with the population. This is also true for stops in the region.
In Chesterfield, Black drivers are 2.3 times more likely to be stopped than white drivers. In Hanover, it's 5.2 times more likely that a Black driver will get pulled over by law enforcement than a white driver. The rate is the lowest in Henrico, where Black drivers are still pulled over 1.6 times more often that white drivers. And in Richmond, they are 2.4 times more likely to be stopped than their white counterparts.
Once pulled over in the region, Black drivers account for a larger portions of arrests (55%) and vehicle searches (64%) than any other race.
Population vs. stops by ethnicity, statewide and by locality
Hispanic drivers made up 9.3% of stops statewide, just under their 10.5% share of Virginia's population.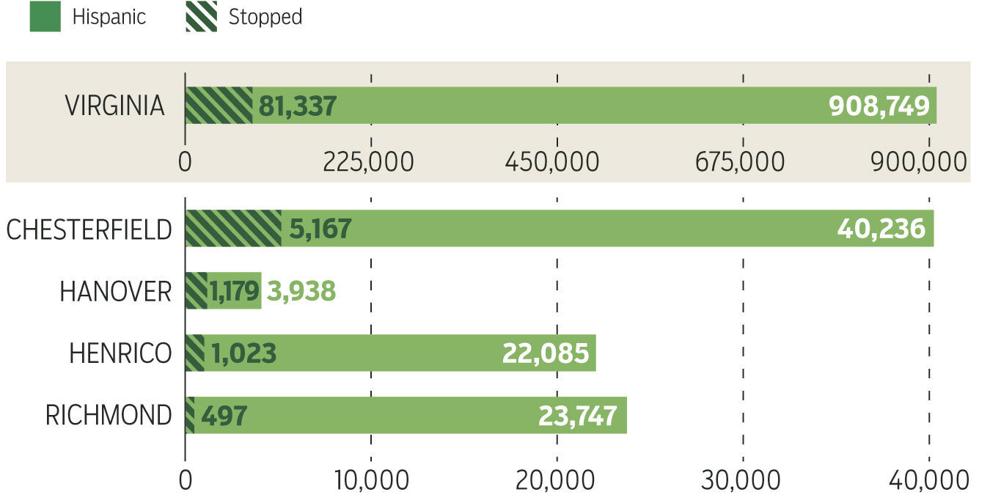 Similarly, in Henrico, 5.8% of all drivers stopped were Hispanic, below their 6.6% share of the county's population.
In Richmond, Hispanics made up a lower percentage of drivers stopped — 6.7% — than their comparative population — about 10.5%.
In Chesterfield, Hispanic drivers accounted for 12.4% of stops; they make up 11% of the county's population. And in Hanover, where 3.6% of the population is Hispanic, 5.6% of drivers stopped were identified as Hispanic.
(804) 649-6527
Twitter: @AliRockettRTD