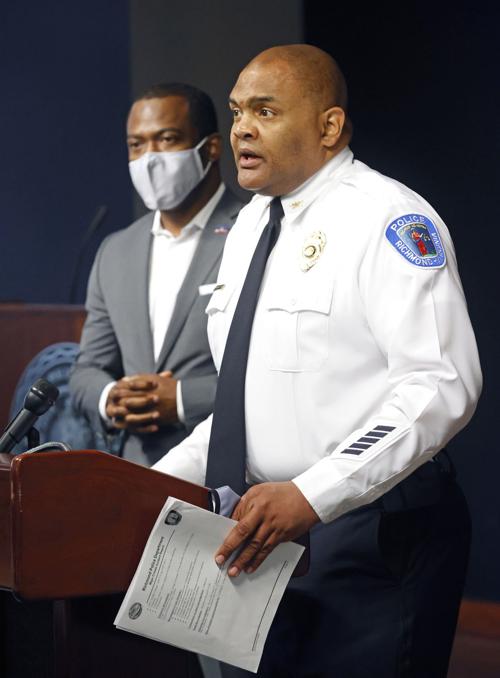 Frustrated by a lack of response from Richmond's top cop, members of a city task force creating a police oversight board have called out Chief Gerald M. Smith publicly.
The City Council established the nine-member task force to make recommendations on the creation of a civilian review board to investigate police misconduct.
Gathering input from the department, as well as other stakeholders including community members, is integral to ensuring effective oversight, according to several members who said they've reached out to Smith via emails, texts and phone calls.
"At some point, the unwillingness to engage with this body does start to feel like arrogance. I don't think we can overlook it," task force member and University of Richmond professor Erik Nielson said during a public meeting Wednesday. "If you're watching a task force creating a civilian review board that could potentially just co-opt your authority, and there's nothing. It makes me feel like they don't believe it or they're just not going to deal with it. They think they can get out of it."
Only after applying public pressure in the form of a tweet has the task force heard any response from Smith.
At the end of its weekly meeting, the task force tweeted: "We publicly invite Chief Gerald Smith, whom we have unsuccessfully tried to reach privately, as well as any @RichmondPolice law enforcement officers to our next CRB Task Force meeting next Wednesday, May 26 at 6:30pm via Zoom."
On Thursday, Smith called Nielson, but Nielson said the conversation focused on his request for a ride-along, not Smith's attendance at the next meeting.
Nielson said that for more than a month, he had been pinging two phone numbers that a City Council member gave him for the chief.
In response to questions from the Richmond Times-Dispatch, the department said it "has made itself available to the board in the past and continues to do so."
The department's statement references an April 8 email from Deputy Chief Victoria Pearson, which was sent to the council's chief of staff, not task force members, whose email addresses are "readily available," according to co-chair Eli Coston, a Virginia Commonwealth University professor. Neither Coston nor Nielson had heard of Pearson.
Coston had emailed Smith, and his assistant, on May 6 requesting a meeting with Smith. The email got no response, Coston said.
In its response to The Times-Dispatch's inquiry, the department also cited a letter sent to the council on April 14. The department said the letter was from Mayor Levar Stoney and Smith "expressing their interest in working collaboratively with the board." Stoney and Smith have voiced support for a CRB in the past.
But the April 14 letter was signed only by Stoney and called the task force "out of compliance" since the ordinance that created the group set a deadline of March 1 for its final report. The task force did not first meet until March 15 because the council delayed approval of its members for months.
"The process currently underway lacks clear direction, leadership, and collaboration with the administration," Stoney's letter said. "It is in the best interest of the city that members of council, the administration, and the community work together, not in silos, to create a CRB that addresses the specific needs identified by our community. I am concerned that if we do not have a properly informed CRB, we will only further divide our community and foster distrust. We cannot afford that."
It is unclear whether Smith will attend Wednesday's meeting.
(804) 649-6527
Twitter: @AliRockettRTD