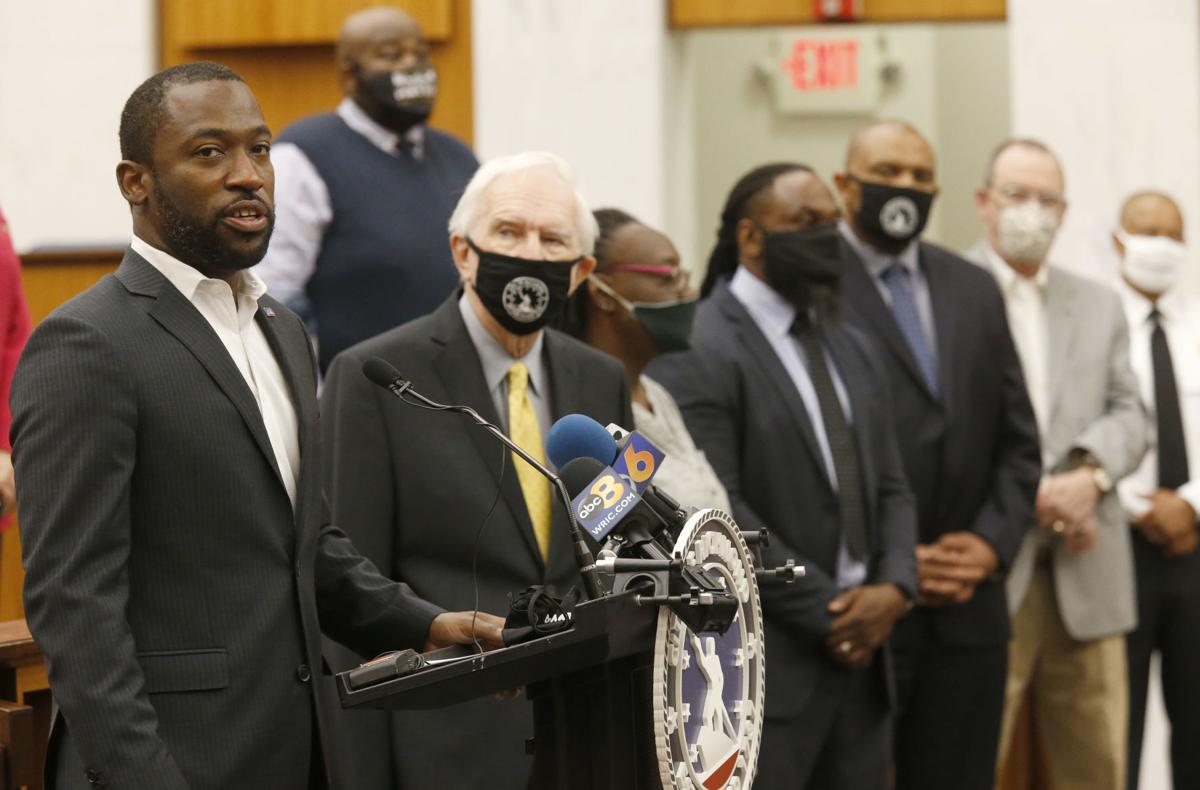 A 38-member task force created by Mayor Levar Stoney in July after months of ongoing demonstrations calling for police accountability and a racial reckoning has delivered its final recommendations to "reimagine public safety."
The 15 recommendations include reallocating police budget dollars, developing a new dispatch system that reroutes noncriminal calls to agencies other than police, and forming a new city department for restorative justice and community programs. Though the Richmond Police Department is integrally linked to many of the recommendations, most of the suggestions involve greater community involvement in public safety.
At a news conference on Tuesday, Stoney said he hopes to act on some of the recommendations soon but declined to set a timetable for their implementation.
"Some of them will need to be evaluated and some will be actionable ASAP," he said. "I think we owe it to those who worked on this plan to be thorough in our review of the recommendations."
He said the city may enact some of the recommendations immediately, such as new police officer training programs, but noted that others may require additional funding or the approval of the City Council.
Stoney said there are no recommendations he "fully dislikes," but clarified that he would not support "defunding the police" when asked about a recommendation calling for the city to review funding in the police department's budget for items "that no longer align with Richmond's values and needs" so that it can be reinvested in other areas that would "empower the community and bring greater economic and social justice."
In July, the City Council voted 2-7 against a resolution that essentially called for the mayor's administration to do the same thing.
"I don't believe in defunding the police. I believe we have to fund the change, fund the reforms as well," Stoney said. "Some of those reforms will live in other agencies and other organizations that can support bringing about a human services lens to public safety. That's what I think we need to do."
The task force divided into three subgroups — use of force, human services and calls for service, and community healing — that met weekly, on top of the larger group meetings every other week, for three months resulting in the 39-page report released Monday. The use-of-force subgroup produced nearly half of the recommendations.
This subgroup provided some of the most specific suggestions, like encouraging the police department to find a more efficient bias screening tool for hiring new officers. It also recommended that the department work with Virginia Commonwealth University's Brandcenter to create a new website and produce a public report of stops, arrests and complaints based on demographics.
Other recommendations include increased training emphasizing de-escalation; creation of a third-party anonymous complaint system; improving officers' access to mental health services; and standardizing when force is used and reported by officers and the language they use when responding to incidents.
"Despite sound policies, the implementation of said policies is often at the discretion of officers, which can lead to discrepancies," the report said of the department, which recently earned re-accreditation from CALEA, a voluntary program that sets professional standards applicants must meet.
The policing subgroup's first suggestion focused on redistributing police department funding, noting that the city spends more annually on it than on social services, community development and alternatives to incarceration. The police department's nearly $97 million allocation in fiscal year 2021 is the second-highest of any agency, behind only the school system.
"Intentional investment in the resources and services that truly keep communities safe — health and mental health, quality education, youth development, workforce development, and public transportation are necessary to reduce harmful interactions between police and those who are disparately impacted by overpolicing," the report says.
The report says that action would also be necessary for the successful creation of a new city department, the Office of Restorative Justice and Community Safety, a recommendation from the Community Engagement and Healing subgroup.
This new office would "create a model for racial healing guided by communities most harmed by the justice system" and "provide non-law-enforcement resources and responses to non-criminal calls for service." It would also coordinate community programs and events that encourage cultural diversity, mediation and conflict resolution, in an effort to reduce the city's reliance on police and the criminal justice system.
The Human Services subgroup suggested working with existing city offices like the Department of Emergency Communications, which dispatches emergency calls to police, fire and EMS, to "find an immediate way to triage calls to get them diverted [from police] to appropriate places."
Calls for barking dogs, welfare check, truancy or curfew violations, mental health, loud music or neighbor disputes should go to departments other than police, the report said.
Many recommendations referenced programs in other communities, like the Crisis Assistance Helping Out on the Streets (CAHOOTs) in Eugene, Ore., that Richmond can use as a model.
In closing, one of the task force members, George Brown, offered a sobering reflection that while the committee did an "excellent job" suggesting broad changes to reimagine public safety, an underlying issue still looms large: poverty.
"Imagine after all that great work, the people are still poor," he wrote. "So, I will cautiously celebrate a victory with all of the contributors to the task force."
(804) 649-6527
Twitter: @AliRockettRTD
(804) 649-6178