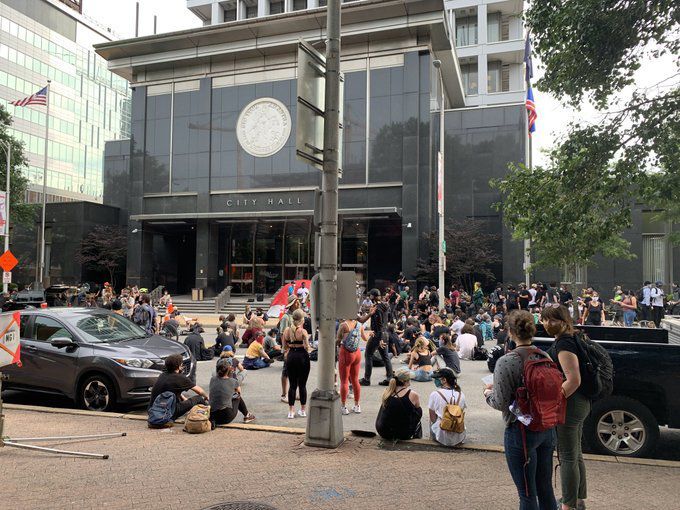 A group tasked with creating an oversight board wants public input on how it should police the Richmond police.
The city's nine-member task force — a precursor to a Civilian Review Board, a community panel authorized to investigate complaints against Richmond police officers — is hosting its first town hall virtually on Thursday.
Most of the two-hour meeting will be open for gathering feedback from the community about how the eventual board should operate. Task force members also plan to introduce themselves and provide a brief explanation of their role, making it clear that they cannot actually address complaints about police — though they expect to hear a lot of them Thursday. Instead, they can recommend to the City Council how the review board can do so effectively.
Thursday's town hall, which will be held from 6 to 8 p.m. via Zoom, will be the first of many opportunities during which the task force plans to engage the public. It is open to anyone and will not be recorded. Commenters do not have to identify themselves, as the group said anonymity is important so people feel comfortable sharing their views without threat of retaliation.
At its last meeting, task force member Erik Nielson, a professor at the University of Richmond and an expert in the use of rap music as evidence in criminal trials, posed questions to the rest of the group members to begin their discussions of form and function for the board. The questions revolved around four subject areas:
Accessibility: Should there be a physical office, and where is it located? Do people have to file a complaint in person or make complaints online? Are anonymous complaints allowed? Should translation services be provided? Are only Richmond residents eligible to make complaints, or can any passenger or traveler who has a negative interaction with Richmond police have recourse?
Membership of the board: How many people should serve on the board? Who selects, appoints or elects them? What in their background might disqualify them from sitting on the board (law enforcement and their family members already are not allowed to serve, according to a new state law)? How does it engage police? What are the term limits? What diversity measures should be implemented to make sure the board reflects the community? Should there be required training? Are task force members allowed to serve?
Powers: What kind of complaints should the board investigate? Can it look into past complaints? What authority will it have? Should it review policies and procedures? Can it dismiss officers or the chief? How, and what, information can it compel the police department to produce? What are the ramifications for police not providing that information?
Process: How is a complaint filed? What happens after a complaint is filed?
The task force didn't have many answers, yet. Members are hoping the community will provide some, and the group plans to educate itself, asking experts to speak at the meetings about best practices.
The group is hoping to have the board up and running by Jan. 1. The task force recommended to the City Council a budget of $604,050 to cover the costs of hiring an executive director, at least five investigators, an auditor, a policy analyst and support staff, as well as fees for legal counsel, mediation and a stipend for board members, for six months.
But the council already slashed the proposed amount, saying the timeline would likely take longer than expected and the board wouldn't need an entire staff until the following fiscal year, which starts July 1, 2022.