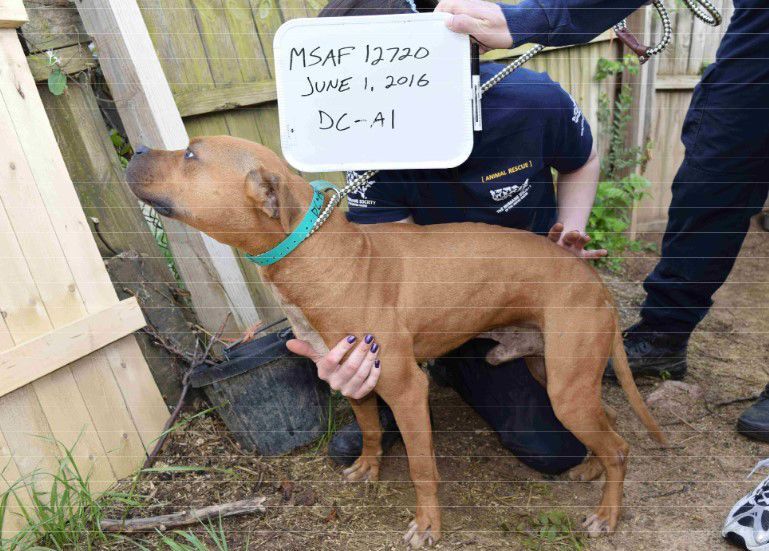 A Washington, D.C., man who took his dog, Cookie Monster, and his then-7-year-old son to a "two-card" dog fight in King George County in 2016 was sentenced Wednesday to 18 months in prison.
Odell S. Anderson Sr., 56, pleaded guilty in June to conspiracy to violate federal animal fighting law and to bringing someone under the age of 16 to an animal fight. He is one of four men convicted this year of charges in an interstate dog fighting conspiracy that ran from 2013 to 2018.
Cookie Monster was injured in the April 3, 2016, fight, which lasted 40 minutes. The dog's opponent was injured so severely it died and its body tossed into a dumpster by its owner, authorities said.
"The word has to go out to people who are fighting dogs that this is not acceptable," said U.S. District Judge John A. Gibney Jr., just before sentencing Anderson.
Shortly after Anderson was sentenced Wednesday, Gibney imposed an 18-month prison term on Emmanuel A. Powe Sr., 46, of Frederick, Md., for conspiracy stemming from the same dog fights in King George in April 2016.
Authorities said Powe's dog died in one of the two fights. Ten dogs were seized in a search at Powe's address on July 11, 2018.
Powe had a 2006 conviction related to animal cruelty and, according to court papers, he "admitted to law enforcement to being primarily involved in the breeding and selling of dogs for use in dog fighting. Electronic evidence seized from his residence corroborated his statements."
Anderson and Powe – who, according to court documents and testimony, were otherwise small business owners and good parents – apologized to Gibney for their involvement in the dog fighting and expressed remorse for the harm suffered by the dogs.
Congress first enacted the federal animal fighting prohibition in 1976 and it was not until 1997 that the first case was prosecuted. The next prosecution was not until 2007, when Michael Vick was prosecuted in Richmond and sentenced to 23 months in prison, said the U.S. attorney's office.
"The Vick case exposed the public to the extreme animal abuse involved in dog fighting, including the animal suffering that occurs before, during, and after dog fights. In particular, the defendants in that case admitted as part of their guilty pleas to having routinely executed underperforming fighting dogs by drowning, hanging, and other brutal means," wrote prosecutors to Gibney in Powe's case.
The April 3, 2016, dog fights were held behind a house owned by a relative of Carlos L. Harvey, 47, of King George. Harvey has pleaded guilty to the same conspiracy charge and is to be sentenced on Nov. 5. Chester A. Moody Jr., 46, of Glenn Dale, Md., was sentenced to 12 months in prison by Gibney on Aug. 27.
According to authorities, Anderson, who had a history of training and fighting dogs, helped establish the rules for two dog fights that occurred that night in King George. The rules included "no open invitations" and "no walk-ins" in order to avoid unknown persons attending the secret event.
Authorities said that "four pit bull-type dogs" were seized as a result of a June 1, 2016, search at Anderson's home. "The dogs were housed separately, outdoors in crude wooden/plastic housing, wearing thick collars, and/or tied to heavy chains that limited their access. The dogs all had visible scarring and tears consistent with use in a dog fighting venture," according to the U.S. attorney's office.
In asking Gibney for a stiff sentence, Shennie Patel, a trial attorney with the U.S. Justice Department's Environmental Crimes Section, said, "Dog fighting is no joke. ... It is one of the most violent forms of animal abuse out there." The case was also prosecuted by Olivia L. Emerson, an assistant U.S. attorney.
Referencing the young boy at the fight, Patel said, "Mr. Anderson was bringing up the next generation ... passing on the torch."
"Not only was the location of the dog fight unknown to most of the participants, therefore raising questions of safety, but it is also well-known that a dog fight does not involve two dogs simply wrestling over a toy until one of the dogs 'gets the toy.' To the contrary, a typical dog fight show, like the one his son attended, involves two dogs, trapped in a wooden pit, being cheered on by sponsors and participants, while violently fighting each other by biting and ripping each other's flesh," wrote the U.S. attorney's office in a sentencing document.
In sentencing documents, prosecutors said that clearly Anderson was confident his son's favorite dog would win and his son would not have to witness Cookie Monster's death. "Instead, however, defendant's child most likely witnessed the losing dog's death or the gruesome injuries the losing dog sustained and that ultimately killed the dog," they added.
Anderson and his son attended two fights that day, authorities said. "The losing dog in the second fight also died of its fight injuries," said the government.
Anderson's lawyer, Christopher A. Griffiths, asked Gibney for leniency. He acknowledged that Anderson was involved in dog fighting from 2013 to 2016 but cited Anderson's successful trucking business and said he was a good father to his children.
"He just did not appreciate the seriousness of the crime and he really did not understand the cruelty of it," Griffiths said. "The day the agents came to his house, he was done with dog fighting."
Gibney, however, said that both Anderson and Powe must have been aware dog fighting was illegal and a serious crime in light of the Vick case that was covered by the media across the country.