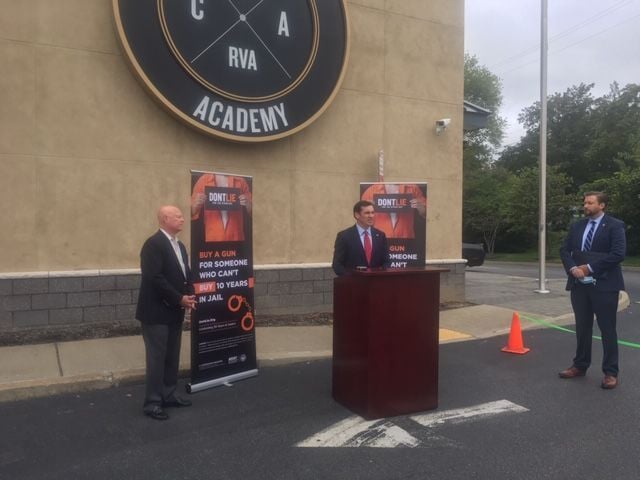 Within a day of the illegal straw purchase of a .40-caliber semiautomatic Glock pistol from a Chesterfield County gun store, the gun was used in a house party shootout in Richmond in which an estimated 20 shots were fired — among them several from the Glock.
Then a day later, on Nov. 1, 2018, the same gun was used to shoot into an occupied dwelling in Washington, D.C., authorities said.
As it turned out, a Chesterfield man allegedly purchased the Glock for a high-ranking member of the Red Lyfe Blood gang in Richmond. The firearm eventually was recovered on March 2, 2019, when it was found under a parked car after officers approached a group of suspected gang members.
The Oct. 30, 2018, straw purchase — a transaction where one person illegally purchases a gun for someone else, often a convicted felon — is one local example of an ongoing, sometimes deadly problem that the U.S. Department of Justice is focusing on this week through a campaign known as "Don't Lie for the Other Guy." The nation's gun industry is a close partner.
"Don't lie for the other guy means it doesn't matter who you ask to purchase a firearm for them — even if it's a friend or family member, or for whatever reason they give you for needing a weapon," said Christopher Amon, assistant special agent in charge of the ATF's Washington Field Division, who cited the Richmond-area straw purchase as a case in point. "Aside from a narrow gift exception, there's never an instance or situation in which you can legally purchase a firearm for someone else."
On Tuesday, Amon joined Zachary Terwilliger, U.S. Attorney for the Eastern District of Virginia, and Lawrence Keane, senior vice president and general counsel for the National Shooting Sports Foundation — the trade association for the firearm industry — to announce the collaborative effort to help stem the straw purchasing of firearms.
They made their remarks outside the Colonial Shooting Academy on West Broad Street in Henrico County, to further illustrate how federally licensed firearms dealers in the Richmond region and across the nation are assisting federal authorities in the initiative.
"Today is proof positive of what happens when you have public-private partnerships," Terwilliger said. "Here we are at federally firearms licensee, along with the ATF and the National Shooting Sports Foundation, and the prosecutors."
Terwilliger noted that he's been a sportsman all his life and "extremely pro-Second Amendment," but he's also the chief federal law enforcement officer for the Eastern District of Virginia. "Those things are not at odds here," he said. "What we're talking about is enforcing the laws that are on the books — frankly to ensure that we have a robust Second Amendment."
Terwilliger said he was pleasantly surprised when he recently purchased for his personal use a .22-caliber target rifle from a northern Virginia gun store, and up popped an electronic message from the NSSF. "It was a warning," he said. "It said, don't lie for the other guy and this is what straw purchasing is. And if you're buying this — even innocently on behalf of someone else — that's a crime and you can't do it."
"As you've heard ad nauseam, many straw purchase firearms wind up in the hands of criminals," he added. "We've seen that in Northern Virginia where firearms are making their way through Virginia across the river into D.C. and being used in many crimes. We see that in robberies, drive-by shootings and assaults on law enforcement."
Amon, the ATF official, said in one case the agency used its firearm tracing system and ballistic identification network to link 31 illegally purchased firearms to more than 70 shootings in the Washington D.C. and Virginia areas.
"Now while guns that are illegally purchased in the Richmond area may travel elsewhere, the straw purchasing of weapons for the purposes of criminal activity remains largely a local concern," Amon said. "In and around Richmond, illegally purchased firearms recovered by law enforcement have been connected to numerous violent crimes."
Straw purchasing circumvents the criminal background check and record-keeping requirements of federal law, Amon said, and "distances the receiver of the firearm from the documentation of the purchase."
There's a heavy price to be paid by those who get caught: Up to 10 years in prison and a $250,000 fine. That's what two Richmond-area men potentially face after being indicted last month in the October 2018 straw purchase of three guns from the Chesterfield store.
Keane, of the NSSF, said 3.2 million "media impressions" will be disseminated in coming weeks in the Richmond market through outdoor advertising, radio and television to publicize the "Don't Lie for the Other Guy" campaign.
"The other part is to assist ATF in educating and training retailers on how to be able to identify and prevent illegal straw purchases," he said. "The firearm industry is proud of its longstanding cooperative relationship with law enforcement, in particularly the ATF."