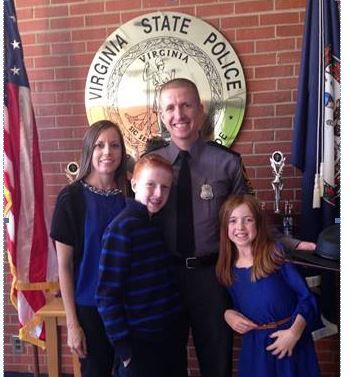 The wife and children of slain Virginia State Police trooper Chad Dermyer were among five families of fallen first responders across the country to have their home mortgages satisfied Tuesday, which was timed to mark the 80th commemoration of the Dec. 7 Japanese attack on Pearl Harbor that killed 2,400 service members and civilians.
The Tunnel to Towers Foundation, a nonprofit dedicated to honoring and supporting first responders, veterans and their families, announced it is paying off mortgages on the homes of five "selfless heroes" who lost their lives in the line of duty. In addition to being first responders, all five had served in the military.
Dermyer, 37, of Gloucester County, was fatally shot inside Richmond's Greyhound bus terminal during an encounter with James Brown III, 34, of Aurora, Ill., who pulled out a handgun and opened fire on Dermyer moments after the trooper approached him on March 31, 2016. Nearby troopers, who along with Dermyer were undergoing specialized training inside the terminal on Arthur Ashe Boulevard , returned fire, striking Brown before taking him into custody. Dermyer and Brown later died.
Dermyer left behind his wife, Michelle, and two children. He had served four years with the U.S. Marine Corps as a machine gunner before starting his career in law enforcement.
"It is hard to find the words to described how blessed our family feels to have our mortgage paid off," Michelle Dermyer said in a prepared statement. "What an amazing way for the Siller family to honor Stephen and continue his legacy, by blessing so many first responders and Gold Star families. We will be forever grateful for this life changing gift."
Frank Siller is chairman and CEO of the Tunnel to Towers Foundation, dedicated to honoring the sacrifice of New York City firefighter Stephen Siller, who gave his life to save others on Sept. 11, 2001.
So far this year, the foundation has delivered 135 mortgage-free homes to fallen and catastrophically injured service members and first responders across the country. The foundation says it will deliver 65 mortgage payoffs or mortgage-free homes between Thanksgiving and New Year's Eve.
"We wanted to honor the sacrifices of veterans as part of our Season of Hope," said foundation spokesman Larry Olson. "We're giving away at least a home a day. So what we wanted to do for the 80th anniversary, was to select fallen first responders who had prior military service. And honor them in that way on this day."
"We have so many first responders that have prior military service, that it is something that is often sort or lost or forgotten. That not only have these officers chosen to serve their community, but they chose to serve their country as well," Olson added. "And we wanted to call attention to that."
The other fallen first responders whose home mortgages were paid off were from Baton Rouge, La.; Great Falls, Mont.; Johnston, S.C.; and Yakima, Wash.
Dermyer's home is the fourth belonging to a Richmond-area first responder killed in the line of duty to be paid off by Tunnel to Towers in just over three years.
In July, the foundation paid off the mortgage on the Hanover County home where state trooper Nathan-Michael Smith lived with his family before he was killed on duty while responding to a crash in Prince George County in 2015.
In December 2020, the foundation paid off the mortgage on the Powhatan County home where slain state police Special Agent Michael Walter once lived with his wife and three children. Walter, 45, was shot on May 26, 2017, while patrolling in the Mosby Court public housing neighborhood with Richmond officer Chris Duane. He died the next day.
In addition, the foundation in November 2018 satisfied the mortgage on the Mechanicsville family home of Hanover Fire Lt. Brad Clark, 43, who was fatally struck by a semitractor-trailer along Interstate 295 on Oct. 18, 2018, while responding to a crash during Tropical Storm Michael. Clark left behind a wife and four daughters.
The Tunnel to Towers Fallen First Responder Home Program was created in 2015 to pay off mortgages for the families of law enforcement officers and firefighters killed in the line of duty who leave behind young children.
The foundation also established a family home program that pays off mortgages for families of U.S. veterans killed in service, and a smart home program that provides custom-built, mortgage-free homes to catastrophically injured veterans who are double, triple or quadruple amputees.