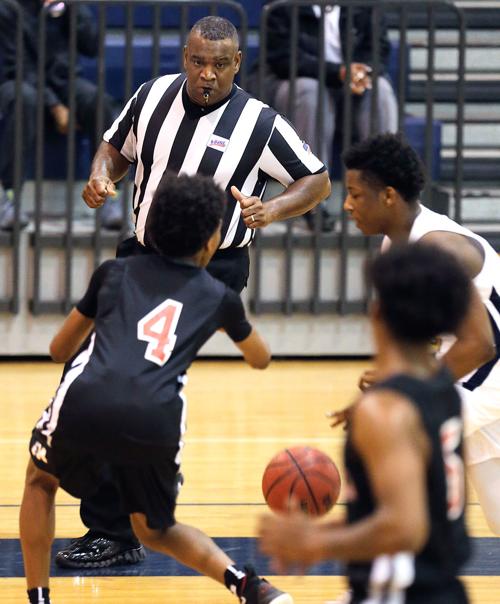 A second member of Richmond Police Chief Alfred Durham's command staff has announced he is leaving to head another department.
The city of Harrisonburg on Tuesday named Eric English, deputy chief under Durham, as the chief of its department. English, who has spent his entire 28-year career in Richmond, will begin his new role in September. His salary will be $120,000.
Steve Drew, who had been Durham's other deputy chief, left Richmond and took over as the top officer in Newport News in July. With their departures, Drew and English are taking away 53 years of law enforcement experience in the city.
English oversaw business and support services for the department, including various investigation units. He also oversaw critical incident management and watch commanders, who are the night supervisors for the force.
"Chief English's passion for community policing, officer development, and leadership will continue to inspire the superb level of service residents of Harrisonburg expect," said Harrisonburg City Manager Eric D. Campbell.
The department in Harrisonburg, home to James Madison University, has 112 sworn officers and 26 civilian positions. Richmond has 750 sworn officer positions and 170 civilian positions.
"I look forward to having the opportunity to work with the men and women of such a fine department," English said in a news release from Harrisonburg. "I hope to help these officers continue to make a positive impact within the community, while also sharing and implementing strategies and lessons that I've learned through my career."
Neither English nor Durham could be reached for comment on Tuesday.
In an interview with the Richmond Times-Dispatch earlier this year, English said he became a Richmond police officer with the long-range goal of working for the FBI. About two months after he became a police officer, though, he decided he had found his career in local law enforcement.
English was a criminal justice major at the University of Richmond and earned his master's in public administration at Virginia Commonwealth University. During his time at UR, English played basketball, averaging 12 points per game his senior year as a 6-foot-2 guard. He came to UR from his hometown in Mebane, N.C.
A sports lover, English has officiated high school basketball games for about 15 years.
He became deputy chief for the RPD in 2011.
Before he rose through the ranks of the department, he worked as a patrol officer in a cruiser and as a bike officer. He also has been assigned numerous cases involving illegal drugs, investigated property crimes and served on the department's instructional staff.
Many top RPD officers have gone on to lead other departments:
Scott C. Booth, a former Richmond major, became police chief for the Metropolitan Washington Airports Authority in 2016 and is now the chief in Danville.
Former Chief Bryan Norwood left Richmond in 2013 and is vice president of public safety at the Metropolitan Washington Airports Authority.
David M. McCoy, a former Richmond assistant chief, became associate vice president for public safety and chief of police at the University of Richmond in 2011.
John Keohane, who retired as a major from the city that same year, went on to lead Hopewell's police department. He plans to retire from Hopewell this month.
John Venuti, a major who had headed RPD's homicide and violent crimes unit for seven years when he left in 2010, has been chief of police for Virginia Commonwealth University ever since.
John I. Dixon III, another former high-ranking Richmond police official, was named chief of Petersburg's department in 2007. He was fired from Petersburg in 2016 after allegations of corruption within the department.
(804) 649-6527
Twitter: @AliRockettRTD