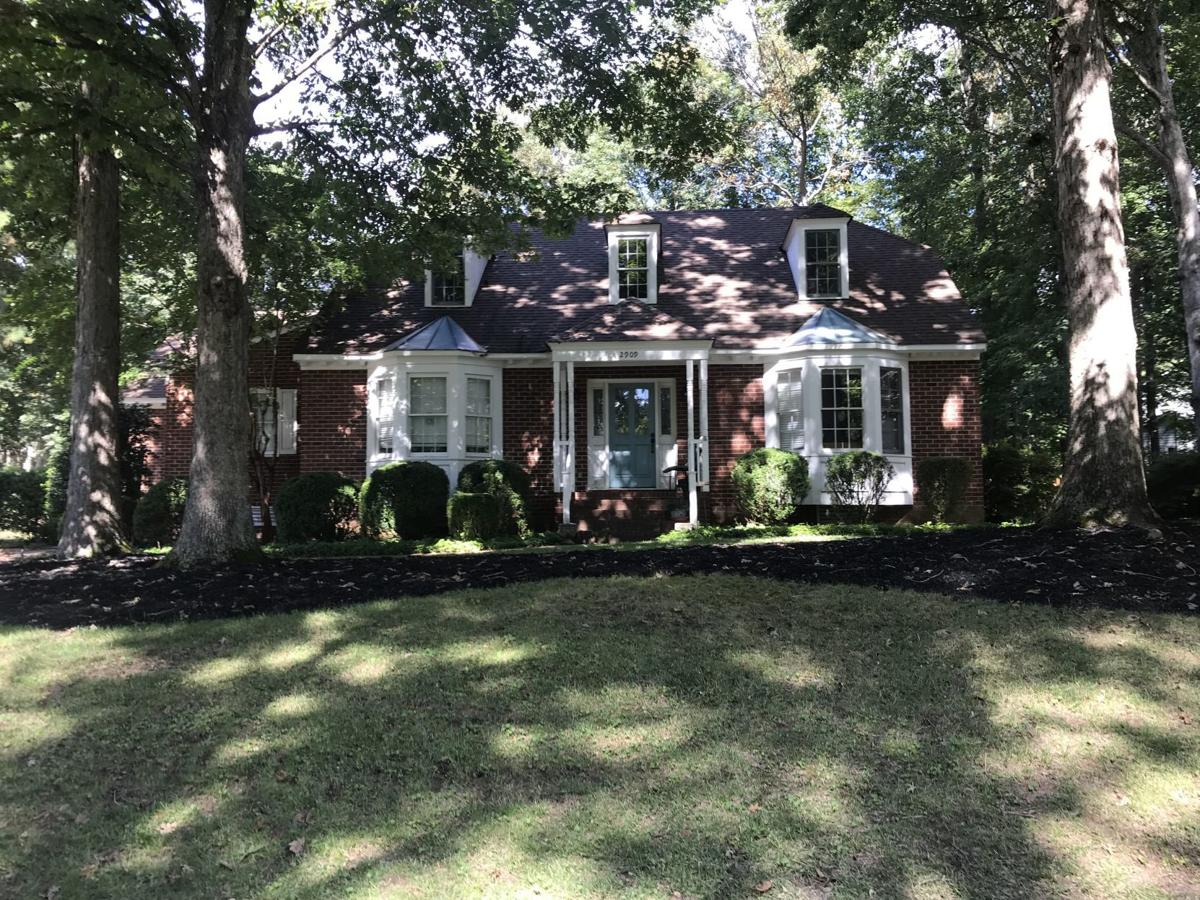 Body-worn camera footage from the two Henrico County police officers who entered a woman's home in Short Pump during a welfare check Tuesday morning shows the woman — who emerged from a bathroom charging the officers with an ax — was shot by both of them, a detail that was not released in the police chief's initial account of the incident.
The footage — shown to reporters at the county's Public Safety Building on Friday afternoon before the family was able to view it — began with the officers on the back porch of Gay Ellen Plack's house in the 2900 block of Huntwick Court in the Wellesley subdivision near Pump and Three Chopt roads. They enter the home through an unlocked door, repeatedly shouting her name and identifying themselves as police. They search upstairs and downstairs and come to a locked bedroom door they eventually kick open.
One officer enters a dark bathroom attached to the bedroom while holding a flashlight near his head, with his gun in the other hand by his side. He remarks that he sees blood in the bathroom.
He pushes the door open slightly and it quickly rebounds, hitting the officer, and Plack barges out from behind it, swinging an ax with a small head and a 2-foot-long handle. The officer in the bathroom retreats to the adjacent kitchen, then Plack charges silently at the other officer in the bedroom. His gun is holstered as Plack approaches swinging the ax.
"No, no, no. Put that down," the officer says before shooting her. The other officer, who had retreated to the kitchen, fires his weapon from behind Plack in the frenzied few seconds in which four gunshots are audible.
As Plack lies bleeding on the ground, the officer who was charged in the bedroom says: "Ms. Gay, why'd you do that? We're just trying to help you."
Plack never made a sound throughout any portion of the two videos that reporters saw Friday, one from each officer's camera system. One clip was longer than 26 minutes, but reporters saw only about 10 minutes — police officials stopped it a few minutes after the shooting.
Neighbors described hearing Plack moan as several people carried her from the house to an ambulance. She was taken to a hospital, where she died the same day.
Plack, 57, had struggled for years with bipolar disorder and had been involuntarily committed to hospitals several times, Plack's older brother, Bob Bostock, told the Richmond Times-Dispatch on Thursday. Plack had been taken to a hospital for three days in recent weeks, he said. Reacting to a summary of the video, Bostock said Friday that he continues to question why the officers forced their way into her home and her bedroom.
Police confirmed that a doctor had called them to carry out a wellness check — they get similar calls for county residents daily, they said. Bostock said police have responded to her home numerous times before and never entered. Police could not confirm this Friday night.
"She never answers the door because she's scared of police. She's scared they'll take her back to the hospital," he said. Bostock added that police have also come into contact with Plack in public when she's having a manic episode. "None of those times they had to kill her to bring her in."
Bostock, who lives in Lawrenceville, N.J., questions whether the officers could have subdued her in other ways. He said his sister was 5-foot-4; both male officers were taller.
Henrico Police Chief Humberto Cardounel defends his officers' actions. The department has not yet released their identities.
"What we have seen here comports with a reasonable use of force," he said Friday. "I feel confident in the officers' actions."
Cardounel said officers rendered first aid immediately. They were not seen rendering aid in the video clips shown Friday, one of which included about two minutes of footage after the shooting. The officers thought Plack had only a superficial wound to her hand, Cardounel said.
Plack died from a gunshot wound to the abdomen, according to the state medical examiner. The wound to her stomach area is clearly visible in the video.
The officers had called for medical personnel to stand by before even entering the room prior to the shooting, but it is unclear how long it took them to arrive after the shooting. It was not shown in the video and police wouldn't say Friday.
It is unclear whether gunfire from both officers struck Plack. But Cardounel released a video Thursday in which he described one officer retreating from the woman and another officer shooting her as she then came toward him swinging her weapon. Cardounel said Friday that he didn't mean to mislead anyone in Thursday's video; he said he was not speaking from a script and his narrative focused on the officer who had no escape route as Plack charged at him.
"The officer at that point literally had less than four seconds to make a decision, although he made several attempts and pleaded for her to stop and for her to desist," Cardounel said in the video Thursday. "She continued to come at him with the ax. And the officer had to make the most difficult decision in his life and his career, which was to use deadly force."
Only one of the two officers — the one who was being charged at by Plack — had a Taser as well as a gun. The video shows the Taser was never used.
Henrico police allowed reporters to view the video taken on both officers' bodycams but prohibited reporters from taking photos or videos of the footage and have not released it publicly. Cardounel said the immediate family — Plack's two adult children and ex-husband — have been offered a chance to view the videos, but they hadn't seen it as of Friday evening.
Cardounel's unusual, nearly six-minute video message on Thursday was the department's first explanation of the shooting since identifying Plack on Tuesday and saying that officers were involved.
Henrico's Commonwealth Attorney Shannon Taylor, as well as her chief deputy, Michael Huberman, pushed police to show the bodycam videos. Taylor will ultimately determine whether to bring criminal charges against the officers. While she said she hadn't made any decision yet, Taylor said Friday: "I have no concerns about the officers' actions in the video that is why I was confident in showing the footage to the media."
Taylor pursued criminal charges against the last Henrico officer who was involved in an on-duty shooting. In 2016, less than a year after shooting a woman in a car four times, including once in the back of the head, Joel D. Greenway was acquitted by a jury of all charges stemming from the shooting.
Cardounel said the county has never released bodycam footage before, but officials thought it would combat misinformation and speculation that has run rampant on social media since Tuesday.
Both Cardounel and Taylor sent their condolences to the family and said they did not want to discount the loss of life by focusing of the officers' actions.
"The words seem hollow," Bostock said Friday. "I have the same questions I've had all along. The whole thing just doesn't make any sense to me.
"She didn't deserve to die this way," he continued. "I'm so angry that I haven't had time to grieve."