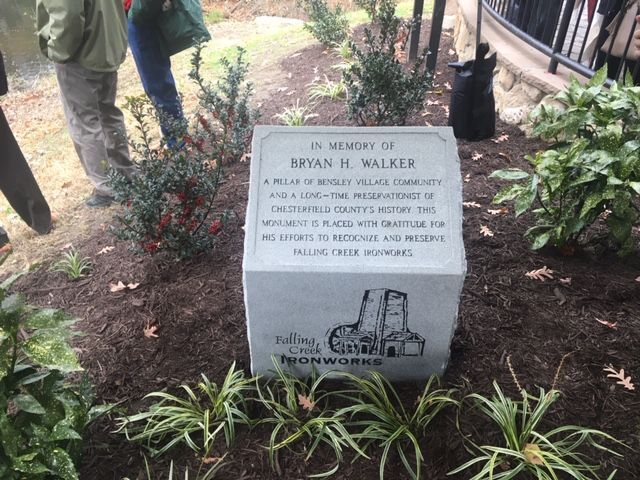 A Chesterfield County teen who scrawled MS-13 gang graffiti on an interior wall of his 87-year-old neighbor's home after bludgeoning him with a claw hammer was sentenced Tuesday to serve 35 years in prison for a crime of "extreme brutality" that claimed the life of a respected historic preservationist.
After a three-hour sentencing hearing in Chesterfield Circuit Court, Judge Lynn S. Brice said in comments from the bench that she found it significant that Rafael Angel Vargas "altered the crime scene" by marking the victim's wall with gang tags — in an apparent effort to misdirect police — and then claimed in an interview with detectives that it was a friend who carried out the attack.
"What that says to me is that you were thinking very clearly," Brice told the former Meadowbrook High School student, noting that experts who evaluated the teen found him to be very intelligent.
Describing the killing of Bryan H. Walker as an act of "extreme brutality," the judge said Vargas consciously sought out "a protector of the neighborhood and the community" before bludgeoning him four times with the hammer inside his home on April 2, 2019. Vargas was 16 at the time; he turned 18 in June.
After rejecting as inappropriate a defense plea to commit Vargas to the Virginia Department of Juvenile Justice so he could receive "some continuity of mental health treatment," the judge sentenced Vargas to 60 years in prison with 25 years suspended on his conviction of first-degree murder. He will serve all 35 years of active time as an adult.
The punishment was above the midpoint of state sentencing guidelines calculated for Vargas, which called for an active prison term of between 23 years and 10 months and 39 years and eight months.
Through interpreters, the defendant's parents, Maria Nolasco and Roberto Vargas, testified that their son began to exhibit symptoms of mental illness in early September 2018 that included delusional behavior, paranoia and hallucinations.
But it was unclear during Tuesday's testimony whether Vargas' mental health problems were separate from or a symptom of a substance abuse problem, which reached a crisis last year when he consumed eight bottles of cough syrup and overdosed.
He was twice hospitalized in residential treatment facilities for patients struggling with psychiatric issues or substance abuse, it was disclosed. Just three days before the killing, Vargas was released from Poplar Springs Hospital in Petersburg after funds to pay for his continued treatment expired, his mother testified.
Chesterfield prosecutor Ken Chitty cast doubt on whether Vargas' mental health difficulties led to Walker's killing. Chitty noted in court that Vargas told a probation officer who interviewed the defendant for his presentence report that he pretended to make friends with Walker so he could gain access to his house.
Chitty also noted that Vargas struck Walker four times with the hammer and, after the killing, returned to Walker's home to stage the scene so it would appear he was killed during a robbery by an MS-13 gang member. The lead detective, Christopher Guice, found the house in disarray when he arrived with a television knocked over and "papers thrown about."
But a search of Vargas' home — two doors away from Walker's in the 6700 block of Went-worth Street — turned up Masonic pins and cuff links belonging to Walker, who served as master of the Chester Masonic Temple in 1970 and was the most senior master of the lodge until his death.
Vargas initially denied committing the murder and told investigators that a friend had come to his house about 6 a.m. the morning of the slaying and discussed committing a "lick," which is street slang for a robbery. Vargas said his friend asked for a sweatshirt and a weapon, which Vargas said he provided. The weapon was a brown-handled claw hammer.
Vargas told investigators that his friend returned 20 minutes later wearing a blood-stained hoodie, which Vargas claimed he disposed of along with the hammer.
Walker was found lying face down in the kitchen with a large hole in the back of his head. The state examiner determined that Walker died of blunt force injuries to his head; there was a defensive wound to his left hand.
The victim's blood was found throughout the kitchen, including on the walls and ceiling. When detectives later checked Vargas for any injuries to his body, they found a small drop of blood behind one of his ears. A sample sent to the Virginia Department of Forensic Science for DNA testing showed that Walker's blood was present.
Vargas pleaded guilty to the murder in January. A related robbery charges was dropped as part of a plea agreement.
In testimony, Walker's former pastor, family members and neighbors described a gentle and caring man who was loved by all, and how he took on the role as a guardian of the community.
"He was a very thoughtful and kind man," said Pam Culler, recently retired pastor of Sherbourne United Methodist Church, where Walker was a longtime member. "He didn't like to see people being mistreated."
Walker was one of Chesterfield's leading advocates for historic preservation. His name is synonymous with the Falling Creek Ironworks, which he lobbied the county to purchase some 30 years ago to be historically preserved for future generations. The first iron furnace in North America was built on the site in 1619.
In November, county officials unveiled a monument bearing his name on the overlook of the ironworks. His advocacy for preservation resulted in more than 30 properties being designated as historic landmarks in Chesterfield.
"You knew he loved everything about his family," Jane Walker-Daggett, the victim's niece, testified. "He loved his community. His death was a devastating loss."
When asked in court what impact Walker's death had, his daughter Katherine said, "It's really hard. He was a very gentle man and knowing how he died — I have a hard time with that."