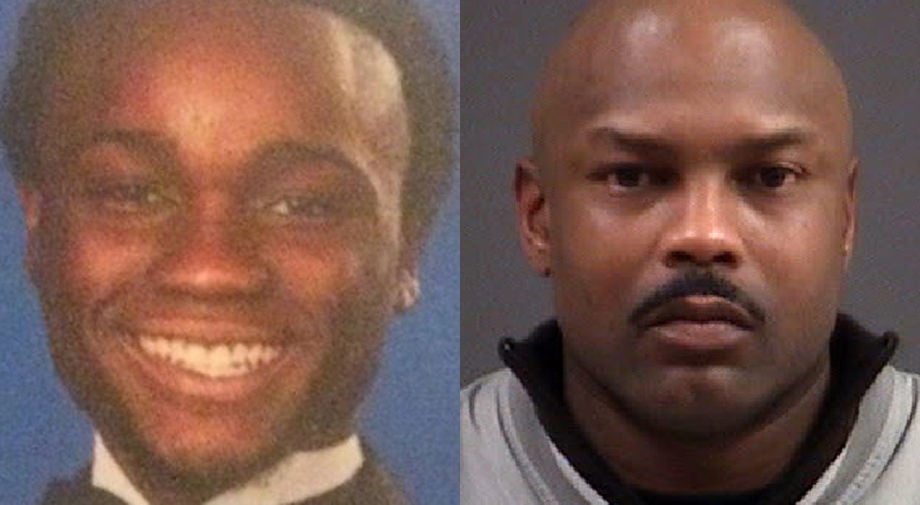 A teen fatally shot by off-duty Richmond police officer David L. Cobb appeared extremely high and incoherent, refused commands to get out of the officer's car and was told repeatedly to stop moving inside before the officer — apparently fearing for his life — fired a single shot that killed the boy, a former gas station clerk who witnessed the incident testified Tuesday.
During the opening day of Cobb's second-degree murder trial in Chesterfield County Circuit Court, Steven A. Tejeda, who was working at the Sunoco gas station next door to the Better Vision Detail & Car Spa, where the shooting occurred, said 18-year-old Patterson Brown was so high that he didn't appear to know what he was doing. He said it seemed like the teen may have wanted to steal the car that Cobb had driven there to have cleaned for his girlfriend.
Brown's level of intoxication appeared beyond being drunk or stoned on marijuana, Tejeda testified, and "I was worried about what he was going to do with the car."
After Cobb spotted Brown in the Nissan Altima he approached the vehicle, opened the driver's door and asked Brown numerous times to get out. Brown initially didn't respond but at one point said, "I don't (expletive) with cops," Tejeda testified. Cobb then drew his weapon, identified himself as an off-duty police officer and told Brown about five times to stop moving his body and/or his hands inside the car, Tejeda said.
Concerned that something "bad" was about to happen, Tejeda said Cobb asked him to call 911 and advise dispatchers that he was holding someone at gunpoint and needed police to respond immediately.
Tejeda, who was about 7 feet from the car, said he didn't see Brown with a gun or hear him make any threats, but observed the teen put his hands down a couple of times during the standoff. As Brown tried to close the door and Cobb moved to keep it open, the car moved forward and that's when the officer fired, Tejeda said.
But when asked to clarify, Tejeda said he wasn't sure whether Cobb fired just before or just after the car moved. Inexplicably, Brown, a James River High School graduate, had earlier jumped into the vehicle and drove it into a wash bay.
Chesterfield Deputy Commonwealth's Attorney John Childrey told jurors in opening remarks that Cobb had no information that Brown was causing any kind of disturbance or was armed with a gun or other weapon before the confrontation escalated and Cobb shot the teen. Brown posed no perceived or actual threat and the tug-of-war between Brown and Cobb over the car door was "the extent of any struggle" between the two, Childrey said.
Cobb fired once after the car moved slightly, Childrey told jurors, and the shot struck Brown in the groin, severing a vital artery. The officer then pulled Brown out of the vehicle and laid him on his stomach with his hands behind him.
Defense attorney David Baugh countered that Brown's "bizarre behavior" turned the confrontation into an "unpredictable situation," causing Cobb to fear for his life.
The law allows the use of deadly force in such situations, Baugh said, and Cobb, a nine-year Richmond police veteran with crisis intervention training, did everything he could to control it while waiting for Chesterfield police to arrive.
"Mr. Cobb did not want to kill that man," Baugh said, adding that no reasonable person placed in a similar situation wouldn't have had concerns about his personal safety. The only reason Cobb fired was to remove the threat he faced, Baugh said.
Brown's fatal shooting occurred just more than a year after authorities said he robbed at gunpoint a fellow James River High School student of some cash and a cellphone in the back seat of a car.
Jay Lee, owner of Better Vision Detail & Car Spa, underscored Tejeda's observations about Brown's level of intoxication. "He looked spaced out," Lee said, adding that Brown just looked at him when he entered the car wash and asked Brown to roll up the car windows so he wouldn't get wet. Lee wasn't aware at that time that Brown was inside Cobb's girlfriend's car.
Lee said after instructing his workers to accommodate Brown, he left the business but soon received a call to come back. That's when he saw Brown lying on the ground outside. Lee said Cobb was hysterical and that he and his wife prayed with Cobb in the aftermath of the shooting.
Brown had arrived at the car wash earlier with two teenage friends after the trio had been on all-night binge. They decided to stop at the car wash to cash a check because one of the teens, Jennifer Ingles, formerly worked there. Lee said all three teens appeared "out of it," and he said Ingles informed him they were "on a little bit of everything."
Ingles, just 16 and a runaway at the time of the Oct. 17 shooting, testified that she tried several times to persuade Brown to get out of the vehicle — at one point trying to physically remove him. She said she felt threatened by Cobb, adding the officer pointed his gun at her to "back off" during the confrontation with Brown.
During cross examination, Ingles acknowledged she had seen Brown high on "acid," a hallucinogenic drug, in the past but indicated he wasn't under the influence of that drug the night he was killed.
After the shooting, Ingles acknowledged in testimony that she and her male friend who had arrived with Brown at the car wash abruptly drove away, leaving Brown behind as he was dying. They drove to a friend's house in Henrico County and stayed for several hours before traveling to Texas, where they stayed for four days. They didn't talk to police until about a week later.
Several Chesterfield officers who responded to the shooting testified that Cobb told them he shot Brown after the teen "reached for something" or "made a move to his right side" — believing Brown was a threat.
When the trial resumes today, the prosecution is expected to present surveillance video evidence that apparently shows some portion of the encounter between Cobb and Brown.