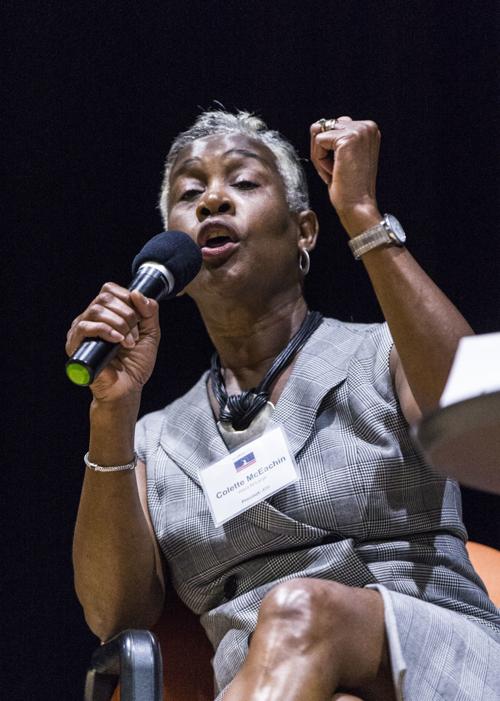 Colette McEachin soundly defeated Alex Taylor to become the Democratic nominee for commonwealth's attorney, the Richmond City Democratic Committee announced Saturday.
In a primary in which more than 2,500 Richmonders voted on Thursday and Saturday, McEachin received 2,115 votes to Taylor's 429.
As the winner, McEachin becomes the Democratic nominee for November's special election, which will be held on the same date as this year's general elections. As of Tuesday, there were no challengers outside of the Democratic Party. The official deadline for any other candidates to file a campaign is Friday.
Alexsis Rodgers, the Democratic committee spokeswoman, said she is unaware of any Republicans or independents planning to run.
Leon Benjamin, chairman of the Richmond City Republican Party, said he also does not know of any Republicans planning to challenge McEachin in the general election.
"To my knowledge, our nominee will be the next commonwealth's attorney," Rodgers said. "We're really excited about Ms. McEachin being the next commonwealth's attorney."
If McEachin faces no other challenges, she will finish out former commonwealth's attorney Michael Herring's term, which ends in 2021. Herring, who submitted his resignation letter at the end of May and left his position in July, had served in the top prosecutor role since 2006.
McEachin said she would continue the work she's been doing as interim commonwealth's attorney to reform criminal justice and ensure safety.
"I'm very pleased that the citizens of Richmond have entrusted this to me, and I don't take it lightly," McEachin said in a phone interview. "I'm going to continue, and my office will continue, to make the safety of Richmond's citizens its priority and also to focus on criminal justice reforms and their implementation in the city and creating and expanding the alternatives to incarceration that already exists in our office, and then finally, making sure that our office is accessible and transparent to the community."
Taylor could not immediately be reached for comment after the voting results were released Saturday afternoon.
McEachin had been filling the role of commonwealth's attorney after being tapped as an interim replacement by Herring in July. Taylor, a defense attorney and retired colonel in the U.S. Army, ran against her in the firehouse primary.
Both candidates and their campaign workers said they thought turnout was good, considering it was a primary.
More than 750 people voted Thursday afternoon at the Main Branch Richmond Public Library on Franklin Street, where a line formed, according to several campaign workers. About 285 voted at the second polling location at the Southside Community Services Center on Hull Street Road.
On Saturday, a steady flow of voters arrived at both locations.
"These are really committed voters here," said Rhett Walker, a political consultant for McEachin who was among the campaign workers at the library on Saturday.
Taylor, who also greeted voters at the library, said he had been "calling, knocking on doors, handing out fliers and using every method of communication I am aware of" to get out the vote.
Rodgers, the Democratic committee spokeswoman, said the turnout numbers show that Democrats are paying attention to the importance of the commonwealth's attorney's office. She said it's hard to gauge the strength of the turnout because a summer primary unaffiliated with a usual election is rare, but that the committee was "proud" of its voters for showing up.
"Congratulations to Colette McEachin for winning the Democratic nomination today," said Jamie Nolan, chair of the Richmond City Democratic Committee, in a statement. "We are grateful for your commitment to reform our criminal justice system and pursue alternatives to incarceration. Working together with community leaders, I know we can create a more equitable justice system for all Richmonders."
While McEachin and Taylor held similar policy positions — both support decriminalizing marijuana, banning guns in public buildings and parks, and diverting low-level nonviolent offenders from jail — they butted heads on rhetoric and who should be the one to lead criminal justice reform in Richmond.
Taylor used the language of fighting at a recent forum hosted by the Richmond City Democratic Committee, saying he wanted to "be a soldier" for the community. McEachin, in contrast, criticized his war-like vocabulary, saying prior efforts like the war on drugs or war on poverty were unsuccessful, and Richmond needed an "innovator" like herself rather than a soldier.
McEachin won the primary on a day in which seven people were shot across the city, posing a somber reminder of the challenging work ahead.
Last week, McEachin said Richmond's rising crime rate underscored the importance of prosecutors staying committed to their goal of protecting the city's residents.
"That is our primary goal: to work with victims, to work with witnesses, to work with the police department and make sure people feel safe in Richmond whether it's leaving their home, leaving their school, leaving the job or just enjoying their life," McEachin said last Monday.
She also has touted her experience. She has worked for 20 years in the commonwealth's attorney's office, and was one of the first black female employees. She has handled a wide variety of cases, from homicide to rape to child abuse, and has worked in every courthouse in the city.
During the campaign, McEachin committed to continuing an analysis of the root causes of crime, a project championed by Herring and programs specialist Iman Shabazz. She wants to slow recidivism and provide alternatives to incarceration for low-level nonviolent offenders, including diverting people from the criminal justice system; reducing felony charges to misdemeanors, when possible; and creating a specialty docket to handle cases for people with mental health and addiction issues.
McEachin is a graduate of Brown University and the University of Virginia School of Law. In Richmond, she is a member of the board of visitors of Virginia Commonwealth University, the board of middle school after-school program Next Up RVA, the Richmond Criminal Bar, and the Hill-Tucker Bar Association. The Richmond resident is married to Rep. Donald McEachin, D-4th.
McEachin complimented Taylor's campaign on Saturday after her victory, calling him a longtime friend and colleague of hers.
"He ran a very strong race," she said. "He challenged me and made me do the best that I could."
(804) 649-6556
Staff writer John Reid Blackwell contributed to this report.