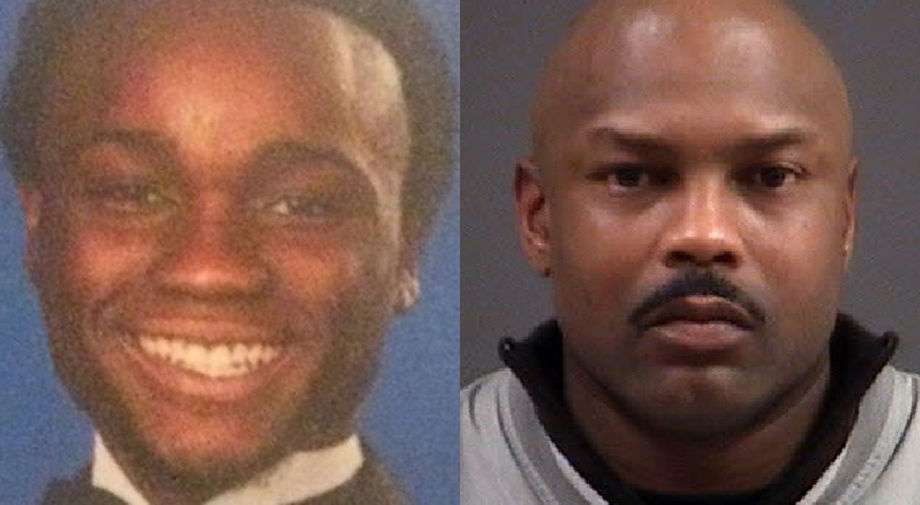 Former Richmond police officer David L. Cobb was released from the Meherrin River Regional Jail on Friday after serving about 92 percent of his 3-month sentence for manslaughter in the 2015 off-duty fatal shooting of an unarmed teen at a Chesterfield County car wash.
Cobb began serving his time May 24, after Chesterfield Circuit Court Judge David E. Johnson imposed a jury's recommended sentence of 3 months in jail and a $1,000 fine in the killing of 18-year-old Paterson Brown Jr.
Cobb was released about a week early. Inmates can have time shaved from their sentences by earning what's known as "good time" for favorable behavior while incarcerated.
Inmates convicted of a felony offense can earn a maximum of 4 1/2 days of good time for every 30 days they serve, excluding any mandatory minimum sentences they receive. Typically there are four different levels of good time that inmates can earn, which includes good behavior, taking part in classes or a drug treatment program or doing a job.
David Baugh, Cobb's attorney, said his client has no interest in speaking with the media, nor does he have any comment about his release or plans for the future.
"It (his freedom) just started for him, so I don't think he knows," Baugh said. "I know he hasn't told me."
Baugh said he didn't know whether Cobb participated in any programs while in jail or mentored other inmates.
Authorities arranged for Cobb to serve his time in the Meherrin River Regional Jail in Brunswick County instead of the Chesterfield Jail to ensure Cobb's safety as a former law enforcement officer.  Authorities try to mitigate the risk a former officer could face if he is incarcerated in an area where he once worked.
In an unusual decision, the jury at Cobb's February trial found him guilty of voluntary manslaughter — rejecting the original charge of second-degree murder — but acquitted him of using a firearm in the killing, which carries a mandatory 3-year prison term. Jurors also opted for a relatively light punishment after finding Cobb guilty of voluntary manslaughter, which carries a maximum prison term of 10 years in jail.
It took jurors nearly eight hours over two days to reach their decision. Cobb's first trial in June 2016 ended in a hung jury after panel members said they were significantly divided and couldn't reach a unanimous verdict.
Reached Tuesday, Paterson Brown Sr., the victim's father, declined to comment on Cobb's release.
However, Brown Sr. said his family is still struggling to heal. A couple of weeks ago, Brown and his wife collected from Chesterfield police their slain son's personal belongings that were in his possession on the day he was killed. Those items, packaged in 15 individual bags, were introduced as evidence at Cobb's trial.
"It was a very difficult day for his mother and I to open up each bag and go through everything, especially after seeing his blood-stained underwear, tee shirt and regular shirt with a bullet hole in them," Brown said. "It was also difficult seeing his fingernail clippings from the Chief Medical Examiner's Office."
Brown Jr. bled to death after Cobb shot him in the groin during a confrontation after the teen inexplicably jumped into Cobb's girlfriend's car, which Cobb had driven to Better Vision Detail & Car Spa at 7559 Midlothian Turnpike to have cleaned on Oct. 17, 2015.
Prosecutors asserted at trial that the evidence showed that Cobb shot Brown needlessly and in anger because he believed the teen was preparing to steal Cobb's girlfriend's car and wouldn't obey the officers commands to get out. Cobb testified that he believed the teen had a gun and that he fired only when Brown made a reaching move after being told repeatedly to stop moving and keep his hands visible.
Baugh, Cobb's attorney, told the court at Cobb's sentencing hearing on May 24 that Cobb will forever wonder why the teen didn't comply with the officer's commands to put his hand on the steering wheel.
Prosecutor Melissa Hoy countered that one could just as easily question why Cobb took the actions that he did — such as why he pulled his gun before he had even spoken with the teen or why he didn't employ the crisis intervention training that he once taught to fellow officers to de-escalate the encounter.
Cobb, a nine-year Richmond police veteran, resigned from the force on March 10, about a month after his conviction.