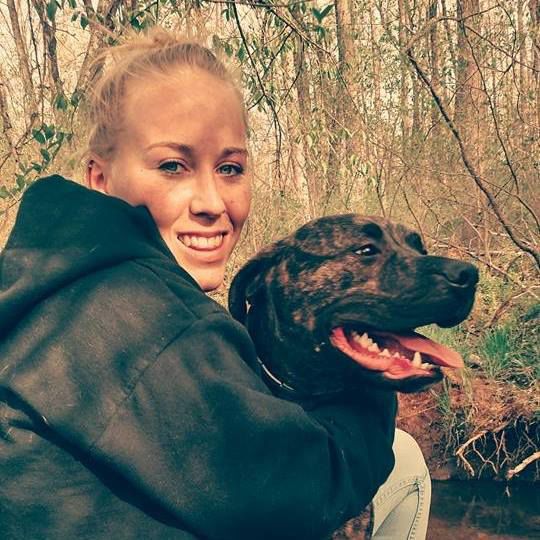 A 22-year-old Glen Allen woman was mauled to death in what the Goochland County sheriff described as a "grisly" scene.
Bethany Lynn Stephens' body was discovered by Goochland deputies about 8:20 p.m. Thursday in a wooded area near the 2200 block of Manakin Road.
"(Her body) was being guarded by two very large, brindle-colored pit bull dogs," Sheriff James L. Agnew said during a news conference Friday.
Agnew said the dogs were Stephens' and that he suspected they had been bred for fighting.
Initial reports from the medical examiner's office said Stephens — whom Agnew described as petite, 5-foot-1 and 125 pounds — had a cause of death "consistent with being mauled by these dogs." She had defensive wounds on her hands and arms, and it appeared that she was alive when the animals attacked.
"The first traumatic injury to her was to her throat and face," Agnew said, reading from the initial autopsy results. "It appears she was taken to the ground, lost consciousness, and the dogs then mauled her to death."
It was not a homicide, Agnew said.
"It was an absolutely grisly mauling. In my nearly 40 years in law enforcement, I've never seen anything quite like it," he said. "I hope I never see anything like it again."
Stephens' father had called the sheriff's office after he hadn't seen his daughter in a day.
While she had a Glen Allen address, Agnew said, Stephens grew up in Goochland and frequently walked the dogs in the wooded area where her body was found, which was near an old family farm.
Her father went looking for his daughter and encountered the dogs aggressively protecting the body.
Agnew said it took deputies hours to wrangle the dogs, which he estimated each weighed as much as Stephens. Henrico County Animal Control was called for assistance and provided tranquilizers to subdue the dogs. The scene was strewn with blood and articles of clothing.
Agnew said deputies spent eight hours collecting more than 60 pieces of evidence.
The dogs are being held at Goochland County Animal Control.
Agnew said they were seeking to have the animals euthanized.
(804) 649-6527
Twitter: @AliRockettRTD