The death of a Hanover County woman who celebrated her role as a mother to three children and was the proud wife of an Ashland police officer is generating waves of sorrow and compassion across the country.
Described in her obituary this morning as someone who "ran home to Jesus," Meg Cross Menzies, 34, died Monday after being struck by an SUV on a Hanover roadside while she was running about a mile from her home.
The Menzies family's tragedy mirrors that of the man now charged with involuntary manslaughter and DUI in her death.
Ten years ago, Dr. Michael J. Carlson lost his wife, mother to his three children, in a head-on collision when the family was visiting relatives in New York state. Claudia D'Agostino Carlson, 37, was mother to Michael Jr., Dylan and Hannah, now teenagers living at the family's Mechanicsville home with their father.
After graduating from the University of Richmond, Claudia Carlson worked as an auditor, then devoted her life to raising the couple's children.
Dr. Carlson's father once described his daughter-in-law as someone whose "kindness was overwhelming from the moment we first met."
On her Facebook page, Meg Menzies extolled the virtues of running but even more so the thrill of being a stay-at-home mom raising three young children, sons Gabriel and Whitfield and a daughter named Skye.
Meanwhile, thousands of runners from across the country were signing up to take part in running tributes, private and public, honoring Menzies and begging caution on the roadways. Menzies was a standout runner at Atlee High School with deep family roots in the county.
"In her honor, our hope is to raise awareness of drunk driving, texting and driving, and overall safety of runners and cyclists everywhere," wrote Brooke Roney, who created the Facebook page. Roney lives in Dallas and studied at the University of Virginia and UR, according to her Facebook page.
"This Saturday, Jan. 18, 2014, no matter what your distance, no matter where you live, run for Meg. Take in the fresh air, be … aware of your surroundings, keep your headphones on low, feel the heaviness in your lungs, the soreness in your legs, and be grateful for it — for all of it, the sweat, the pain, the wind, the cold, everything. Be grateful for that moment," Roney wrote.
At Cool Spring Baptist Church on Atlee Station Road on Friday, hundreds of people are expected to attend an 11 a.m. funeral that also is drawing interest from police officers across the country. Menzies taught a preschool Bible class there.
Some on Tuesday begged for time alone.
The media were asked to stay away from an intensely private memorial service held Tuesday night at the Ashland police station, and Menzies' husband, Scott, a sergeant on the police force there and a frequent companion on his wife's runs, asked longtime friends to protect his and his family's privacy.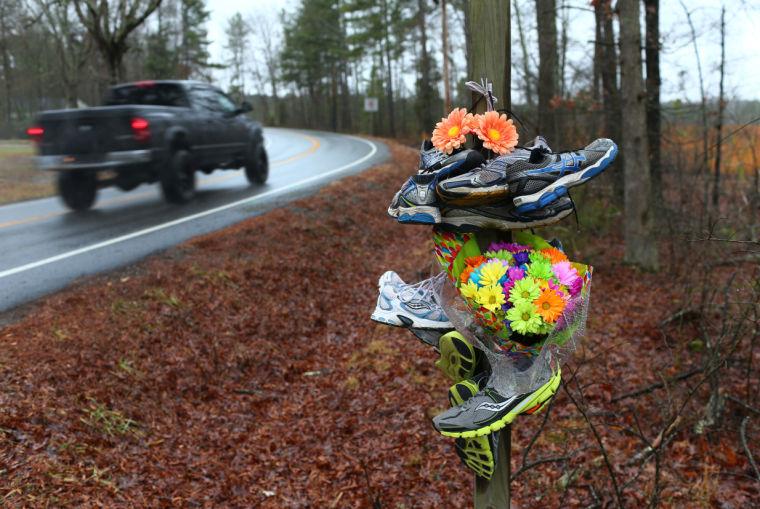 "He would like to be left alone by the media," a fellow officer said, describing a 10-year friendship between two men in very public positions. A sentry kept reporters at bay near the Menzies home not far from the Hanover County court complex.
Carlson was arraigned Tuesday by a Hanover General District Court judge, who set a $25,000 bond for the 47-year-old specialist in internal medicine for Bon Secours Richmond Health System.
After Menzies was struck about 8:15 a.m. on Monday, Carlson stopped to lend assistance to her and called 911, said his lawyer, Greg Sheldon, after court Tuesday. Court records in New York related to Carlson's wife's death show that Carlson lost her in a collision when a truck crossed the center line of a highway near Buffalo.
Newspaper stories and court records show that Carlson was awarded $20 million in 2006 by a jury in a wrongful-death case that stemmed from the collision.
It was not clear whether any of the money was ever paid. Online records show the U.S. District Court in New York found in April 2012 that it had no jurisdiction in an appeal and remanded the matter back to state court.
Calls to the law firm that handled Carlson's case in New York were not returned.
A search warrant filed in connection with Menzies' death shows that investigators recovered prescription drugs and an unopened can of beer from Carlson's 2008 Toyota Sequoia SUV. The drugs included 52 tablets of Prednisone.
Investigators said that Carlson registered a 0.11 percent blood alcohol level, above the 0.08 percent level that legally presumes intoxication. Sheldon, the lawyer, said in court Tuesday that Carlson has a form of leukemia.
Hanover investigators said the accident occurred about 80 feet west of Hickory Hill Road where it intersects with East Patrick Henry Road. The location is within sight of U.S. 301 to the east.
Menzies was running toward westbound traffic on the north side of Patrick Henry Road, which has about a 2-foot-wide "shoulder wedge" of asphalt extending beyond the travel lane.
Investigators said Menzies was struck by the westbound SUV, which crossed over a white line marking the edge of the travel lane. A Department of Public Works spokesman in Hanover stressed that the wedge of asphalt beyond the lane is not a dedicated bicycle or running pathway.
At Kersey Creek Elementary School, where Menzies was a regular substitute teacher, Principal Deborah Waters and the school's counselor, Paige Abasolo, sent a note home to the classes of the Menzies' children notifying families about the death.
Abasolo will meet with affected children today "to talk with the students and respond to immediate concerns or questions."
"The faculty and staff extend our heartfelt sympathies to the Menzies family and to all their friends," the note reads.