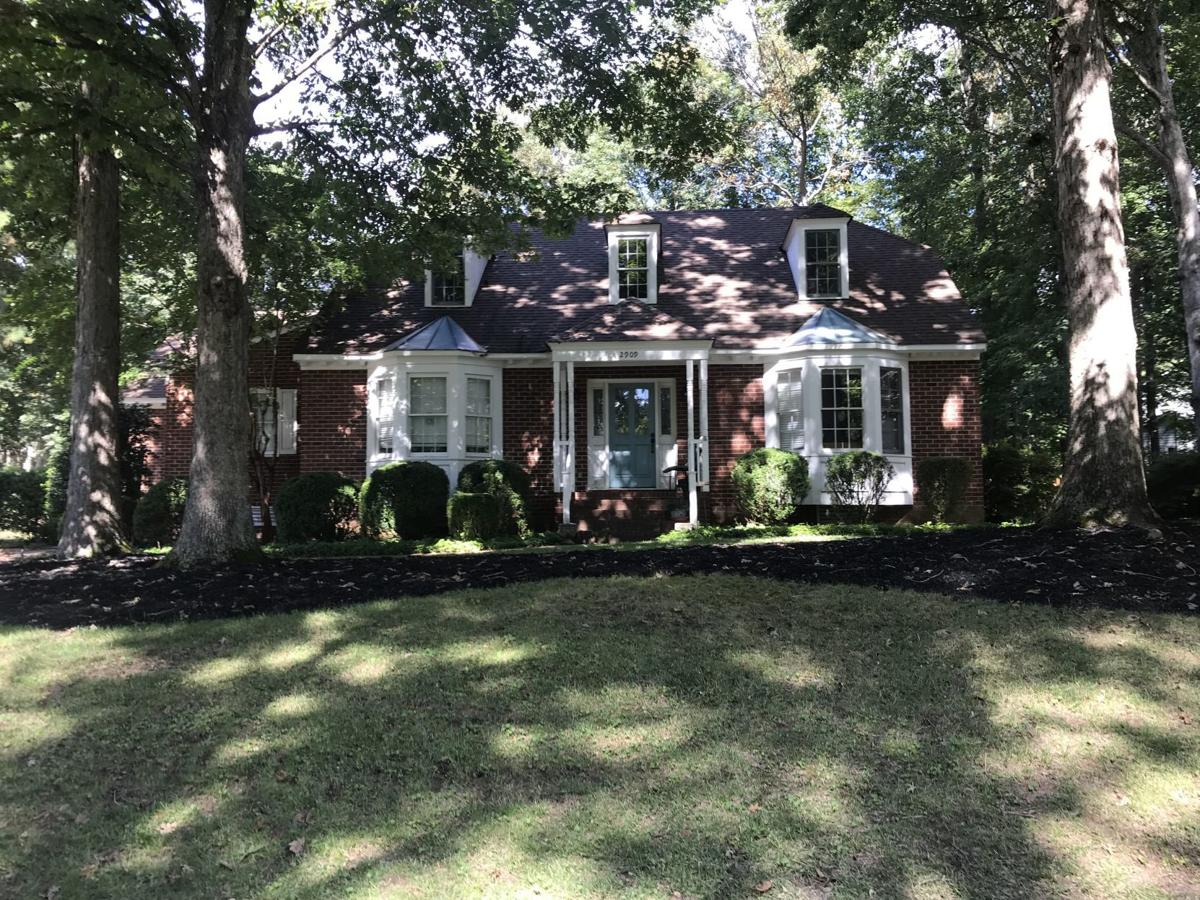 Henrico County police had "no other option" but to shoot Gay Plack in her Short Pump home after she confronted them swinging an ax, the police chief said in a video statement Thursday.
Chief Humberto Cardounel's nearly six-minute video account — which was released after 5 p.m. two days after the fatal shooting — did nothing to soften the anger felt by Plack's older brother, Bob Bostock, who anxiously had been awaiting an explanation from the police. After listening to the chief's statement, he denounced the department's handling of the encounter and also the chief's defense of his officers' actions.
In the video, Cardounel said that police received a call a little after 10:15 a.m. on Tuesday requesting a welfare check at Plack's home. The police knocked on her door and received no answer, and after several unsuccessful attempts to contact Plack, went behind her house and "found a door that was insecure and at that point made a decision to go in to verify her well-being," the chief said.
Officers found no one inside initially, Cardounel said, but a bedroom in the home was locked. "After several attempts, after announcing their presence, after calling out her name and getting no response, a decision was made to force entry" into the bedroom "to verify that there was no one in the house in distress," he said.
Two officers entered the bedroom and one went to "a bathroom area" and the other checked around a bed, Cardounel said. "When the officer enters the bathroom area, he is confronted with an individual who was wielding and swinging an ax," he said. "That officer was able to quickly retreat."
Plack then came out of the bathroom and charged the other officer swinging the ax "almost in a cross-X-Y-type configuration," the chief said.
"The officer at that point literally had less than 4 seconds to make a decision, although he made several attempts and pleaded for her to stop and for her to desist," Cardounel said. "She continued to come at him with the ax. And the officer had to make the most difficult decision in his life and his career, which was to use deadly force."
"We are extremely sorry for the family," Cardounel said. "We express our sympathies for this horrific event, but under the circumstances, the officers were confronted with a situation in which they really had no other option."
"This was an extremely violent, extremely volatile situation that literally unfolded in about 4 seconds," he added.
Plack's next-door neighbor, Pamela Abada, said Wednesday that she had seen the officers on Tuesday at Plack's house in the 2900 block of Huntwick Court in the Wellesley subdivision near Pump and Three Chopt roads.
Abada said one of the officers told her that Plack's doctor had requested the welfare check. Plack, 57, had struggled for years with bipolar disorder and had been involuntarily committed to hospitals several times, said Bostock, her older brother.
Abada said she heard three gunshots during the ordeal. On Thursday, the state medical examiner's office said Plack died of a gunshot wound to the abdomen. A police spokesman said the shots were fired just after 10:30 a.m., a short time after officers arrived at the home.
Bostock on Thursday excoriated the police officers for going inside the house uninvited and forcing their way into the locked bedroom. "They shouldn't have busted down the door," he said. "That's only going to make her more afraid."
And referring to Cardounel's statement that one of the officers had less than four seconds to make a decision, Bostock said, "She had less than 4 seconds to determine whether the people who just broke down her bedroom door were there to do her harm."
Bostock said he doubts that his 5-foot-4-inch sister had the strength to swing an ax, and said that two trained police officers should have found another way to stop her. "Pepper spray, taser, do something, throw something at her, back up," he said.
"My sister, obviously in great fear for her life, was hiding in the bathroom," said Bostock, who is 61 and lives in Lawrenceville, N.J. "They never should have gone into her house."
Under the Fourth Amendment, police generally may not enter a home without a search warrant, said Betty Layne DesPortes, a longtime Richmond-area defense lawyer.
One exception to this rule, she said, is the "emergency exception," also known as the "exigent circumstances exception." This exception recognizes the right of the police to enter and investigate when someone's health or physical safety is genuinely threatened, she said.
"This reflects the commonsense principle that 'preservation of human life is paramount to the right of privacy' that is protected by the Fourth Amendment," DesPortes said in an email, citing case law.
"A related exception is the 'community caretaker doctrine,' which recognizes that the police owe duties to the public, such as rendering aid to individuals in danger of physical harm and providing services in an emergency."
Cardounel said his department is conducting a thorough investigation of the shooting that could take a few weeks or longer to complete. In his video statement, he asked viewers to wait for all the facts.
"Please act or react based on facts and not on speculation," he said.
Henrico Commonwealth's Attorney Shannon Taylor said Thursday that all Henrico patrol officers receive crisis-intervention training, to include de-escalation techniques.
"We are investigating the matter," Taylor added. "We've had the opportunity to review body-worn footage. We are continuing to work with Henrico police to obtain some additional information."
Police on Thursday did not immediately respond to a request under the Virginia Freedom of Information Act from the Richmond Times-Dispatch that they release video of the incident.
When they were growing up years ago in New Jersey, Gay Ellen Plack and her two brothers saw how difficult life could be for family members struggling with bipolar disorder.
Their mother suffered from the mental illness, as did their maternal grandmother and their mother's sister, Bostock recalled on Thursday.
Years later, Bostock started noticing some of the familiar signs in his sister when Plack was in her late 20s or early 30s. She was a creative person and an artist who sometimes felt that her medications were hindering her enjoyment of life, her brother said. She would stop taking the medicine from time to time, which sometimes led to her involuntary commitment at hospitals.
In recent weeks, Plack had been taken to a hospital for three days, Bostock said. On Sunday she went to a friend's house and told him and his wife that her medication wasn't working properly and she was feeling off, her brother said. That was two days before the fatal encounter with the police.
In addition to questioning the actions of the police, Bostock took issue on Thursday with the requirement under Virginia law that a person who is taken against their will to a hospital under a temporary detention order, or a TDO, can be held for only 72 hours.
"You can't treat somebody with this disease in three days," he said, calling for a change to the law.
On three or four occasions over the past decade, Plack had been committed involuntarily for three days at a time, including once after she was hanging around a train station and acting strangely, Bostock said.
"She hated going to the hospital because it was a scary place," he said.
When Plack and her brothers were young and the family was living in Fair Lawn, N.J., their mother was taken to a hospital without her consent and had to stay there for about a month before she was stabilized, Bostock said. He said that the relatively long stay at the hospital was crucial to effectively treating her disorder.
"That's why my mother lived to be 81," he said.
Bipolar disorder causes shifts in mood and energy, according to the National Institute of Mental Health. Moods range from extremely energized to very sad and hopeless.
In Virginia, emergency workers for local or regional behavioral health agencies evaluate people held under emergency custody orders to determine whether they pose a threat to themselves or others, or cannot take care of themselves because of their illness. If they meet the criteria, the worker can issue a TDO to require involuntary treatment in a private or state facility for up to 72 hours.
Once a TDO is about to expire, the person can be committed to treatment for up to 30 days, but only after a due-process hearing before a special justice. The person is entitled to legal representation in the hearings, which normally are conducted in the hospital. The commitment period can be extended for additional 30-day periods after hearings before a special justice.
Long before Gay Plack began to suffer from mental illness, she nearly died of spinal meningitis when she was 2 years old, her brother said.
The experience led her to pursue a career in nursing. "She remembered the care that the nurses had given her," Bostock said.
Plack got her nursing license around age 21 and ultimately settled in Richmond with her husband and worked as a nurse in a cardiac care unit. She also worked from August 2013 until October 2014 as an instructional assistant at Ridge Elementary School in Henrico, officials said.
She met her husband at a United States Military Academy West Point football game when he was a cadet. They were married around 1985 and moved to Texas, North Carolina and the Baltimore area before settling in the Richmond area. The couple had a son, who lives in the Richmond area, and a daughter, who lives in San Francisco, but they divorced several years ago, Bostock said.
Growing up, Plack had been popular and outgoing in high school and was a varsity cheerleader, her brother said. As an adult, she was creative and kept a beautiful home and "really knew how to entertain in style."
But her state of mind would deteriorate whenever she would stop taking her medication. "It's very, very typical of the disease and it's what makes it so insidious," Bostock said.
In 2011, the Virginia Nursing Board accepted Plack's voluntary surrender of her nursing license after she reported to the board that she had been hospitalized the previous year for mental health issues.
"My sister fought harder than anyone can imagine to combat the terrible disease which had her in its clutches," Bostock said in an email on Thursday morning.
"Gay was a kind, generous, vivacious, caring person, with a joy for life, a hearty laugh, tremendous artistic talent, and a deep and abiding love for Jesus, her family, and her many caring and supportive friends. She did not deserve to die this way, terrified in her own home by police officers, sent there to help her, who instead ended her life."
(804) 649-6332
Staff writers Mark Bowes and Michael Martz contributed to this report.