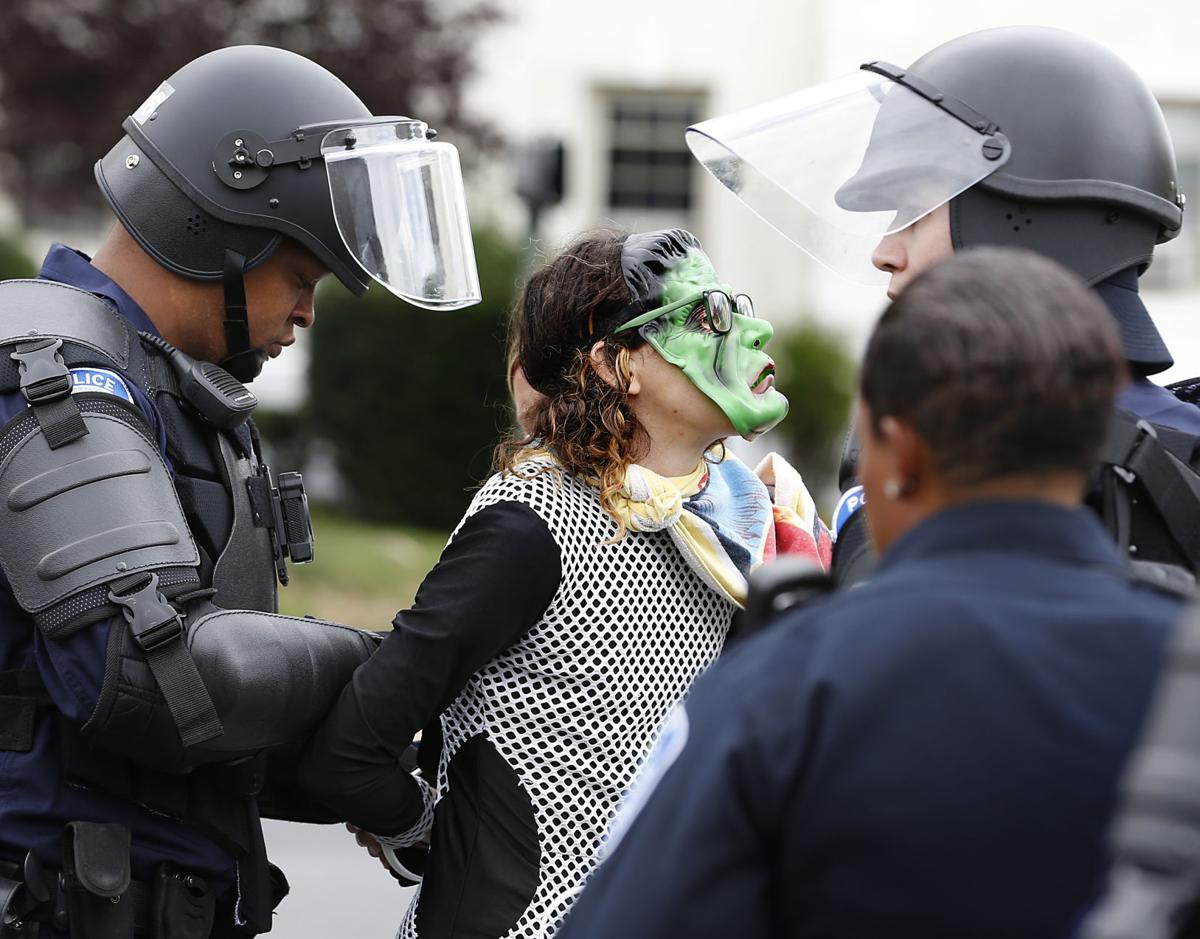 Three Virginia Commonwealth University students and one former student accused of wearing masks during protests of a pro-Confederate rally along Richmond's Monument Avenue in September appeared in court on Tuesday.
Coincidentally, their day in court took place on Halloween.
Thomas Rockett, 21, of Herndon; Caroline Hill, 24, of McLean; Corissa C. Duffey, 25, of Georgia; and Ian M. Gerson, 32, of New York; appeared before a Richmond General District Court judge, who amended their charges of wearing a mask in public and downgraded them to disorderly conduct — a misdemeanor punishable by a fine of less than $1,000. Their cases were continued for six months for review.
The foursome were charged under a 1950s-era law — aimed at unmasking the Ku Klux Klan in Virginia — making it illegal for anyone over the age of 16 to conceal their face, and therefore their identity, in public. The felony carries a maximum of five years in prison.
Police issued warnings ahead of the Sept. 16 rally that anyone wearing masks or covering their face would be arrested on the spot.
The rally and counterprotests cost the city more than $570,000. Police Chief Alfred Durham said he was essentially given a blank check to prevent a repeat of the violent white supremacist demonstration and protest in Charlottesville in August that left one person dead.
No injuries were reported in Richmond, but seven people were arrested.
Deante Watkins, 18, of Richmond, faces four firearms charges. His case was continued until Dec. 12 after he failed to follow the parameters of his pretrial release.
Brittany Bush, 29, of Petersburg, was charged with disorderly conduct. Her case will be heard Nov. 17.
Jabari Robinson, 21, of Roanoke, pleaded guilty last week for carrying a loaded weapon in public, a misdemeanor. He was given a suspended sentence and ordered to pay the $202 cost of the proceeding, which he did that day, according to court records.
(804) 649-6527
Twitter: @AliRockettRTD