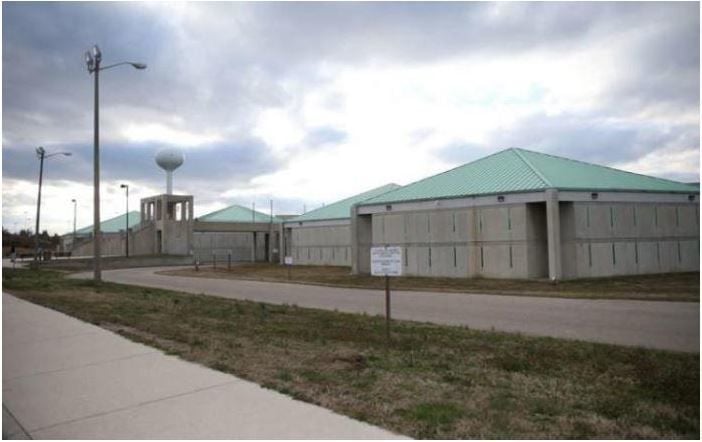 A retired Virginia Department of Corrections administrator has been tapped to become Riverside Regional Jail's new superintendent, four months after the facility's former leader resigned in frustration after only nine months on the job.
Following a special videoconference meeting on Monday, Riverside's 14-member governing body voted 12-2 to hire Larry J. Leabough, 59, as Riverside's top administrator, effective July 2.
Leabough has verbally accepted an employment offer made by the Riverside Regional Jail Authority but a contract has not yet been signed, said Jeff Gore, the board's attorney. "We're finalizing the terms of it," Gore said.
Leabough will become Riverside's sixth superintendent, which includes three interims, in less than three years.
Leabough, a Goochland native, has nearly 32 years of experience with the Virginia Department of Corrections. He began work there as a corrections officer in 1981, and rose through the ranks to become superintendent of the Central Virginia Correctional Unit in Chesterfield County, and assistant warden of the State Farm Correctional Center in Goochland County, according to a biographical sketch provided by the board.
After retiring from the corrections department in 2013, Leabough began work with the Richmond Department of Justice Services, where he served as senior agency analyst until leaving in mid-December.
"This is what I've done for almost 40 years, working in corrections and environments like this, so it's been a second nature [for me]," Leabough said Tuesday in a phone interview. "Wherever I've worked, I try to leave that facility and the people who are there in a better situation than I found it."
"It's a challenge but I look forward to it," he added. "I think this facility has some great opportunities, and I think they have great people there, and it's just [a matter of] putting in systems that work."
He will lead one of the largest jails in central Virginia that houses roughly 1,300 inmates for Petersburg, Colonial Heights, Hopewell and the counties of Chesterfield, Charles City, Surry and Prince George.
The board's action on Monday comes just over four months after Carmen I. DeSadier resigned Feb. 7. In her resignation letter to the board, DeSadier said the jail's operations were plagued by dysfunction and a toxic work climate arose after the jail's governing body failed to support her reform efforts.
"Rather than assist and support my efforts to bring this jail into compliance, the Board has instead created working conditions that are so intolerable I am forced to resign," DeSadier wrote.
DeSadier, who began work May 13, 2019, was hired essentially to lead the jail in a new direction after its previous administrators endured harsh public criticism from Chesterfield judges for the alleged mistreatment of inmates, and had undergone increased state scrutiny for the death of two prisoners.
In July 2019, the jail was placed on "probationary certification" for three years after a Virginia Department of Corrections jail review committee found shortcomings at the facility that may have directly or indirectly contributed to the death of two inmates who killed themselves in 2017.
DeSadier wrote that it became evident from her initial tour of the jail "that Riverside had experienced long term management neglect."
DeSadier, who has 35 years experience in corrections that included stints with large jails in New Orleans and Chicago, said she was subjected to false complaints by senior staff members, unfounded accusations and several inquisitions into her management practices. That led the board to hire an outside law firm last fall to investigate.
An investigative report was generated but never made public. The findings were extensively discussed by the authority in two closed sessions last year, but the board declined to say whether the investigation uncovered any actionable violations of law or jail policies. The board took no public action against DeSadier.
DeSadier crafted a 108-page written response to the law firm's report that investigated the internal complaints against her, and in it she outlined various conditions she found at the jail. They included instances of employee misconduct and the refusal by command staff to provide basic needs to inmates.
After DeSadier left, 11 candidates applied for superintendent after the position was advertised. The board interviewed four candidates by teleconference on May 7, and the field was narrowed to two, which included Leabough and another undisclosed candidate.
On Monday, Chesterfield's delegation on the board — Sheriff Karl Leonard and Deputy County Administrator Matt Harris — voted against hiring Leabough.
"My only concern was, the time that Leabough has been away from corrections, [which has been seven years]," Leonard said. "Although I did not vote for Leabough, I am here to help him to succeed and I will be here to assist him in any way I can."
Now that a new superintendent has been selected, the board is expected soon to award a contract to a consulting firm to perform a comprehensive study of the jail's organizational structure and operations. Board members decided such an assessment was warranted after accepting DeSadier's resignation in February and her allegations of staff misconduct and operational shortcomings.
The board wants the consultant to study aspects of jail operations, such as food service, transportation, personnel policies, salaries, medical services, third-party contracts, utilities and security in an attempt to improve the effectiveness and efficiency of jail resources, according to the proposal request.