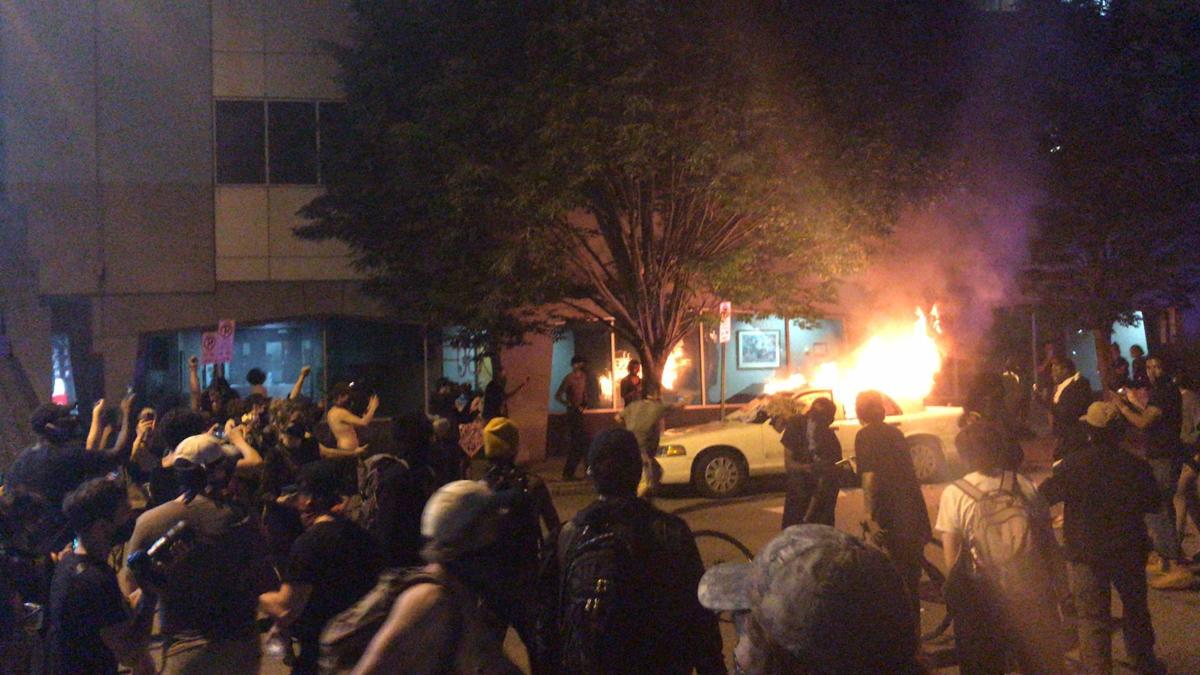 2:45 a.m. update: Gunshots were fired into the air at West Broad and Madison streets multiple times early Saturday, according to Richmond police.
Chief William Smith said in a text message: "Shots fired by protestors." He added that there were no known injuries.
West Broad and Madison is about a block from Richmond police headquarters. Late Friday, protesters set fire to a car outside the building.
2:10 a.m. update: A GRTC Pulse bus was set on fire at West Broad and Belvidere streets early Saturday. GRTC bus service is likely to be delayed Saturday morning. 
"No GRTC injuries. Pulse bus 2004 is a total loss, but all other buses that were in service are home safely," GRTC Transit System spokeswoman Carrie Rose Pace wrote in an email.
Pace added: "As of right now, GRTC plans to delay the start of Saturday morning service. If rioting continues Saturday, it may be necessary to cancel Saturday service entirely."
12:25 a.m. update: The crowd that had gathered around the Richmond police headquarters has broken into smaller groups. Some protesters marched east on Broad Street. Others remained, with some taunting police and yelling obscenities at them. A dumpster in a parking lot next to the police station was set on fire.
Earlier, protesters had broken windows at the police headquarters. Also, glass was shattered at The Jefferson Hotel and the Wells Fargo bank branch at 122 E. Grace St.
11:25 p.m. update: Police officers with shields are lined up around the block outside their headquarters downtown and have moved protesters away from the building, the Richmond Times-Dispatch's Ali Rockett reports.
Police also sprayed a substance toward protesters. Some of the protesters were throwing objects, including water bottles, fireworks and rocks.
A sizable crowd remains, but some protesters have left.
Firefighters extinguished the car that was set ablaze.
A helicopter has been circling overhead.
10:50 p.m. update: A car is on fire outside Richmond police headquarters at 200 W. Grace St. downtown, with a group of protesters in the street.
---
Law enforcement officials rarely comment on the actions of other departments, but Richmond-area and state officials are weighing in on the death of George Floyd, a black man who was killed in Minneapolis when a white officer knelt on his neck for nearly nine minutes.
"It is hard for me to put into words the anger, shame and pain I feel as a result of these officers' actions," Richmond Police Chief William Smith said.
"I am outraged and sickened by the actions I saw in Minneapolis," he said in an emailed statement to the Richmond Times-Dispatch that was later released by the Richmond Police Department on Twitter.
"Mr. Floyd's egregious and unnecessary death reinforces just how far we still have to go as a nation in law enforcement to replace the fear, mistrust and bias felt among many in the communities we serve with relationships built on transparency, accountability, equity and inclusion. My heart goes out to Mr. Floyd's family and to the Minneapolis community, and I hope that both find healing and justice."
Mayor Levar Stoney also condemned Floyd's killing, saying the pain he feels has been "long felt by people who look like me."
"Healing this country will require systems-level change to abolish the injustices that continue to oppress and pin down Black Americans until they can't breathe," Stoney said in a statement. "It is the responsibility of us all — no matter our race or station — to question and transform institutions predicated on racism, and to do so with love in our hearts and the names of our lost brothers and sisters on our lips."
But some local black activists said the officials' comments fall flat, as the Richmond Police Department and city of Richmond said the fatal shooting of Marcus-David Peters, who was killed by a Richmond officer in 2018 during a mental health crisis, was justified. Peters' sister, Princess Blanding, has since advocated for transparency in how RPD conducts its crisis intervention training.
In a "Beyond Policing" webinar Friday that was viewed by more than 400 people on Facebook, a panel of black activists, social workers and mental health advocates, including Blanding, called for a citizen review board to hold police officers accountable and provide training recommendations to confront and eliminate police violence.
"The police cannot continue to police themselves," Blanding said. "If we don't address what went wrong and what caused Marcus to not be here now, this is going to happen again."
Before the webinar, Blanding told The Times-Dispatch that Floyd's killing had spurred the painful memories of her own brother's death. She added that as she sends love and support to Floyd's family, the black community nationwide is hurting and "screaming out for our nation to show that Black Lives Matter."
She added: "Mr. Floyd's death was the last straw for so many nationwide."
Chelsea Higgs Wise, a clinical social worker and activist, said police departments denouncing the Minneapolis Police Department will hold meaning only if actions follow. In years past, she said, Richmond's police department and mayor have been nonresponsive to organizers.
Also on Friday, protesters took to the streets of Richmond, chanting "No justice, no peace, no racist police."
The march, spurred by Floyd's death and the riots in Minneapolis, began around 8:30 p.m. at Monroe Park, adjacent to the Virginia Commonwealth University campus. Protesters made their way north to Broad Street and circled several blocks around VCU and Richmond police buildings.
A wall of officers blocked a side street that led to Richmond police headquarters, and the demonstrators moved on.
Protesters set off fireworks in front of the VCU police building, and a GRTC Transit System bus was marked with graffiti.
Marchers chanted and held signs saying "Am I next?," "I can't breathe," "White people, do something. Silence=blood on your hands" and "Two deadly viruses are killing Americans: COVID-19 and racism."
The protest, which traveled through downtown Richmond, appeared to attract a couple hundred people.
Meanwhile Friday, in a letter to his officers, Henrico County Police Chief Humberto Cardounel Jr. said the Minneapolis officers "tarnished our profession and eroded the public trust."
"Although we are many miles away from Minneapolis, the impact here is very real," said Cardounel, adding that he, like most chiefs, don't typically comment after incidents involving other police departments. "But in this particular case, staying silent is not an option, because saying nothing infers you are not distraught by the images we are seeing."
Col. Jeffrey S. Katz, Chesterfield County's police chief, tweeted: "Preservation of the sanctity of human life — all human life — is the FIRST of 4 foundational priorities" of his department, echoing a sentiment from a statement issued by Dana Schrad, the executive director of the Virginia Association of Chiefs of Police.
"The VACP has a strong history of supporting professional law enforcement through modern training, advancement of law enforcement accreditation and advocacy for constitutional policing practices," Schrad's statement said. "Incidents such as the one in Minneapolis this past week only reinforce our need to remain focused on our mission and to strive for excellence in professional and compassionate policing practices throughout the Commonwealth of Virginia."
U.S. Rep. Don McEachin, D-4th, said in a statement that he didn't condone the violence and destruction of property that has followed Floyd's death.
"But let's be clear — the unrest in Minnesota is a reflection of what we already know: the time to address the long-simmering frustration in communities of color with the racism deeply ingrained in American culture is long overdue," said McEachin, whose wife, Colette McEachin, serves as Richmond's top prosecutor and determines whether to charge any city officer. "The justice system must begin demanding accountability from [law enforcement officers] to the same laws they are sworn to uphold."
Richmond protest
Richmond protest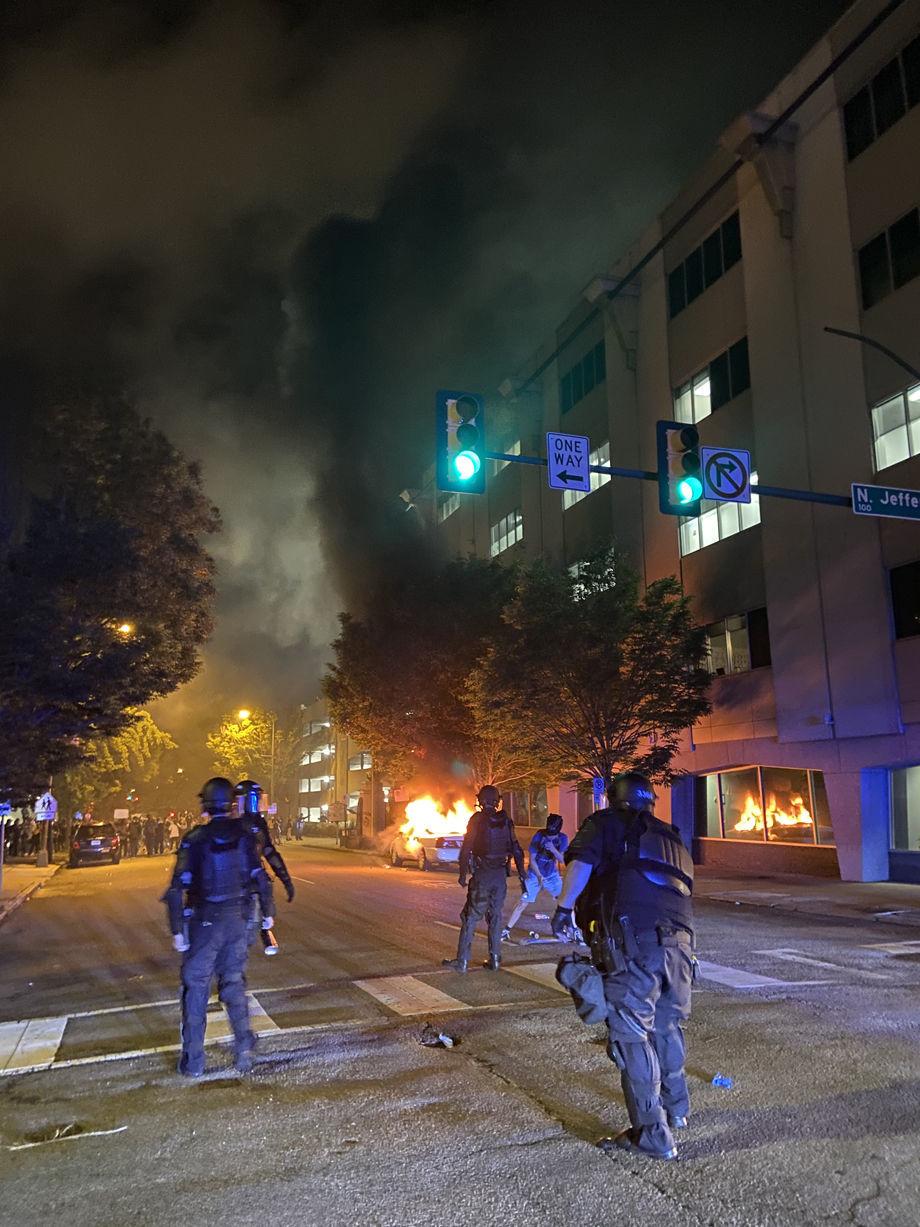 Richmond protest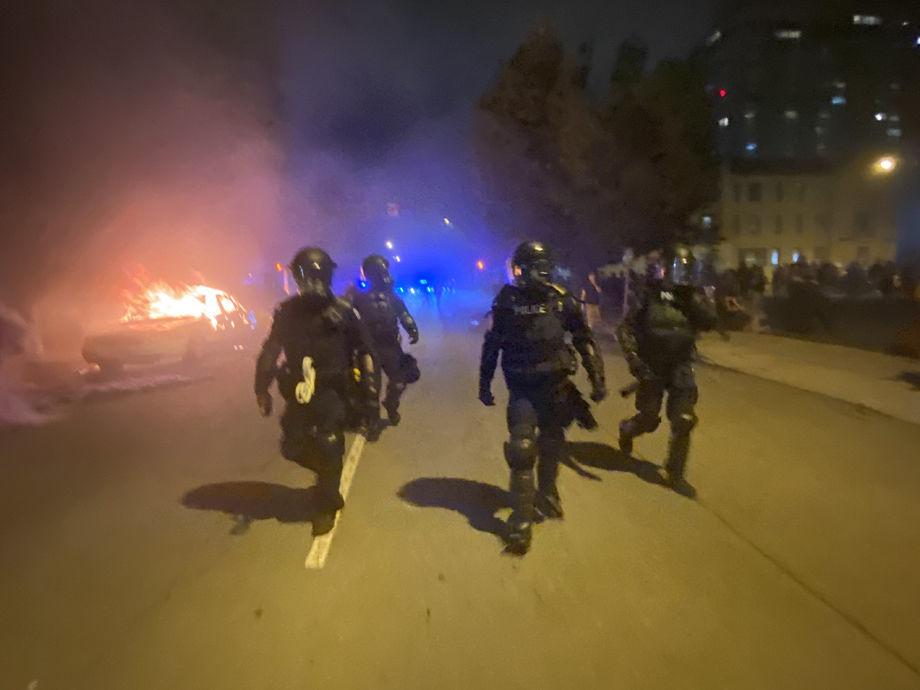 Richmond protest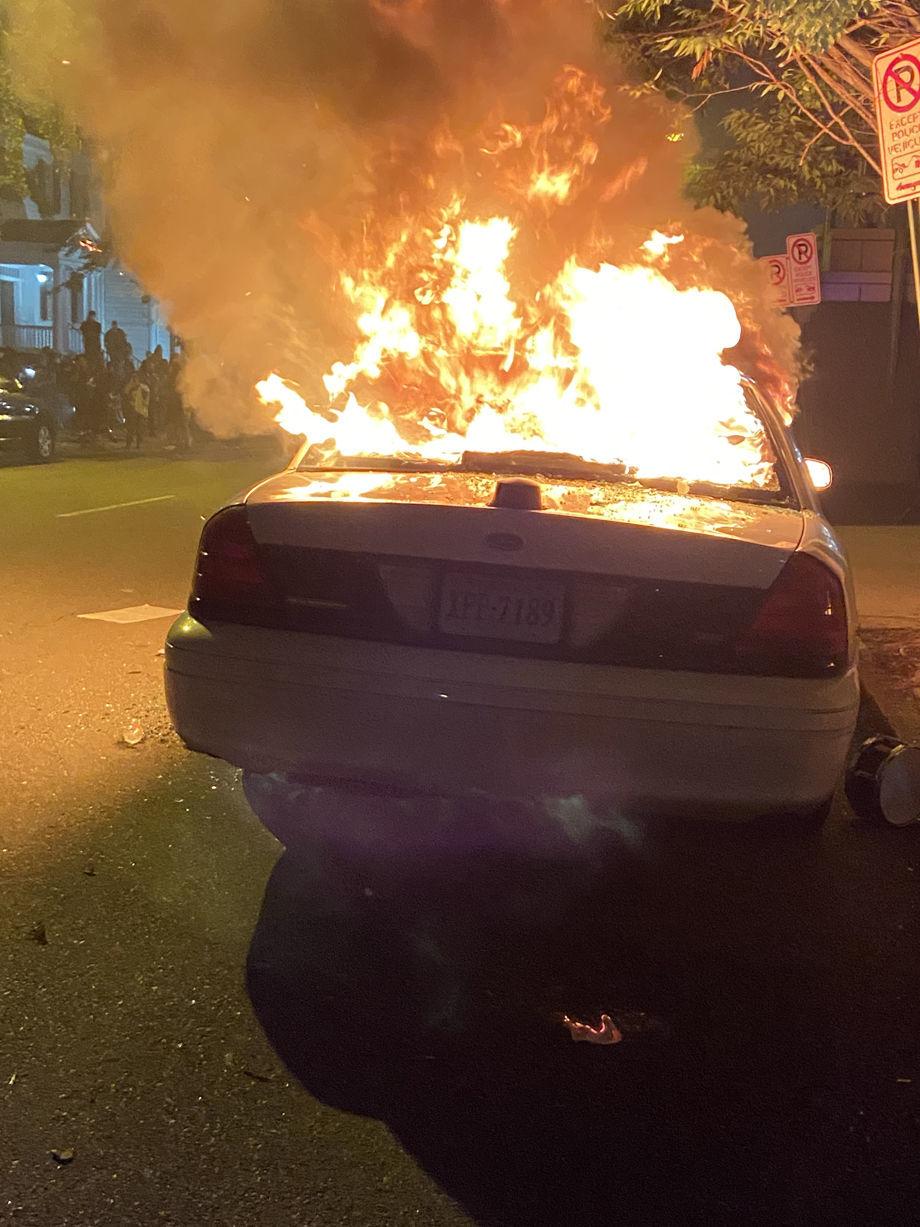 protest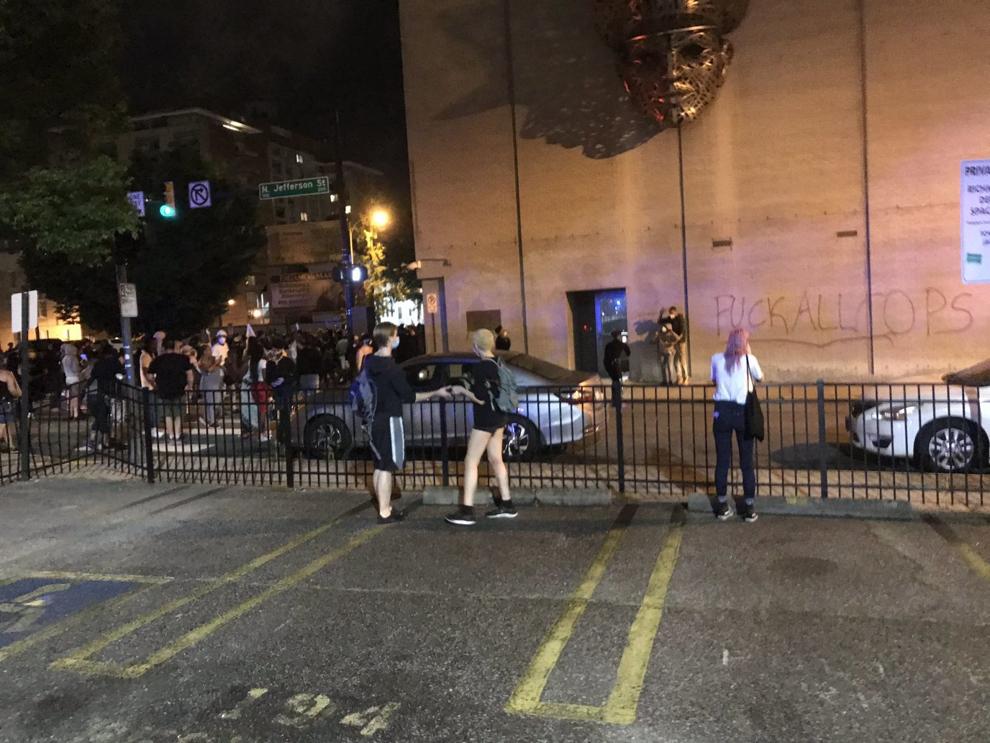 protest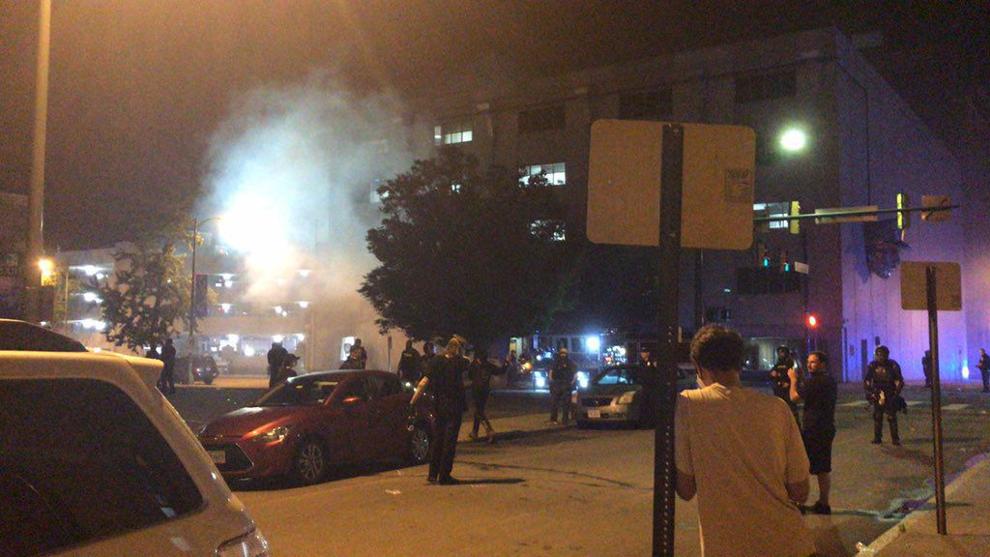 EZO6kXeXQAkZWsL.jpg
EZO6bTDXkAEWYqH.jpg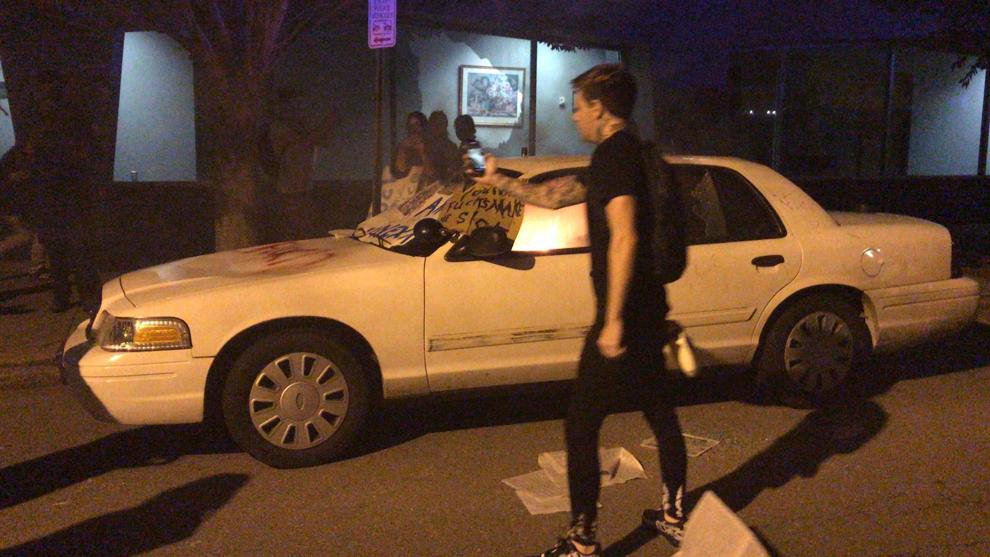 EZO8V2kWsAEQBcX.jpg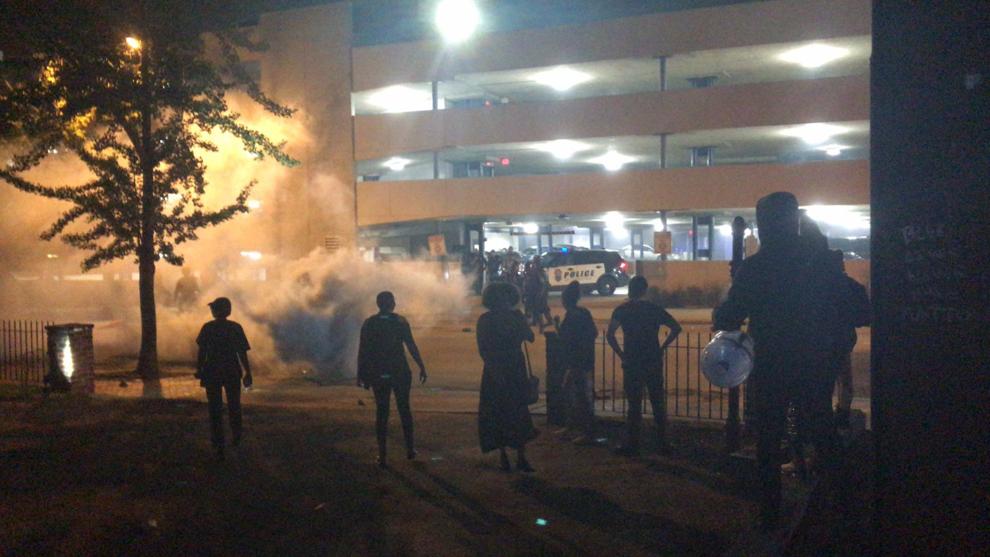 EZO71vJXQAAq6QV.jpg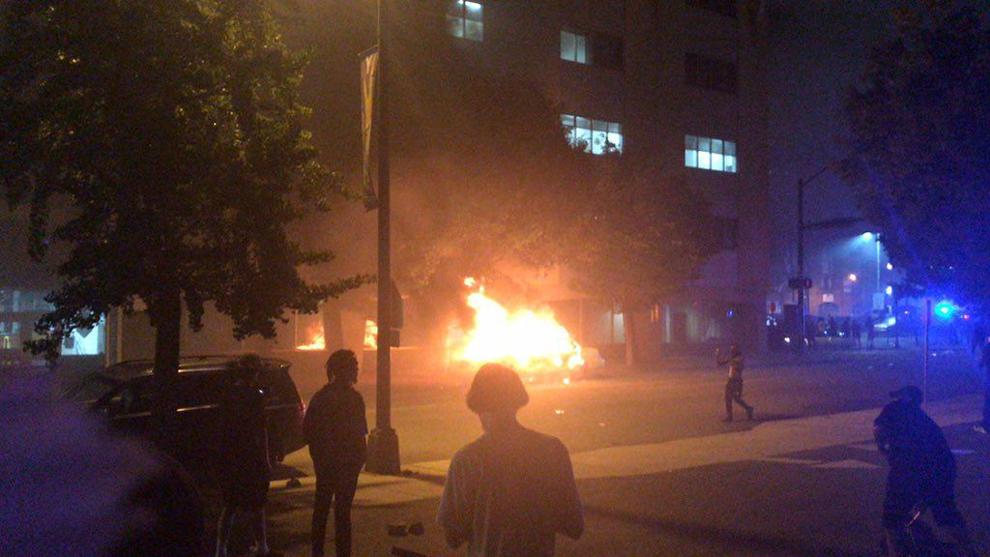 EZO96CkWkAANXC_.jpg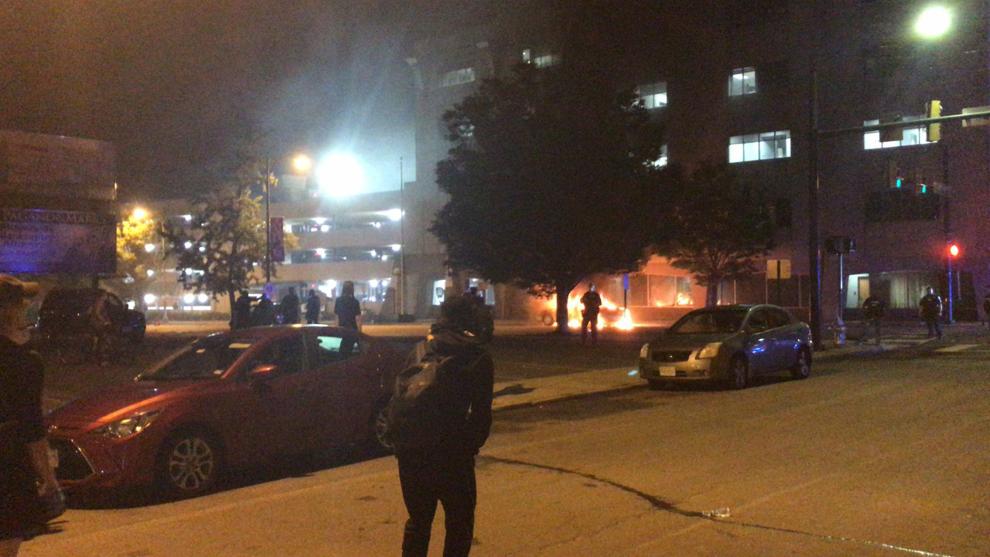 EZOt03TWkAA-gwE.jpg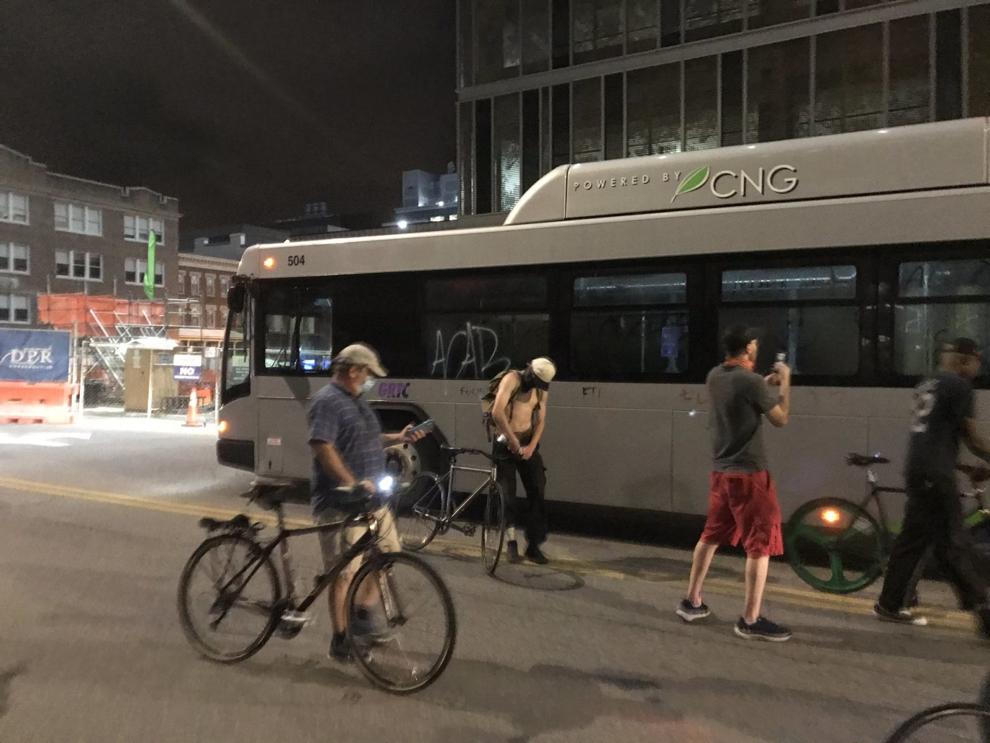 20200530_MET_PROTEST_02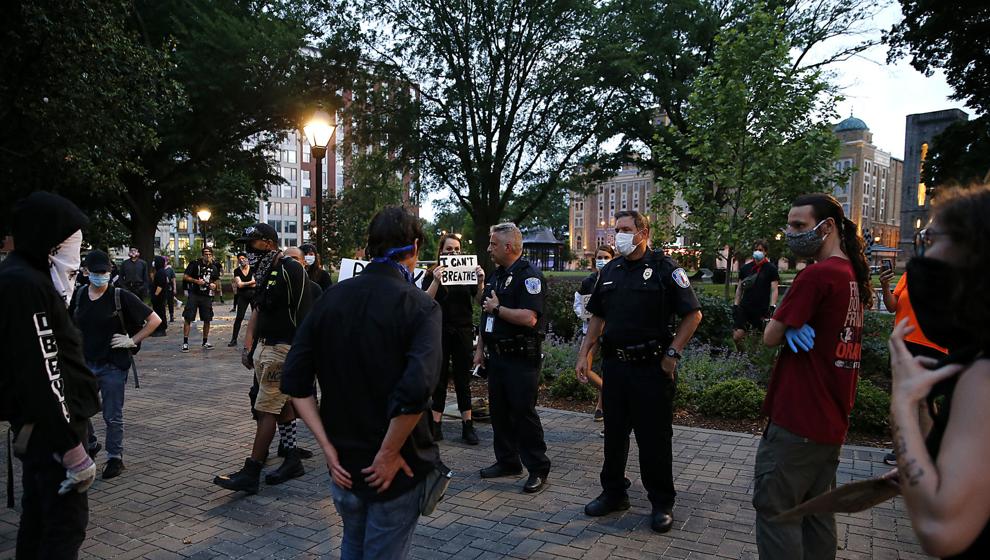 20200530_MET_PROTEST_01 (copy)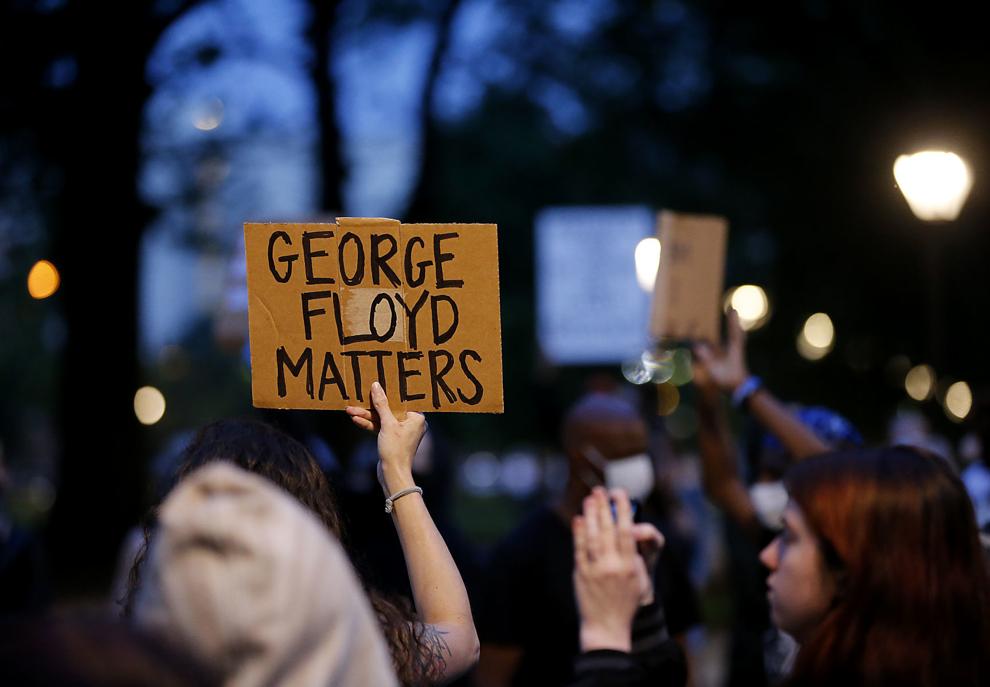 20200530_MET_PROTEST_03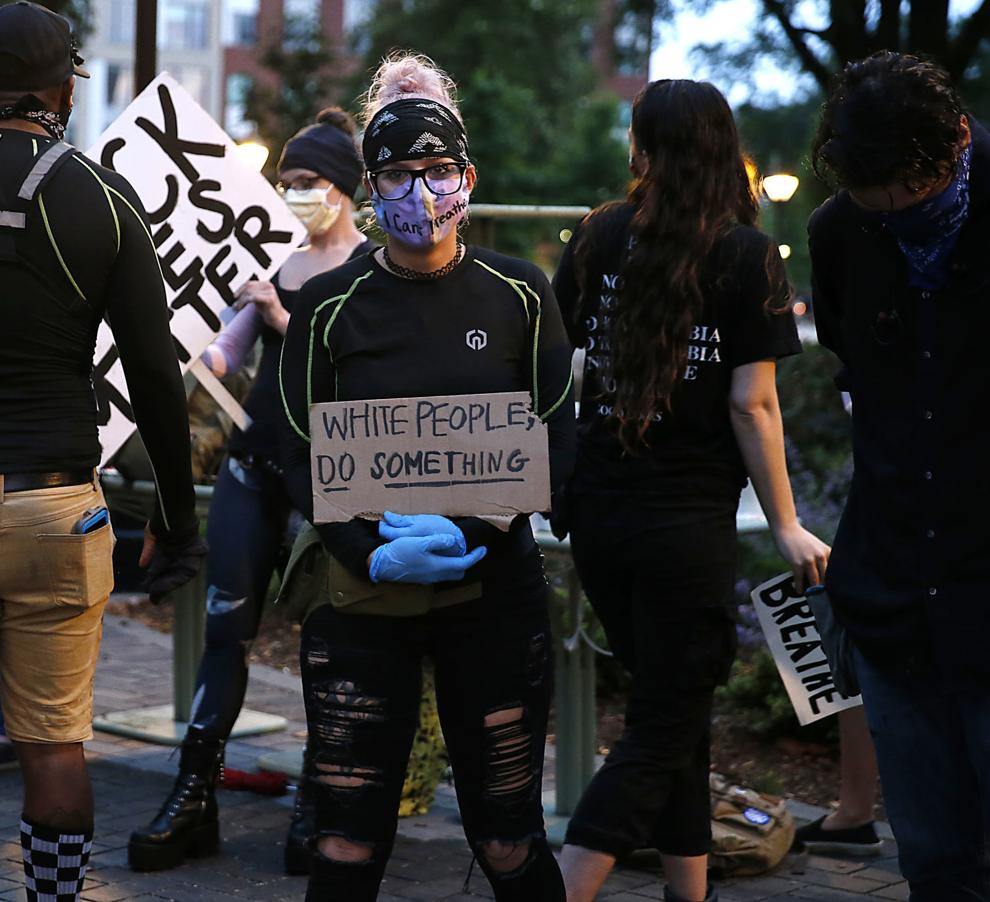 -- HIDE VERTICAL GALLERY ASSET TITLES --
(804) 649-6527
Twitter: @AliRockettRTD
(804) 649-6103
Twitter: @sabrinaamorenoo