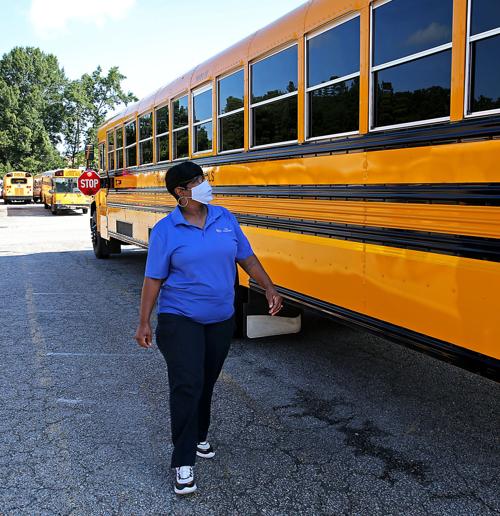 Staff at Richmond's public schools, along with any other adults in the school buildings like volunteers and community partners, are now required to get a COVID-19 vaccine by Oct. 1.
In an 8-1 vote, the Richmond School Board approved Superintendent Jason Kamras' push for a vaccine mandate for Richmond Public Schools staff, becoming one of the first school districts in the state to do so.
"I know too many people who have lost their lives to COVID," said Dawn Page, the board's 8th District representative. "Our No. 1 priority is to keep our children safe."
Jonathan Young, the School Board's vice chair, cast the lone dissenting vote. He said he couldn't support a mandate because it wouldn't show Richmond school employees that the board and the administration trust personnel.
Richmond's school system is set to reopen fully for the first time in more than 500 days on Sept. 8 — RPS was the last school district in the state to offer any sort of in-person instruction.
Gov. Ralph Northam, who last week mandated mask use in K-12 schools, is currently leaving vaccine mandates for educational employees up to localities. In a statement, however, a Northam spokesperson said the governor supports Richmond's vaccine mandates; Richmond Mayor Levar Stoney also is requiring the city's employees to be vaccinated.
"K-12 teachers are employed by localities ... but we have been clear in encouraging local governments to issue their own vaccine requirements," said Alena Yarmosky, Northam's press secretary, in a statement.
Parents have expressed more anxiety about returning to in-person learning amid an increase in COVID-19 cases — on Monday, the Virginia Department of Health reported 85 new cases in Richmond and 354.5 cases per 100,000 people.
Last week, all 53 fourth-graders at the Patrick Henry School of Science and Arts in South Richmond were quarantined after four positive COVID-19 cases among students.
Some RPS teachers have expressed concern with a vaccine mandate, given a fraught history between the medical field and Black Americans, whose long-standing distrust has been reflected in vaccination rates, along with vaccine access issues.
According to state health data, only about 15% of all vaccinated people in Virginia are Black.
"Please do not vote for this mandate," said Andrea Bryant, a teacher at Lucille Brown Middle School, during the public comment period of Monday's School Board meeting.
Bryant said she had gotten vaccinated herself — despite initial hesitancy.
"There are a lot of people that we cannot ignore. ... Even today, there are doctors who have misunderstandings ... on the thought processes on how people of color respond to medications, to pain. ... It's not just about old experiments like Tuskegee and all this other stuff. These are real experiences that a lot of people in our community are dealing with."
Kamras said he understood those experiences, but noted that vaccines are largely safe and efficient.
Dr. Danny Avula, the state's vaccine coordinator, said vaccination is one of the most effective tools to mitigate COVID-19 as cases rise significantly. Speaking at Monday's School Board meeting, he also addressed concerns that the vaccine was made "too quickly," saying that the technology to create the coronavirus vaccine has been in the works for more than 20 years.
"We expect that there will be more pediatric cases because so many of our adults have been vaccinated," said Avula, who also serves as the director of Richmond's and Henrico County's health districts. He said that last summer, "everything was on lockdown — schools were closed, summer camps were closed, kids barely were getting out of their house. ... This summer has looked different ... we're seeing a lot more infection."
He still was confident that kids need to remain in school and insisted that RPS could do that with a layered approach to mitigation, including vaccination, staying home when symptomatic, and mask use.
Richmond, like other localities, is forced to reopen under a new state law that mandates that school systems offer full-time, in-person learning.
Under the law, which passed with bipartisan support in the spring, school systems can close only when there's a severe outbreak in schools, as defined by the federal Centers for Disease Control and Prevention.