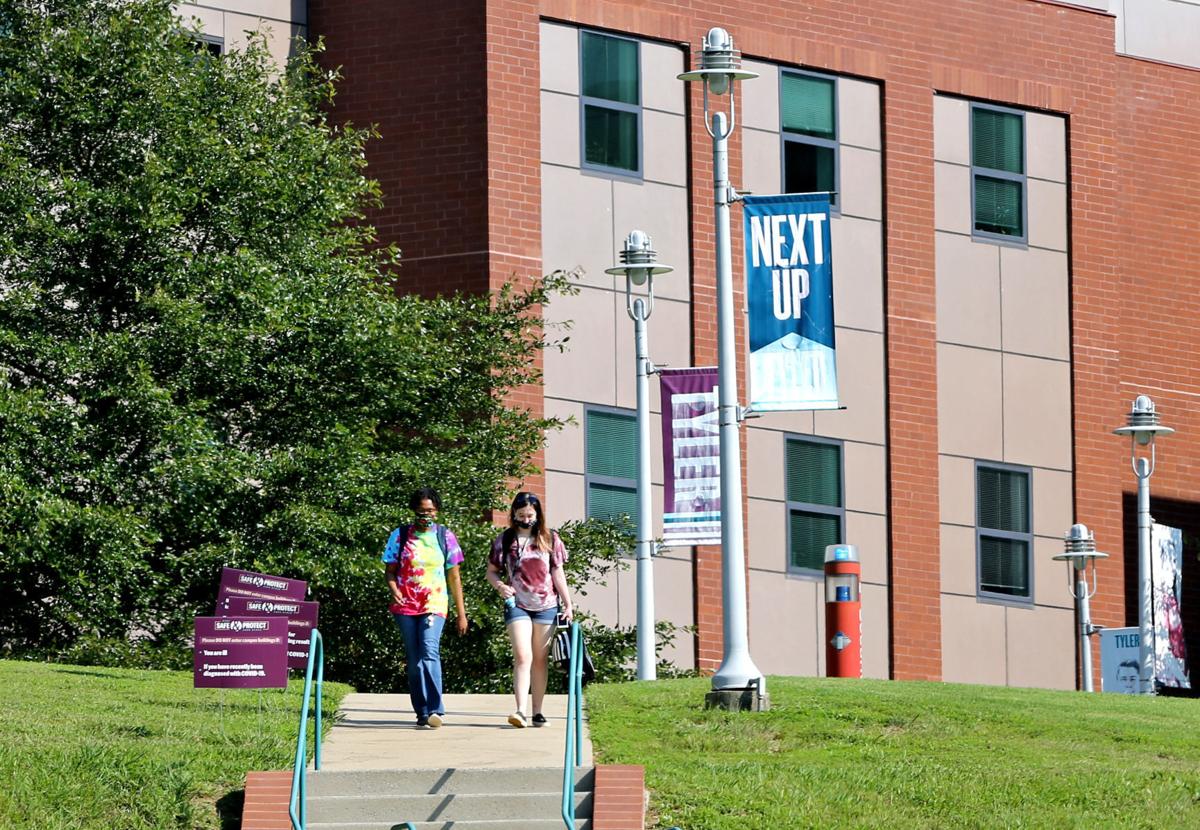 John Tyler Community College has removed the names from campus buildings of two former Virginia politicians who backed Massive Resistance as the college continues to retire references to supporters of slavery and segregation.
During the summer, the Chesterfield County college announced it would change its name to Brightpoint, a move that will take effect July 1. Tyler, the 10th president, owned slaves at his plantation and was elected to the Confederate Congress shortly before his death.
Last week, the college's board approved altering the names of six streets and two buildings that reference Tyler, former Virginia Gov. Mills Godwin and former state senator Lloyd Bird.
The college's renaming committee "found the ideologies and actions of Godwin and Bird go against our institution's values and are in direct conflict with our mission, vision, values and commitment to diversity, inclusion and equity," a message on the school's website read.
It's been a year since Tyler's renaming task force recommended the college change the names of Godwin Hall and Bird Hall. Both buildings are located on the Chester campus. The college also has a Midlothian campus.
Godwin was governor twice, from 1966-1970 and from 1974-1978. During his political career, he increased funding for education, established Virginia Commonwealth University and the Virginia Community College System. He also pledged to keep Virginia schools segregated.
"Integration, however slight, anywhere in Virginia would be a cancer eating at the very life blood of our public schools system," he said in 1956.
The school will change the name of Godwin Hall to Discovery Hall, a title that speaks to the mission and vision of the college, a school spokesperson said.
There is a high school in western Henrico County named for Godwin, but there has been no serious movement to rename the building.
Bird was a state senator from 1944-1972, a doctor and the founder of a medical equipment company. He was the head of the Senate Education Committee in 1959 and opposed the ending of segregation required by the Supreme Court ruling in Brown v. Board of Education.
Bird Hall will be renamed Beacon Hall, which was also chosen for its symbolism, the spokesperson said.
Bird's name still stands on a Chesterfield County High School. Earlier this year, a column in the Petersburg Progress-Index newspaper called for the name's removal.
Harry Byrd led Massive Resistance in Virginia, and his name and image have disappeared throughout the area, too. Byrd Middle School in Henrico was renamed Quioccasin in 2016, a statue of his image was taken down from Capitol Square earlier this year, and Virginia State University renamed Byrd Hall during the summer.
Tyler also will rename the T Building TrailBlazer Hall, a nod to the college's mascot. The T Building was never formally named before, and the letter referenced the theater inside the building, the spokesperson said.
John Tyler Drive will be named Brightpoint Drive; Tippecanoe Trail will be named Brightpoint Way; Tippecanoe Lane will become North Brightpoint Way; Gardiner Court is being renamed Trailblazer Way; Greenway Crossing will become Lantern Lane and Peacemaker Court will be named Radiant Road.
Tippecanoe was the nickname for William Henry Harrison, who became president in 1840 with Tyler as his running mate. Gardiner was the maiden name of Tyler's wife, Julia Gardiner Tyler. The name was passed on to their son, Lyon Gardiner Tyler, who became president of William & Mary. (Lyon Gardiner Tyler's name, too, was removed from the William & Mary history department last spring.)
Greenway was the name of the plantation where John Tyler was born in 1790. Peacemaker is an apparent reference to a cannon that accidentally exploded, killing Julia Gardiner Tyler's father in 1844.