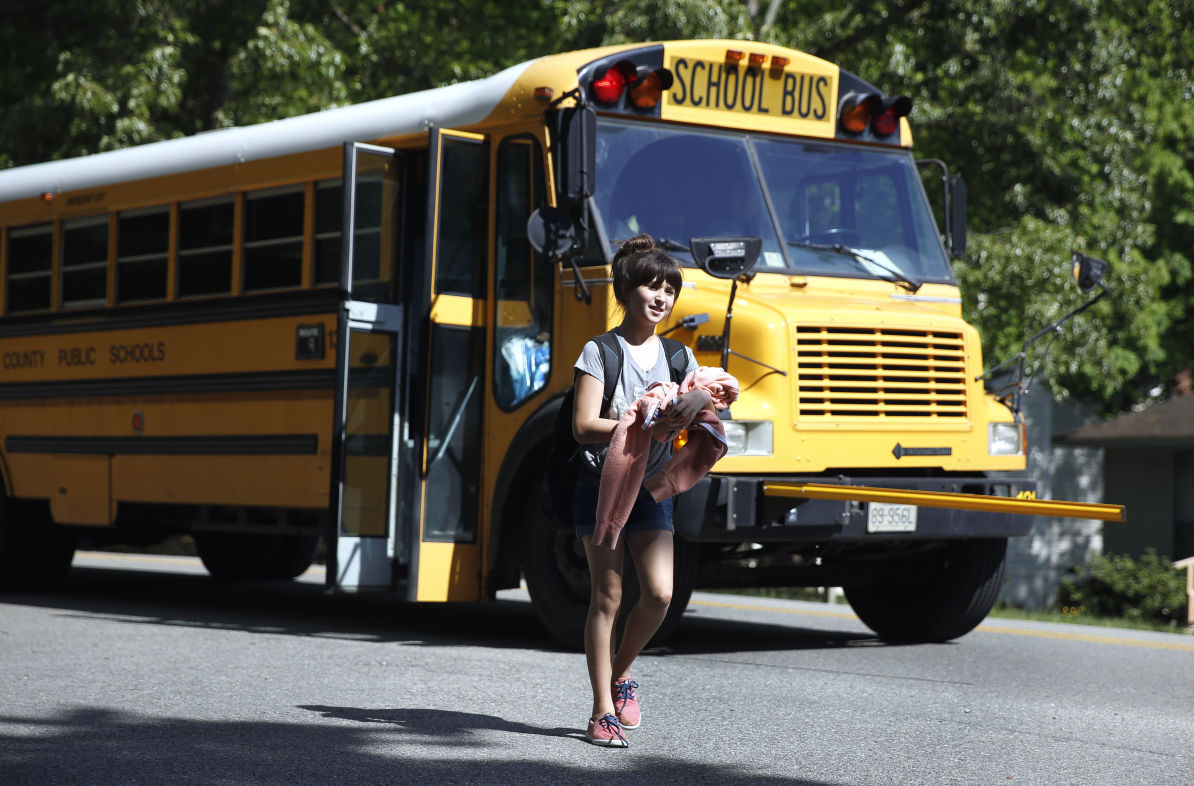 A proposal that would flip high school and elementary school starting times in Chesterfield County has prompted mixed and passionate responses from parents this week.
Concerns are that a later bell time for high school students would force them to reorganize their athletic activities and make it harder to work on weekdays. Some say the plan would create a financial burden for families who would have to put their younger children in day care centers in the afternoon because older brothers or sisters would still be in school.
"This plan shifts the cost away from the county and puts it in the lap of parents who depend on high school kids to watch their younger siblings," said Mike Karabinos, who has two children at Clover Hill Elementary School.
But others cite studies hailing the benefits of allowing high school students some extra sleep time.
"It would be great for the kids because it would make their test scores go up. To me, that's invaluable," said Carolyn Schallmo, a mother of five girls in the county school system.
A recent analysis by the American Academy of Pediatrics last year prompted school officials to revive the discussion of pushing back the bell time for high school students.The study has formally recommended that middle and high schools start no earlier than 8:30 a.m., based on the growing body of research that shows the benefits of later starts and the risks of early ones.
Chesterfield's current 7:20 a.m. start time for high schoolers — more than an hour before the recommended time — is the earliest in the Richmond area. Most of the county's middle schools and a handful of elementary schools open at 8:10 a.m.; the rest of the elementary schools follow at 9:05 a.m.
Under the proposal awaiting the School Board's final approval, 27 of the county's 38 elementary schools would operate from 7:45 a.m. until 2:15 p.m. The other 11 elementary schools and eight middle schools would be in the second tier, with the day beginning at 8:35 a.m. and ending at 3:05 p.m. Four middle schools and all 11 high schools would start at 9:30 a.m. and end at 4 p.m.
To get as close as possible to the recommended start time, the entire schedule would be pushed back by 25 minutes.
While Schallmo and her husband are more flexible because they both work from home, she said the concerns raised by some parents are "not an issue" and can be addressed by planning.
"I went to a school that started at 9:30, and our classes ended at 4. I was a cheerleader, I got great grades and I had a job. It's certainly doable. Right now, it's all about being angry and louder than the other guys," she said of the critics.
But Julie Simpson-Preston, mother of two girls in Chesterfield elementary and middle schools, said flipping start times would put the youngest students at a disadvantage.
"Children who are elementary school age also require 10 to 12 hours of sleep. If you adjust their start time to 7:45 a.m., you are still going to be taking away their sleep. If you want them to get 10 hours, you will have to send them to bed at 6 p.m," she said.
"They want to benefit the high schoolers but at the same time, you also don't want to hinder elementary school students that are just as needy as high school students, if not more," Simpson-Preston said.
Since fall, School Board members have examined several plans to change the start times, narrowing the choices to two and then to the one that is currently being considered.
Any proposal is a complex undertaking because it would involve, among other changes, increasing the number of buses — currently 520 — to transport about 45,000 children over an area of 400 square miles and reorganizing the division's specialty centers.
By expanding the current list of ESOL (English for Speakers of Other Languages) Centers, streamlining specialty center transportation, and increasing the walk zones from bus stops to homes, school officials were able to reduce the number of new buses needed to 37 from 55.
The total cost: $5.6 million for the first year and a $2.5 million recurring cost in subsequent years.
Sunni Sanchez, who has a 13-year-old daughter at Bailey Bridge Middle School and another one who graduated high school last year, said the proposal's benefits do not justify the expense.
"I just don't think the impact of a high school kid starting an hour later is that much. They are going to be tired and cranky anyway," she said.
Sanchez said the fiscal impact on families is her biggest concern.
"For the kids that have to maintain an after-school job for economic reasons, this narrows their window. Some kids just have to work; it's part of their economic situation," she said.
The Chesterfield County Council PTA has not yet endorsed a position on changing start times.
"We are committed to being an active voice during this conversation and will work with the school system, teachers, and families on finding the best solution for this issue," said Sara Gilliam, the organization's president, in an email.
School Board Chairwoman Dianne H. Smith and Vice Chairwoman Carrie E. Coyner did not respond to interview requests Tuesday.
While many parents feel passionate about changing start times, some are open to it but believe the way the school division wants to go about it is wrong.
"I don't feel this current proposal, or any other changes that have been proposed, are fixing the problem," said Lisa Mansfield, who has a child at Ecoff Elementary School.
The 9:30 a.m. start time is taking away accountability that high school students need to have, Mansfield said.
"They need to be responsible and get started at a decent time in the morning. But 7:20 a.m. is far too early. And I don't think our elementary students should be starting school at 9:15 a.m., but they are. It's far too late, and the thought of them going later should not even be an option," she said.
She said any change to help one segment of Chesterfield's students should not be undertaken if it harms others.
School officials say implementation of the proposed plan would take about 18 months, which would allow for the changes to take effect by fall 2018.
(804) 649-6537
Twitter: @MSchmidtRTD