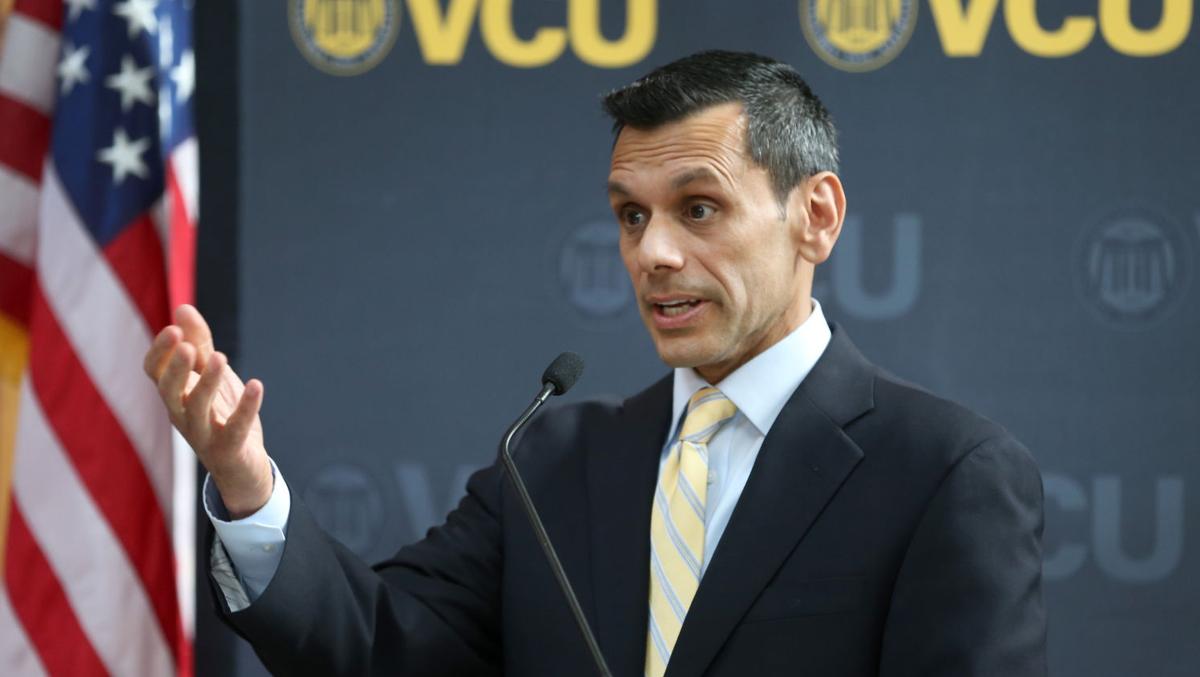 Life at Virginia Commonwealth University will look closer to normal this fall, President Michael Rao said Thursday in his annual State of the University speech.
After two and a half semesters of mostly online education, in-person classes will start to return, and students and employees will be vaccinated. It may not completely resemble pre-COVID life, but it'll be better than now, Rao said.
In a 30-minute pre-recorded message, Rao laid out his vision for the future of the university and its health system, and he recapped a turbulent year. Rao thanked the school community for forging ahead despite the pandemic, and he repeated a theme of erasing inequities in education and health care.
"We say at VCU, we do what's difficult," Rao said. "This past year has sure proved that."
In 2020, VCU's six-year graduation rate improved to 69%, an all-time high and a 10 percentage point increase since 2009 when Rao became president. Its four-year graduation rate stands at 48%, the university reported last fall.
Rao set goals for the school's retention rates: 90% for first-year students, 84% for second-year and 80% for third. VCU lags 5 to 10 percentage points behind each benchmark.
But the graduation rates of Black and Latino men, which are lower than the university at large, concern the president. VCU created the "men of color initiative" to support and advise Black and Latino men enrolled there.
Rao mentioned two other VCU records. Research funding grew to its highest total yet and increased 8% from a year prior, and VCU Health conducted more organ transplants than ever before, 459.
VCU's geographic footprint continues to expand. School officials last week cut the ribbon on an engineering research building at the intersection of Belvidere and Cary streets.
Rao expects a 17-story adult outpatient hospital building to finish construction at the end of the year. It will house many outpatient clinics, women's services and the Massey Cancer Center's outpatient care. The Children's Hospital of Richmond Wonder Tower, a 16-story in-patient facility located on Marshall Street, is scheduled to open in spring 2023.
A science, technology, engineering and math building will open on the Monroe Campus in early 2022.
VCU has discussed purchasing the Virginia ABC headquarters on Hermitage Road to build an athletics village, but Rao did not mention the athletics village.
"This was not done to erase history, because history cannot be erased," Rao said. The president said he wants space for stories to emerge that contribute to broader and more representative realities at VCU.
The university will continue to address racial inequities in health care and education, Rao said, and he addressed Marcus David Peters, a VCU graduate who was shot and killed by police along the highway near downtown Richmond in 2018. Rao said his heart goes out to Peters' family, and that the community must work together to prevent such tragedies.
"There's still so much that we've got to do, because there's still so much that's inequitable and wrong," Rao said.
Addressing disparities in health care, COVID-19 showed how the country is in need of rebuilt public health infrastructure, Rao said. The president highlighted VCU's programs in epidemiology, infectious disease and other similar fields, and he teased a future announcement in this endeavor.
Currently, Massey is one of 71 federally designated cancer centers in the United States. Of the 71, the National Cancer Institute constitutes 51 as comprehensive, which denotes a level of leadership, resources and research. Massey would become Virginia's first comprehensive cancer center.
"Our campuses have been among the safest places to live, learn and, of course, work," Rao said.
But comparing one college's infection rate to another is problematic, because the number of tests performed varies widely.
Since the beginning of 2021, the University of Virginia has conducted 44,000 COVID-19 tests, and Virginia Tech has conducted 15,000. VCU has administered about 6,000.
While the pandemic did create a revenue shortfall, VCU avoided layoffs and furloughs. Better-than-expected enrollment, state and federal funds and cost-saving measures resulted in what Rao called a stable financial situation.