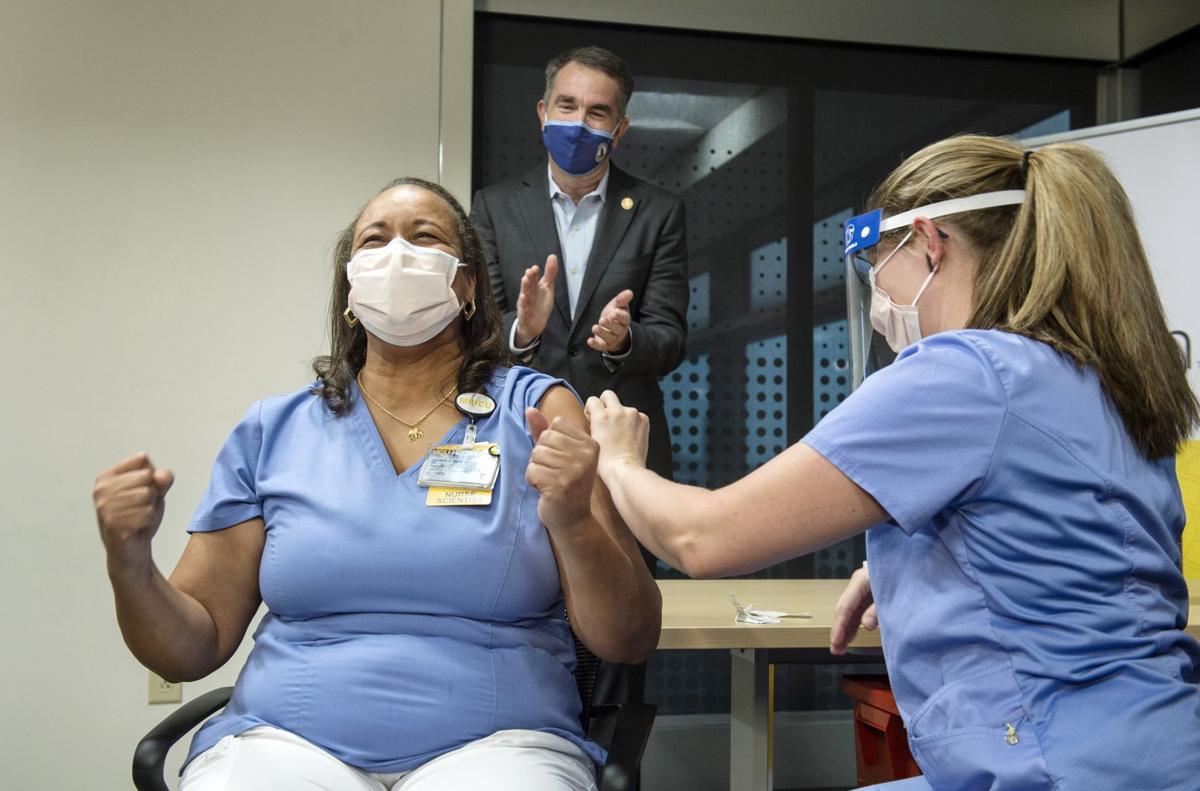 Virginia Commonwealth University Health has offered COVID-19 vaccines to all of its 13,000 employees, whether they work in the emergency room or their own living rooms. But the university's medical students, some of whom work alongside doctors and nurses as part of treatment teams, are still waiting.
The future doctors were unable to attend their in-person hospital rotations last week, which are key to their training. Because of the strain the latest wave of the coronavirus is putting on VCU, they will sit out the next two to three months of in-person instruction.
Two groups of medical students wrote unsigned letters last week to leadership protesting the decision, calling it harmful to patients' lives and their own careers.
Two other medical schools in the state, the University of Virginia School of Medicine and the Virginia Tech Carilion School of Medicine, kept their students in the building and began inoculating them, according to the schools.
"UVA is choosing to value their medical students," said a third-year medical student at VCU. Virginia Tech Carilion "has chosen to value their medical students. VCU has chosen to not."
The student spoke to the Richmond Times-Dispatch on the condition of anonymity, fearing punishment from VCU Health.
The letter writers urged VCU to vaccinate medical students and provide the in-person education for which they pay as much as $30,000 a semester.
The friction between students and the administration follows other complaints about vaccine distribution in the state being too slow and too ineffective at getting the shots to the people who need them the most.
Dr. Art Kellermann, chief executive officer of VCU Health System, said in an email to The Times-Dispatch that the decision to pull students out was made to ensure the hospital can focus on protecting the health of its patients and staff in the close confines of the building.
On Saturday, Kellermann provided a timetable for the inoculation of VCU medical students. Their vaccines will begin by Jan. 19, he said.
"It was done to protect patients' lives," Kellermann said. "Our deans and faculty are committed to ensure that it will not harm student careers."
On Jan. 1, medical students attended a Zoom meeting with school leadership where they were told their in-person training in the hospital would be paused. Students weren't allowed to speak — questions could be submitted in the chat box. In the days that followed, students continued to meet with faculty, and some wrote letters critical of the administration's decision.
During a pandemic, one of the letters from students stated, medical students are needed more than ever on the front lines.
"In a year where the value and necessity of healthcare workers mattered more than ever, it feels short-sighted to take away additional key clinical training from students," the letter stated.
In response, Kellermann last week wrote a letter to students. COVID-19 cases at the hospital have tripled since Thanksgiving, he said, and the number of employees testing positive has climbed dramatically.
To curb the swell of infections, VCU suspended most guest visitations. It will limit the number of employees allowed in a room, space out work stations and remove chairs, Kellermann said in the letter. Plus, clinicians who are stretched thin need to focus on patient care, not student education.
Medical students were left feeling undervalued. When VCU Health announced its intention to vaccinate its entire paid staff, the health system said it would vaccinate all team members.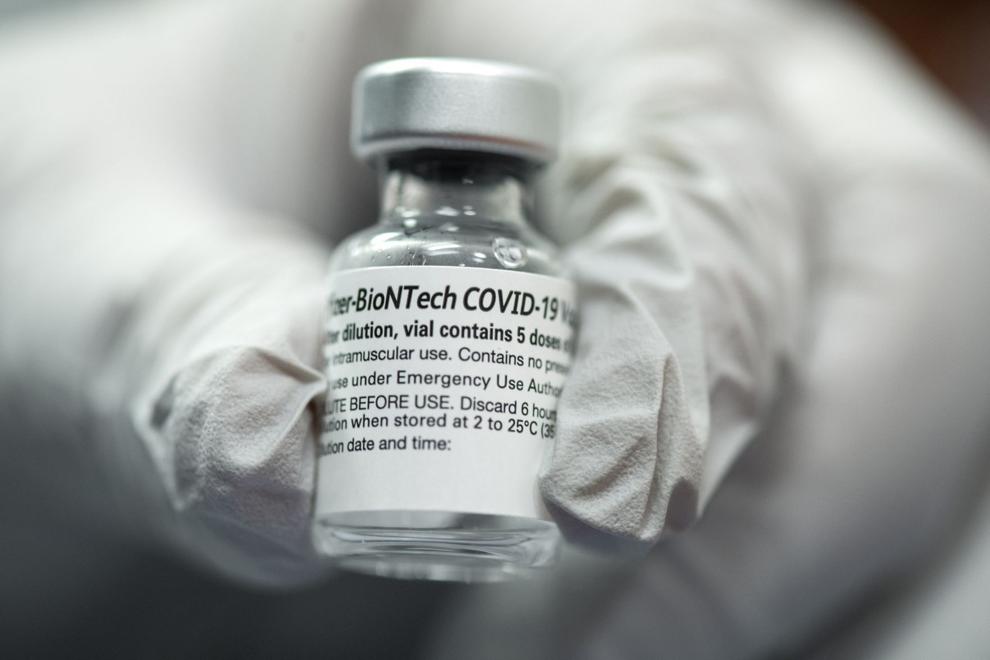 When the Pfizer vaccine was first distributed in the state in mid-December, the Virginia Department of Health prioritized health care workers and long-term care residents to receive the shot first.
Health care workers were defined as all employees or students whose duties may require access to clinical settings at health system facilities or who are critical to the ongoing operations of a health system facility.
The state left it up to the health systems to determine how they would allocate their doses. VCU Health System prioritized its paid employees into nine different tiers. Those in long-term care facilities went first. Employees in urgent care were next, followed by employees in inpatient units with a high volume of COVID-19 patients.
At the very bottom was tier nine, designated for personnel whose duties don't require access to a clinical setting or those able to telework. Last week, VCU vaccinated ninth-tier employees.
The vast majority of its employees, 85%, are patient-facing, which equals about 11,000 staffers. As of Tuesday, VCU Health had administered more than 8,000 vaccines, said Laura Rossacher, spokeswoman for VCU Health.
Because early supply was limited and because every paid employee is essential, the staff was prioritized over students, even though some paid employees can telecommute, Kellermann said.
Information technology workers manage medical records. Maintenance workers sustain the facility. Central supply workers provide personal protective equipment. Administration orders the PPE and manages cash flow.
"The entire team is essential for a health system to work," Kellermann said.
Once vaccinations begin, older students will be prioritized. Third- and fourth-year medical students interact with patients, while first- and second-year students learn in a class setting.
At UVA Health and Virginia Tech Carilion, administrators gave students the vaccine.
UVA Health received 7,500 doses in December and 16,500 more doses last week, which includes some second doses, a spokesperson said.
Carilion Clinic, which did not say how many doses it got, made medical students eligible for inoculation, according to Virginia Tech's news service. Eastern Virginia Medical School will vaccinate students as soon as it receives doses, a spokesman said.
VCU's hospital is unique, Kellermann said in his letter to students, in that its occupancy rate is among the highest in the state, and the hospital's patients are among the most clinically complex and vulnerable.
During a medical student's third and fourth years, he or she will meet with patients, collect their history and gather routine information. The student will spend a month or two in a given field, such as obstetrics and gynecology or pediatrics, then rotate to the next.
During these two years, a medical student learns what it means to be a doctor and chooses a specialty in which they will work for the rest of their career.
Students now worry they will be forced to choose a specialty having never received in-person training in that field. Imagine becoming an OB-GYN having never stepped foot in a delivery room, the third-year student said.
Kellermann told students who felt they were missing a critical experience to reach out to their dean's office in order to find a solution.
Medical students across the country already missed clinical time when the pandemic hit and medical schools paused rotations.
Now, VCU students who already missed nearly four months of experience worry they will fall further behind and weaken their attractiveness for competitive residency slots.
But virtual elements of the education, such as telehealth, are equally important, Kellermann said. Students need to learn interviewing, reasoning and diagnostic skills while meeting patients in video calls.
"I told them last Saturday that they will be better prepared for where medicine is going in this century than where it was in the last one," Kellermann said. "Most, if not all students nationwide, are in the same boat. Our students will not be disadvantaged for residency training."
Medical students will have to opportunity to volunteer as community vaccinators and could potentially support teams treating VCU's COVID-19-positive students who quarantine in the Honors dorm.
But medical students questioned the value of virtual rotations and telehealth training. VCU charges in-state students $37,000 a year in tuition. Out-of-state students pay $60,000.
"Would you trust a Zoom-trained physician?" the students' letter asked.
One idea was floated by the administration to put GoPro cameras on the heads of residents, allowing medical students the chance to see inside a hospital room without stepping foot in the building. At first, the student thought it was a joke.
"Our experience is being minimized to GoPros," the student said.
Kellermann said such technology was used at his previous school, the Uniformed Services University of the Health Sciences. Staff there used GoPros to teach tactical combat casualty care. Interactions between doctors and patients could be recorded and reviewed later.
"This is but one example of adapting to ensure students acquire the knowledge and skill they need to become wonderful, caring doctors," Kellermann said.