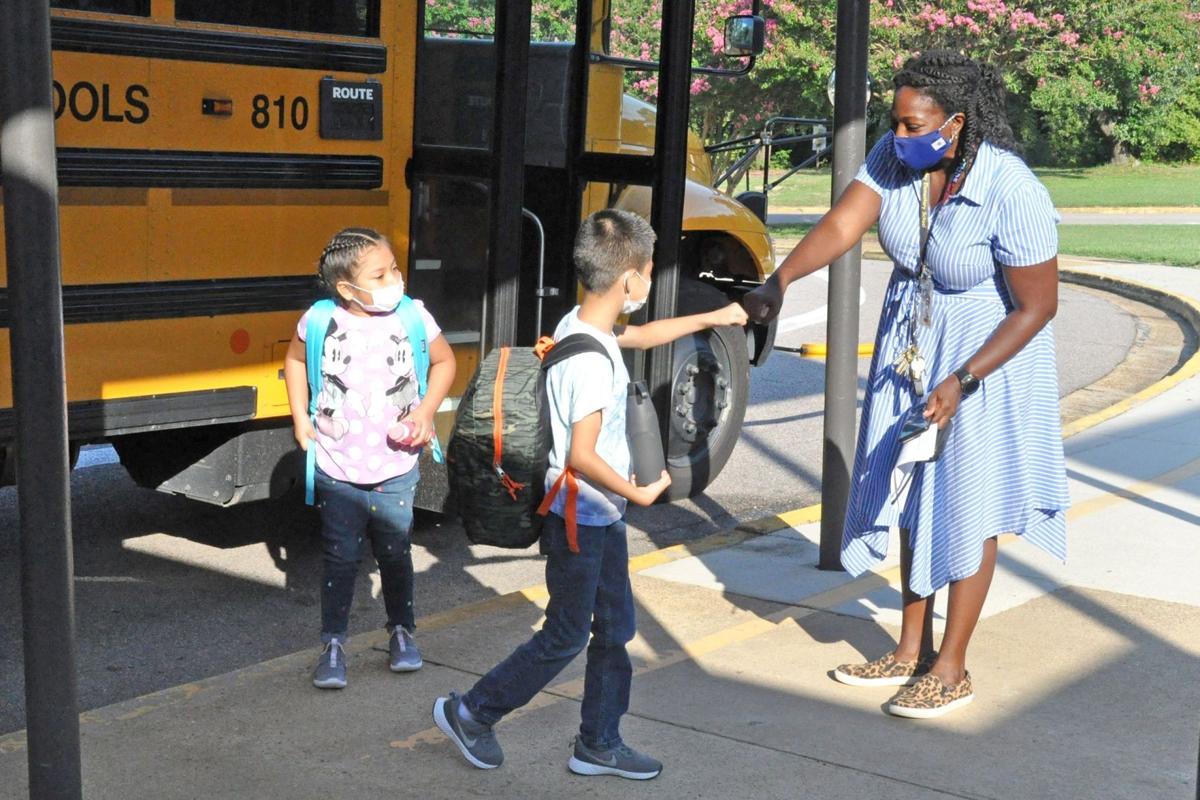 Chesterfield County Public Schools surpassed 1,000 student COVID-19 cases Wednesday morning, according to the district's coronavirus dashboard.
The running case count from between Aug. 23 through Tuesday reflects 1,002 cases among students and 143 staff. Chesterfield opened the doors of its 64 schools to roughly 62,000 students on Aug. 23.
In the past seven days, 197 students and 16 staff members have tested positive for the virus, according to the dashboard, impacting 0.31% of the student in-person learning population and 0.2% of staff.
There were 1,624 students in quarantine Tuesday, according to the most recent numbers.
Earlier this year, state legislators adopted a law requiring all public school districts to provide five days of in-person learning a week. The districts aren't allowed to close schools unless there is an outbreak of the virus considered severe under state health guidance, according to the law.
A high level of COVID-19 impact to a school setting occurs when several outbreaks happen in a short period of time and when the size of the outbreaks is "large or scope of outbreaks is significant," including impacting several classrooms or grade levels, according to the Virginia Department of Health.
Temporary school closures should be necessary only if COVID-19 cases or outbreaks need to be brought under control within a school, according to joint guidance from VDH and the Virginia Department of Education.
According to the VDH COVID-19 Outbreaks by Selected Exposure Settings dashboard, outbreaks have been identified in several Chesterfield schools since the beginning of the academic year, including an outbreak of 12 cases at Thomas Dale High and seven cases at Cosby High.
VDH defines an outbreak as two or more cases that can be linked in both time and proximity. VDH, which updates its outbreak dashboard weekly on Fridays, deems that an outbreak is over after two incubation periods, or 28 days, of the virus pass with no new cases.
"Most of the outbreaks that we are seeing in schools are small, usually limited in size to 2 to 4 individuals," Chesterfield Health District Director Dr. Alexander Samuel said in a statement Wednesday. "We've seen some larger outbreaks on school sports teams."
Meadowbrook High's outbreak of five cases is resolving, with no new cases forming. Outbreaks in progress for Chesterfield include three separate outbreaks of 12, five and less than five cases at Thomas Dale High; an outbreak of seven cases at Cosby High; an outbreak of five cases at Woolridge Elementary; and outbreaks of less than five at both Lloyd C. Bird High and Jacobs Road Elementary.
The Chesterfield Health District's epidemiology team works closely with its school systems — which include Chesterfield County, Colonial Heights and Powhatan County — in addressing cases, contact tracing assistance, isolation and quarantines. The department also provides advice for transmission mitigation strategies, Samuel said in a statement.
"We've noticed the number of active cases and the number of students quarantined slowly decline over time in most school settings, which indicates that mitigation protocols are gaining traction," Samuel said.
A school spokesperson said there are almost 1,900 students enrolled in the K-8 Virtual Academy and 621 full-time students in the online course program, CCPSOnline.
For CCPSOnline, there are also 5,427 course enrollments and 1,542 unique student registrations. The unique student registrations are the total number of students enrolled in CCPSOnline; however, not all are taking full course loads online.
Families looking to switch to virtual options are faced with growing waitlists. As of Wednesday, roughly 700 students were on the virtual academy waitlist, and over 500 students were on the CCPSOnline waitlist.