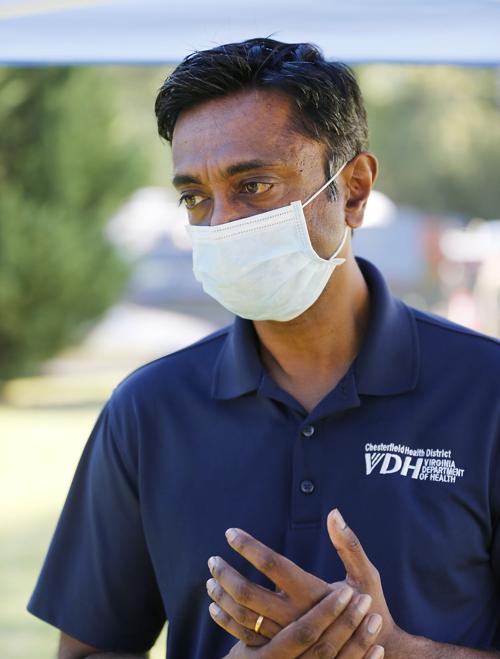 As the Chesterfield Health District works to vaccinate as many eligible essential workers and older residents as possible, county elected officials are becoming frustrated with the slow rollout.
In a letter Tuesday to Gov. Ralph Northam, the county Board of Supervisors stated: "Simply put, Virginia's campaign to vaccinate the masses is totally defective." It also said the county wants to help with COVID-19 vaccination efforts, including identifying sites for mass vaccination events.
"We felt that it was very important that our community is informed about the vaccination rollout … [and to] inform the governor that we stand ready to assist in serving the citizens of Chesterfield County," Board of Supervisors Chairman Jim Holland said in an interview Tuesday.
The Chesterfield Health District, which also covers Powhatan County and Colonial Heights, had administered 23,831 vaccines across the three localities as of Wednesday, according to the Virginia Department of Health. The Richmond and Henrico County Health Districts has administered 34,053 vaccines.
The Chesterfield district, which is charged with splitting up the weekly vaccines received from the state, received 4,625 shots for this week. Next week, the district is receiving 100 fewer doses — 4,525 shots. The district's director, Dr. Alexander Samuel, announced the figures during Wednesday's Board of Supervisors work session.
With this week's vaccines, 40% were for essential workers (those in K-12, police and fire departments, and correctional facilities and homeless shelters); 40% were for health care personnel; and 20% were for residents over the age of 75 and those 65 and older with underlying medical conditions.
Samuel said in an interview that when dividing up the vaccines across the three localities, the health district looks to provide roughly enough vaccines weekly for 15% of each of the localities' workforce for K-12, police and fire departments, and correctional facilities and homeless shelters.
"So that was our best effort to kind of be equitable, in terms of directing vaccine to that 1B essential worker group," Samuel said. Virginia's second priority group — known as 1B — includes people 65 and older, front-line essential workers, and people with health conditions that put them at higher risk for severe illness.
Chesterfield requested 10,000 vaccines for county and school system employees for the week of Jan. 25. Instead, Chesterfield received 1,500 doses for the week, splitting the shots between the school district and county employees. The school district received 1,240 doses and the county received 260 doses.
Last week, after Chesterfield received only 1,000 doses instead of the requested 8,000 from the health district, the county gave the school system 750 doses of an anticipated 4,000, causing a delay in the rollout.
In their letter, the Board of Supervisors members complained about receiving fewer vaccine doses, adding how they were told to expect only about 1,500 shots weekly from here on out.
"At this rate, we are six-plus months from achieving the goal of vaccinating the employees deemed essential for the continuity of government and schools," the supervisors wrote.
Richmond and Henrico combined are allotted approximately 6,400 doses each week. The Chickahominy Health District — covering the counties of Hanover, Charles City, Goochland and New Kent — gets 1,800 weekly.
Richmond and Henrico's 6,400-dose count is a fourth of the vaccine amount the health district requested, Amy Popovich, nurse manager for the health district, said during a Facebook Live event Monday.
"We do want to be really intentional with that pie of vaccines that we're getting every week and our intent is to use half of it for seniors, 40% for essential workers and 10% for our congregated populations, as I mentioned in jails, [homeless] shelters and correctional facilities," Popovich said.
In the Chesterfield letter, the supervisors expressed frustration in having people in correctional facilities being vaccinated ahead of other residents, given the county's jail hasn't had a COVID-19 case since June and no virus-related deaths.
"Our citizens have endured over 17,000 positive cases and 190 deaths. … They do not need to see an inmate in our well-safeguarded facility get in line in front of them," the letter states.
Holland said the supervisors want the vaccine rollout to be fair and equitable.
Dr. Danny Avula, the state's vaccine distribution coordinator, said in an interview last week that correctional facilities and homeless shelters, second in line for vaccines in 1B, skew toward nonwhite populations in low-income areas.
"We know that those minority communities are disproportionately represented," Avula said. "The logical and ethical framework that was used to build the tiering absolutely considered that. … In most communities, they're kind of blending [people in phase two]. There's not enough.
"But the fact of the matter is that we don't have enough vaccines to go around, and we need to get really clear on who actually is at higher risk and that is the elderly. So my hope is that as people start to understand the limits on vaccines that are coming into our community, that we would all just say, 'OK, we've got to prioritize the people that we know are most likely to get hospitalized and most likely to die and let them go to the front of the line.'"
Black and Latino residents are 48.6% of hospitalizations in the Chesterfield Health District. Whites are 45% of hospitalizations and 65% of deaths. Black and Latino residents are 32% of deaths.
Acknowledging issues with a limited supply coupled with challenges of signing up for a vaccine and data management, Samuel said the health district will keep moving forward.
"We have access to something good and we will keep on working hard to get it straightened out and get people the doses they need and require," Samuel said.
Twitter: @jessmnocera
Staff writer Sabrina Moreno contributed to this report.