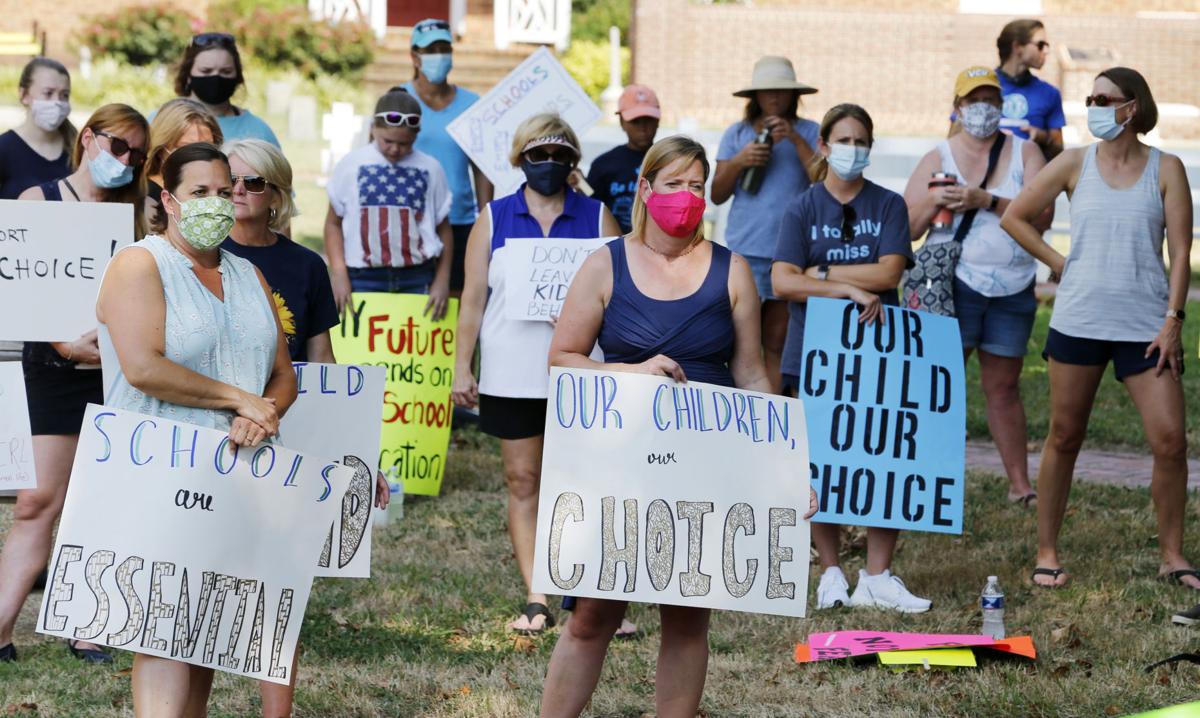 All public Chesterfield middle and high school students have the opportunity to return to the classroom five days a week beginning March 9.
The Chesterfield School Board unanimously voted Tuesday to bring the remaining students out of virtual learning and back into school buildings.
Nearly 14,000 CCPS elementary pupils returned to school five days a week Feb. 2, joining 1,000 select K-12 special education students who returned at the end of September. Middle and high school students in the career and technical centers returned with elementary schoolers.
When the School Board voted 4-1 in January to send the youngest learners back, district officials said they planned to reintroduce older students back into their respective classrooms at some point during the current marking period.
Families with middle and high school students have until Feb. 17 to decide if they will send their students back to the classroom. Any families not comfortable with the return to in-person learning can keep their children in virtual instruction.
Upon returning, all middle and high schoolers will be required to wear a face shield — in addition to a mask — in classrooms, hallways and on buses where 6 feet of social distancing cannot be met.
Chesterfield parent Carolyn Ferraro asked for clarification during public comment Tuesday night about why face shields will be needed.
"I've received comments from several health care workers over social media that this [wearing a face shield] is excessive. ... If teachers are vaccinated, and masks are worn, why is this needed?" Ferraro asked.
Deputy Superintendent Thomas Taylor said Tuesday a mitigation strategy recommended by the Centers for Disease Control and Prevention is a type of shielding when 6 feet of distancing is not guaranteed. Shielding includes desk shields or face shields, Taylor said.
Since last week's return, 24 staff members including bus drivers and 21 students have tested positive for COVID-19, according to the Chesterfield school system's website. There are an additional 12 positive cases in county middle schools that are not labeled because students are not in the building at this time.
"Medical research and reports continue to assert that schools are not superspreaders and can reopen safely with proper mitigation strategies and infection control measures in place," Superintendent of Schools Merv Daugherty wrote in an email to staff Tuesday afternoon.
Gina Hackett, a teacher at Lloyd C. Bird High School, expressed concerns with sending back middle and high schoolers.
"We need proper mitigation strategies that allow students to remain 6 feet apart," Hackett said Tuesday night. "There are not enough classrooms to disperse students because all teachers will be teaching simultaneously. ... What are we doing as a county to ensure that schools have everything they need to make these spaces actually work?"
Christy Weaver, a second-grade teacher in Chesterfield, whose daughter is a seventh-grader at Bailey Bridge Middle, asked for the School Board to vote in favor of having middle and high schoolers return to school and to let students participate in sports.
"I am extremely happy to be back in the classrooms with my students. The connections I can make with them and the relationships I can build are huge. I am now wishing that for my seventh-grade daughter," Weaver said.
On the employee vaccine front, Daugherty wrote that by March 5, "current plans indicate that all interested PK-12 school-based staff members and bus drivers will have received both doses of the COVID-19 vaccine."
In January, the district's employee rollout was delayed after receiving only 750 doses instead of an anticipated 4,000 in its first week. However, if all interested employees do not receive their second vaccine by March 5, Daugherty, during Tuesday's meeting, said he will not suggest that middle and high schoolers return March 9.
"I strongly believe we need to complete the [vaccine] schedule through March 4," Daugherty said. "I know that people say, you hear in the news that, 'Well, we don't need a shot.' Well, people don't live in reality. We live in reality."
Employees at all high schools and the remaining middle schools who have not yet received their first dose will get their first shot Thursday, according to the superintendent.
"We appreciate everything that the county government and local health department continue to do to help us vaccinate our employees as quickly as possible, given the limited vaccine supply available," Daugherty wrote.
Next week, according to Daugherty, the school system looks to vaccinate central office staff, substitutes and temporary employees. Staff members who are on a leave of absence or out on the Family and Medical Leave Act will receive their vaccine in this final group.