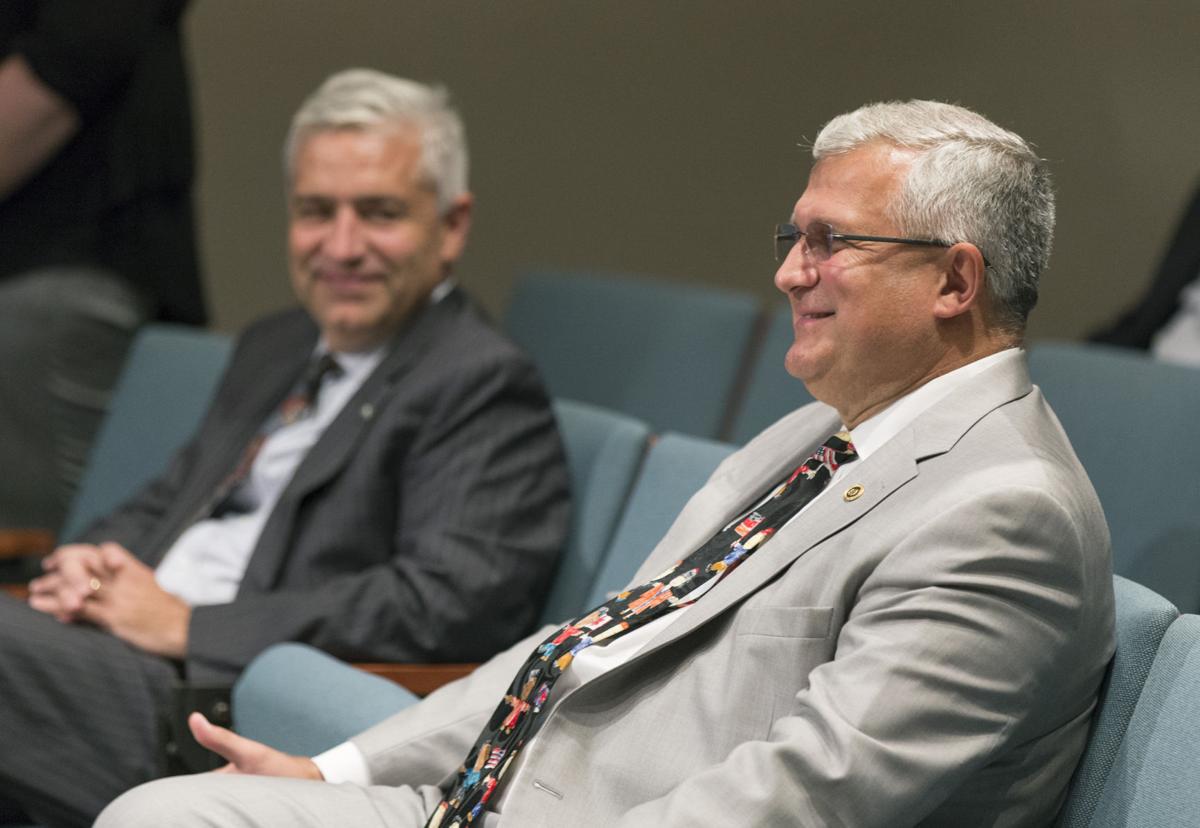 The Chesterfield County School Board on Thursday approved a $744.7 million operating budget that aims to provide better wages for teachers as well as increased funding for legally required expenses such as increases in retirement benefits and health care for employees.
Last year, the county made deep cuts to its budget because of COVID-19, including eliminating a 2% raise for all school employees.
The new spending plan is $14.7 million less than what Chesterfield schools Superintendent Merv Daugherty presented in January. Daugherty's $759.4 million proposal had a nearly $40 million funding gap, which county officials expressed distaste with earlier this week.
At a Monday news conference, Chesterfield officials promised an additional $18.2 million to schools, funded by property and sales tax revenues. However, in the same breath, the county asked the school system to pump the brakes on its overall budget request, by eliminating the gap to have a balanced budget.
Under state law, Daugherty has a legal right to request a needs-based budget.
School Board member Dot Heffron said she appreciates the superintendent's needs-based proposal, saying that "our schools have been underfunded for too long and I appreciate Dr. Daugherty's consistent advocacy for our needs-based budget."
"However, we have a lot of ground to make up," she said, "and with ever-increasing demands on our school division as a community, we will need to commit to funding our schools in a way that supports our learners."
Sonia Smith, president of the Chesterfield Education Association, said during Thursday's public comment period that the school system should not have any unfunded priorities.
"This narrative is old, stale and so heavily recycled that it is weak," she said. "The county has pressured your predecessors, and now they have publicly pressured you by pulling that stunt from the beginning this week by holding a new conference announcing to deliver some of what the school division really needs."
Smith added: "Don't let them guilt-trip you into helping them do their job of balancing their own budget. Stand strong with your employees who have been patiently waiting for someone to fight for them."
The approved budget does honor a county request by having a laundry list of items that the school system would like to fund if more money should become available, including additional permanent substitutes, transportation staff and a payroll system.
At the crux of the School Board's requested spending plan is to address the long-standing issue of employee salary compression. After proposing to address salaries last year, the Board of Supervisors ordered and paid for a study of school system salaries.
The study found that a three-year phased plan with a total of $46.7 million would eliminate the pay discrepancies. The study was performed by Segal, a benefits, compensation and human resources consulting firm
In the first year, $25.2 million is recommended to be spent on addressing compression for teachers, student support services staff, school-based administrators and paraprofessionals, while giving all other school employees a 2% raise. Daugherty and the School Board agreed to spend the recommended amount, but the county proposed otherwise earlier this week.
Teachers will receive a salary increase ranging from 1% to 11%, with the average being 5.5%.
County Administrator Joe Casey and Board of Supervisors members proposed to spend $17.4 million of the $25.2 million, which would only address teachers' pay compression and would eliminate the 2% raise.
The school system is moving ahead with wanting the next fiscal budget to completely fund the first phase of Segal's recommendation.
While the county houses the money, officials cannot mandate how the School Board decides to spend it.
School Board member Kathryn Haines said she looks forward to working with the county to get the district's funding closer to an appropriate level for its size.
Christopher Williams, a member of the school system's budget advisory committee, said in an interview Thursday that "the mantra has been in Chesterfield County that we do more for less."
"When you're a parent in Chesterfield County and you move here because of the schools, it gets really offensive when you hear people say how cheap we are," he said.
Williams said that while the employee compensation is overdue, the advisory committee is very concerned about having enough resources for children to be back in the classroom after being in virtual learning for the past year.
"Our teachers are going to have a real heavy lift ahead of them for the next several years," in terms of making up for lost time during COVID-19, Williams said.
Meanwhile, the School Board also approved the proposed five-year capital improvement plan.
The $421.4 million plan includes the replacement of two elementary schools, A.M. Davis and Bensley, and one middle school, Falling Creek.
New school construction includes one elementary school and two middle schools.
Chesterfield's school system must send the two spending plans to the county no later than March 1. The county is expected to present its overall operating budget March 10.