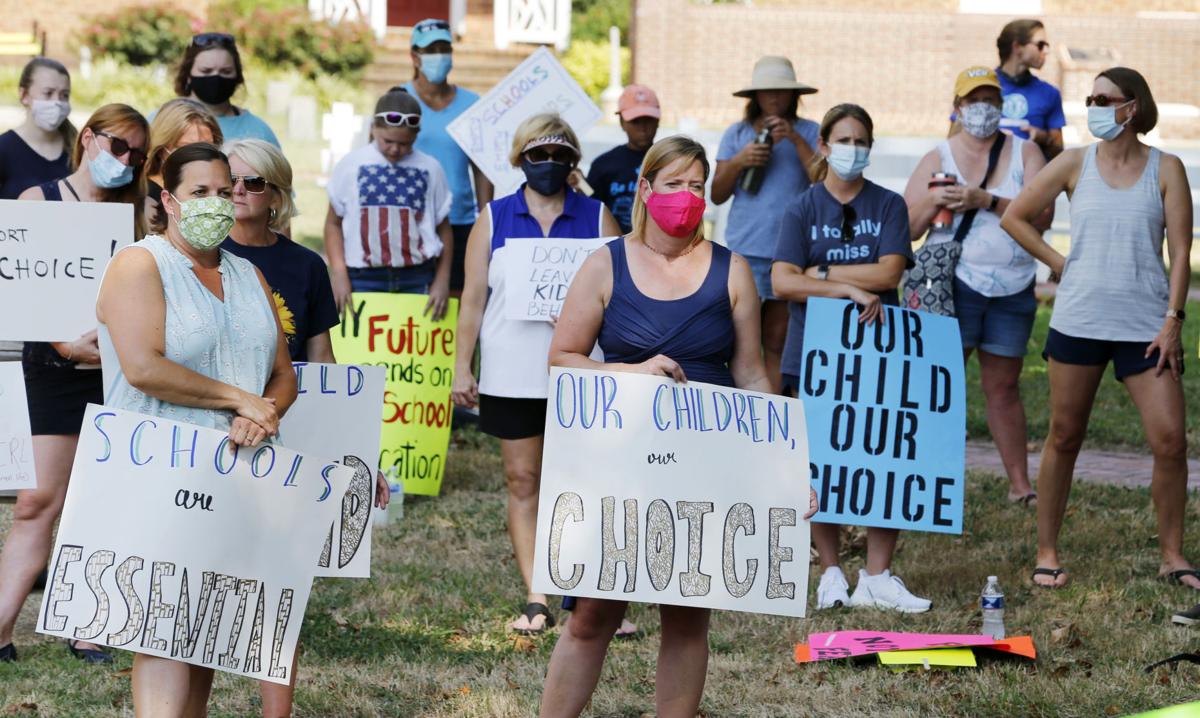 The health committee charged with deciding when groups of Chesterfield County public school students should return to the classroom during a global pandemic went against its own metrics, recommending to send the last cluster of students back despite the data saying otherwise.
Tuesday's recommendation, a split decision among the committee, now allows for all sixth- through 12th-graders who have been learning from home since the beginning of the school year to join select K-12 special education students, prekindergarten through fifth-graders, and career and technical high school students.
The committee — made up of health and risk management experts — bases its recommendations on three coronavirus metrics: a seven-day average of cases, case positivity rate and school readiness. The metrics are placed in four colors: green, yellow, orange or red. If all metrics appear in the range of green through low orange, discussions on returning students to school can take place.
Total cases over the last two weeks — instead of seven days — were in the orange, while positivity rate was in the yellow and school readiness in the green, according to a presentation during Tuesday's School Board meeting.
By pushing ahead and sending back the final cohort of students, the committee went against Virginia Department of Health guidelines, which call for a pause in the reopening plan if metrics are in yellow and a reversal if the metrics are in orange.
"Two weeks ago the health panel came to us and said that we would adopt VDH guidelines and explained that we would pause at yellow or moderate risk. So, I feel today that decision is being reversed and I am struggling to understand the why of that," School Board member Kathryn Haines said Tuesday. "Our board called for a health panel to make decisions for us because we believe that you are the best equipped to set parameters for opening schools and parameters for closing schools."
School Board Vice Chairwoman Dot Heffron asked Nick Oyler, coordinator of student health services, "Can you explain what brought the health panel's decision to recommend the override of the VDH'S recommendation to pause?"
While the school system sits overall in the moderate risk category, it is on the low end, Oyler said in response.
"The majority of the committee agreed that though there has been an uptick in data, it wasn't sufficient to feel the need to pause," Oyler said.
The panel gave a green rating to the metric of school readiness, which is determined as the school system's ability to carry out five mitigation strategies during in-person learning: mandating masks, social distancing, encouraging respiratory and hand hygiene, cleaning and disinfecting capacity, and contract tracing.
"The school division has the resources available to implement all five mitigation strategies correctly," Oyler said. "Obviously, consistency is a more difficult challenge, and in particular, we recognize the difficulty of maintaining 6 feet of distance at all times."
Heffron asked for a memo to be made that going forward the School Board makes the decisions regarding reopening and not the health panel.
Board Chairwoman Debbie Bailey, , agreeing to the memo, said, "I have put my faith and trust in your [health] panel" and if a majority of you say "it is appropriate to return the next cohort I would never stand in the way of your panel's expertise in that area and I would support that."
The sixth- through 12th-graders, also known as Cohort 4, will return to school Nov. 9, three weeks shy of Thanksgiving.
This final push brings approximately 34,000 students back into school, joining the nearly 28,600 students already back.
The Virginia Department of Health began reporting K-12 coronavirus outbreaks last week. Chesterfield County Public Schools had one listed outbreak at Clover Hill Elementary, which is now considered resolved.
Since the start of school, Sept. 8, there have been 39 confirmed cases among school employees, including a contractor. There are five confirmed cases among students, all in elementary schools, with two at Chalkley Elementary and one each at Beulah, Bon Air and Watkins.
"We've seen an increase in cases in Chesterfield County and we expect continued cases in schools as more students return," Oyler said. "As of today, I'm only aware of two cases of COVID-19 that have been spread in schools. All other cases to the best of my knowledge … likely involved the virus being contracted outside of the school setting."
The school district will notify all employees and families if there is a positive case in a school or school bus; however, the name of the infected individual will not be shared.
Besides the select K-12 special education students, all other students will return to school twice a week, split into two groups based on last name. No students are in school on Wednesdays, to allow for cleaning and sanitation.
Chesterfield families have the option to keep their children enrolled in virtual learning.
While the school system reached its goal of having students return, it now has gaps in crucial areas.
Free, remote meal distribution sites dropped from about 170 to 65 two weeks ago because transportation staff can no longer deliver the meals. The district is facing rampant shortages among staff and bus drivers.
There were about 60 bus driver vacancies as of Tuesday, said Calvin Frye, director of student transportation.
"We will train you and hire you and print out your license and put you on a bus. Bring you a sandwich, absolutely," Frye said with a laugh, as the district works with Band-Aid solutions, such as encouraging parents to drive their children to and from school and establishing "double backs," where a bus driver does their route once and then goes back and picks up all remaining students.
The next public update regarding school reopening is slated for Nov. 10. The last phase of the reopening plan is how to bring students back to school five days a week.