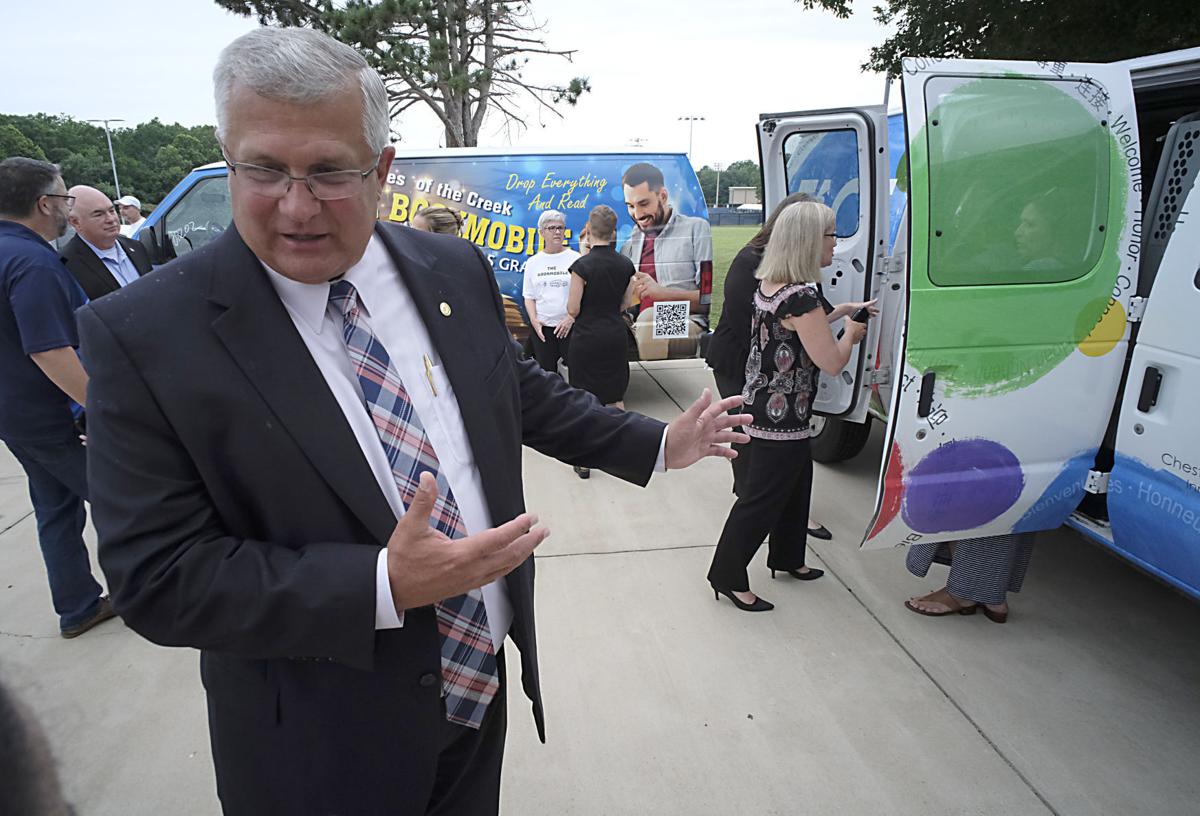 Chesterfield County Public Schools unveiled two community outreach vans at the Chesterfield Career and Technical Center on Tuesday with the goal of increasing countywide engagement.
The two used vans were donated to the school system by Chesterfield County. One is a bookmobile connected to Falling Creek Middle School and Meadowbrook High School; the other is a van from the school system's Office of Family and Community Engagement, or FACE.
According to a news release from the school system, the FACE van is equipped with a Wi-Fi hotspot, three Chromebooks, a popcorn machine and a snow cone maker. The van is intended to be used for community events including back-to-school nights. According to spokesperson Shawn Smith, the FACE van is available for any principal in the school system to check out and use.
"Just an opportunity for Chesterfield County Public Schools to show that we're going out to the community," said Mervin Daugherty, superintendent of the school system. "We're not waiting for people to come to us. We're going to them."
Tyren Frazier, executive director of the Chesterfield Education Foundation, said the school system received the vans in May. He said when the school system received the vans, they were plain white with minor cosmetic flaws. They then partnered with FASTSIGNS of Midlothian to get them painted.
Frazier said the renovations to the vans cost $5,000 — $2,500 for each van — and were paid for by sponsors. The bookmobile was sponsored by Towne Bank Chesterfield, while Uptown Alley, a Midlothian bowling alley, sponsored the FACE van.
The bookmobile is an extension of a program started by two Chesterfield schools employees — Lisa Signorelli, a reading specialist at Falling Creek Middle School, and Kristin Thrower, a librarian at Meadowbrook High School.
As Signorelli explained, she started delivering books to students in September. While looking for books together at Goodwill, she and Thrower decided to create a library on the go to give books to those in the community surrounding the schools.
Thrower said the students in the community around their respective schools are in a "book desert" due to lack of access to a library or transportation.
Focused on delivering books to the apartment complexes and residential areas near the schools, Thrower said the women pull out a table when arriving in an area and carry anywhere from 200 to 300 books at one time.
"All I can think of is one book can change one life," Thrower said.
The women have given out 10,000 books in one school year, according to Thrower. She also said there's no limit on how many books one person can take and they allow parents to take books as well since it encourages their children to read.
"It's like Christmas morning," Signorelli said. "Like to see a kid smile when they get to take a book of their own."
She said most of the book donations they receive are brand new, adding that they've received both monetary and physical donations.
Up until now, the women have been using their cars to transport the books. Thrower said they've been doing this once a week, weather depending.
Signorelli said the women spoke to Daugherty in March and presented him with stories from the people within the community who've received books from them. She said that Daugherty took those stories to the county's Board of Supervisors, which helped find the used vans to give to the school system.
Thrower and Signorelli said the bookmobile now expands their reach within the community. They plan to branch out to more places just for the summer. The women are currently on a break, but will pick things back up after the Fourth of July.