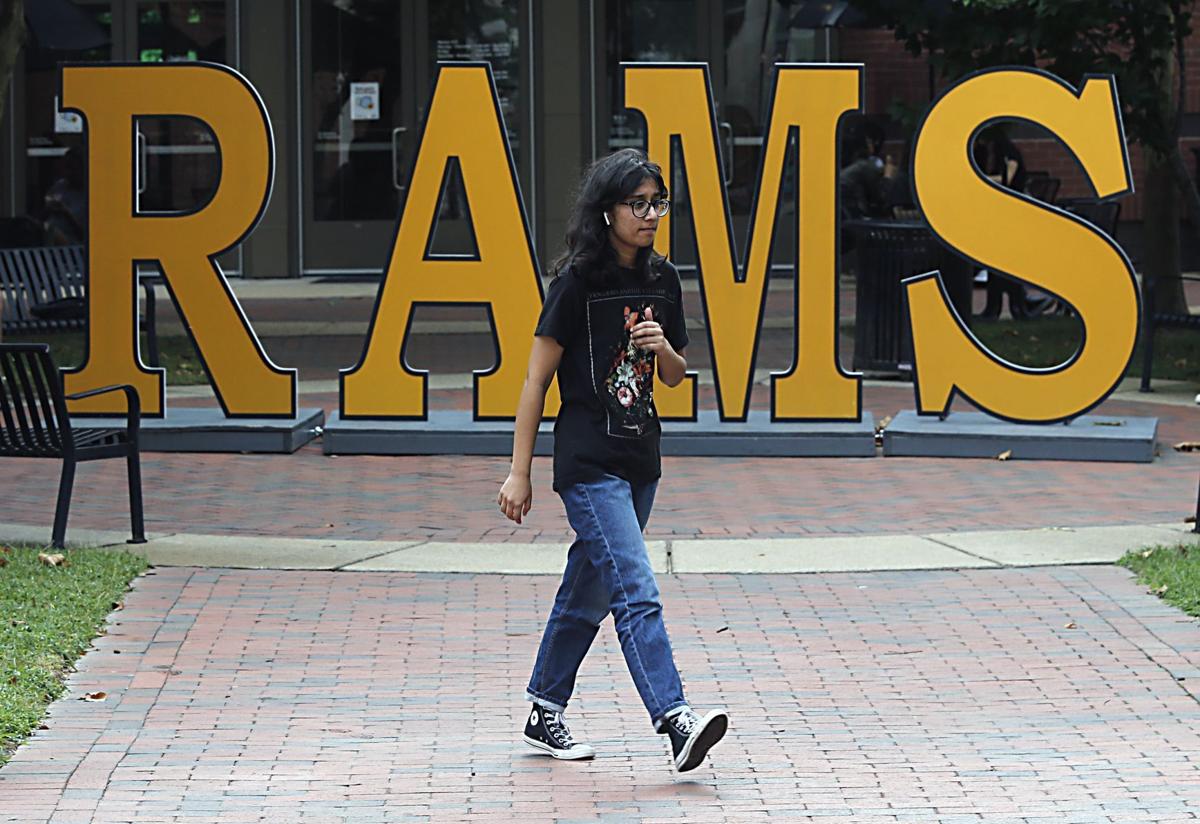 There are 525,000 students enrolled at Virginia's colleges this fall, a figure that hasn't changed since before the pandemic. But community colleges and several universities that cater to low-income students have seen their enrollments drop, as low-income students have shown less interest in attending college.
The data, plus accounts from university officials and high school advisers, suggest another way the pandemic has driven a wedge between the state's wealthiest and poorest families. While wealthy students continue on their path to college, low-income ones have become more likely to get a job, put off college or take a gap year.
"Committing time and money to a college program requires a certain amount of stability and confidence that it will be worth it," said Tom Allison, senior associate for finance and innovation at the State Council of Higher Education for Virginia. "Maybe you're making good money now and don't think you need more education. Maybe you're working off-hours, your child care has been disrupted, or you're taking care of older family members, so you don't have time to pursue a college program on top of that."
The total number of college students in the state was buoyed by surging online enrollment at the state's largest college, Liberty University, and modest gains at a mix of other colleges.
But enrollment at many of the colleges with more students relying on income-based grants, like Radford, plummeted 25%. The University of Virginia's College at Wise fell 17%.
Virginia is faring better than the rest of the country. The National Student Clearinghouse Research Center released preliminary data Monday from about half the country's colleges, which shows a 6.5% decline among undergraduates in the past two years. If that decline holds, it will be the largest two-year drop in the past 50 years, said Doug Shapiro, executive director of the Clearinghouse.
Effect on low-income students
At Virginia Commonwealth University, there are about 29,000 students, and enrollment has declined 4% since 2019. President Michael Rao said the dip can be attributed to the financial impact the pandemic had on low-income families. If a student or parent lost their job last year, a student might be more likely to delay college, enter community college or get a job instead.
Rising minimum wage and a rebounding economy can spur students to take jobs. A down economy typically sends people back to community college to pursue new skills and certifications, but that never happened this time.
"The pandemic has changed our society and economy in ways we still don't fully understand," Allison said.
But VCU's contraction can't be completely attributed to the pandemic. The university was shrinking before 2020 and has slid 7% since 2017.
Other universities that enroll a lot of low-income students also saw their enrollments go down since 2019: Radford (-25%), UVA-Wise (-17%), Virginia State (-7%), Norfolk State (-3%) and Old Dominion (-1%).
There are exceptions to this trend. George Mason, which educates more Pell Grant recipients than any other public school in the state, saw its enrollment grow 2%. Mary Washington, which educates fewer Pell recipients, saw a 12% drop.
Last year, high school students in the state completed fewer forms for the FAFSA — the Free Application for Federal Student Aid. Students who fill out the form are more likely to be from low- and middle-income families. They enroll in college at lower rates, and the decline in FAFSA completion indicates they are likely to fall further behind, Allison said.
High schools in Virginia with high concentrations of poverty saw their FAFSA completion rate fall 22%, which was three times worse than the national average for high-poverty schools.
Students who graduated last spring often needed to work after high school to help their families, said Cherrelle Davis, a counselor at Petersburg High. Others struggled with Zoom classes. If they didn't engage with a topic, they checked out.
"Why go into debt just to sit in a room and do all my classes through Zoom?" said Skye Scott, an adviser for the Virginia College Advising Corps at Buckingham High. "It didn't make sense to all our students."
Disinterested in taking more online classes, some students expressed interest in taking a gap year, said Scott. Though many college classes have returned to an in-person environment, some are still online.
Overall, enrollment at Virginia's four-year public schools is down 1%, and Virginia's community colleges are down 5%. Enrollment figures reported by the universities are estimates, because students drop out as the semester goes on.
Gov. Ralph Northam signed into law the G3 bill this year, which provides free community college for students studying in high-demand fields, such as information technology and health care. The state hopes the program rejuvenates community college enrollment.
Liberty, high-cost schools grow
The state's largest college, Liberty University, has grown 14% in the past two years to nearly 98,000 students. Most students at the private Baptist university founded by Jerry Falwell in Lynchburg take classes online.
This year's freshman class is projected to be the largest in school history, the university said. Last year, about 15,000 students attended Liberty in person. On Sunday, a report by ProPublica detailed how more than a dozen Liberty students who were victims of sexual assault said the university dissuaded them from reporting the assaults and threatened to punish them.
Wealthier families largely have continued to send their children to college, and some of the state's most expensive schools have grown in the past two years.
William & Mary, which has an average annual cost of $36,000 that is the most among public schools in the state, has grown 7%. The University of Virginia, with an average cost of $29,000, grew 2%.
"The students who were already on a steady track for college have kept their plans," Allison said.
James Madison, Longwood and Virginia Tech also grew modestly.
But overall, public school enrollment contracted 3%. The pandemic has dramatically altered public school undergraduate enrollment in Virginia, which grew for 24 consecutive years dating back to 1995. During that time, the number of undergrads in Virginia's public colleges expanded nearly 50%, peaking at 175,000 in 2019.
Now that figure has slid two years in a row. The decline in community college is a major factor. The state's community college population has plummeted nearly 25% in the past decade.
Other private schools across the state were a mixed bag. The University of Richmond shrunk less than 1%. Randolph-Macon contracted 3%, and Virginia Union grew 9%. Private school enrollment has grown 7% the past two years, but that growth wouldn't be possible without Liberty's continued expansion. Take Liberty out of the equation, and the state's enrollment would have dropped 2%.
Fall 2021 college enrollment
| College | 2021 enrollment | Pct change from 2019 |
| --- | --- | --- |
| | | |
| Public four-years | | |
| Christopher Newport University | 4,585 | -6.8% |
| George Mason University | 39,144 | 2.3% |
| James Madison University | 21,996 | 0.8% |
| Longwood University | 4,610 | 3.2% |
| Norfolk State University | 5,426 | -3.1% |
| Old Dominion University | 23,463 | -0.9% |
| Radford University | 8,964 | -24.5% |
| University of Mary Washington | 3,960 | -11.8% |
| University of Virginia | 25,454 | 1.7% |
| University of Virginia's College at Wise | 1,665 | -16.8% |
| Virginia Commonwealth University | 28,865 | -4.1% |
| Virginia Military Institute | 1,652 | -2.7% |
| Virginia State University | 4,045 | -7.3% |
| Virginia Tech | 37,013 | 1.7% |
| William & Mary | 9,420 | 7.4% |
| Total Public Four-years | 220,586 | -1.3% |
| Virginia Community College System | 150,863 | -4.6% |
| Total public schools | 374,259 | -2.5% |
| | | |
| Private schools | | |
| Averett University | 1,300 | 45.1% |
| Bluefield College | 990 | -15.1% |
| Bridgewater College | 1,467 | -16.4% |
| Christendom College | 634 | 4.3% |
| Eastern Mennonite University | 1,274 | -6.2% |
| Emory & Henry College | 1,374 | 5.9% |
| Ferrum College | 921 | -12.0% |
| George Washington University | 1,141 | -27.5% |
| Hampden-Sydney College | 851 | -14.3% |
| Hampton University | 3,329 | -22.5% |
| Hollins University | 861 | 7.9% |
| Liberty University | 97,568 | 14.0% |
| Mary Baldwin University | 2,154 | 5.4% |
| Marymount University | 3,272 | -2.7% |
| Randolph College | 550 | -10.9% |
| Randolph-Macon College | 1,505 | -2.5% |
| Regent University | 10,735 | 3.0% |
| Roanoke College | 1,874 | -7.0% |
| Shenandoah University | 4,023 | 6.1% |
| Southern Virginia University | 1,071 | 3.1% |
| Sweet Briar College | 464 | 29.6% |
| University of Lynchburg | 2,553 | -13.6% |
| University of Richmond | 3,904 | -0.3% |
| Virginia Union University | 1,604 | 9.3% |
| Virginia Wesleyan University | 1,386 | -8.0% |
| Washington and Lee University | 2,238 | -1.1% |
| Total Privates | 151,255 | 6.9% |
| | | |
| Total all schools | 525,514 | 0.0% |
(804) 649-6109
Twitter: @EricKolenich