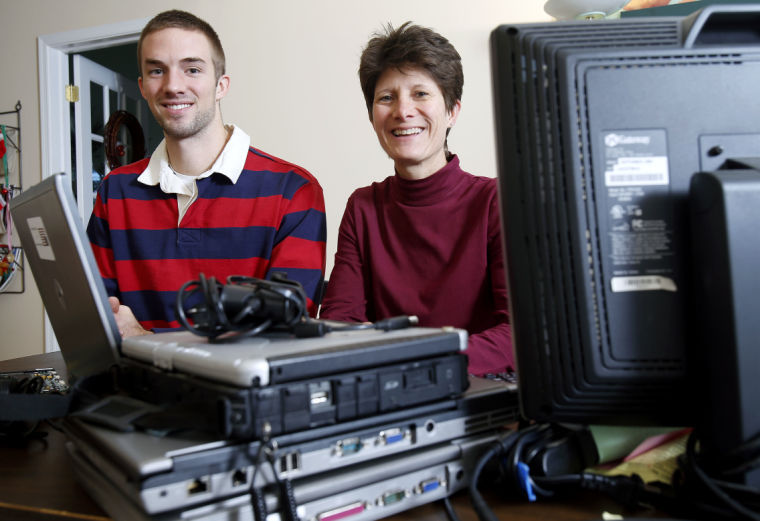 Twenty-one-year-old Chris Phillips wanted to give something back to members of the U.S. military for their service to the country.
"Seeing so many vets, including friends, come back from Afghanistan and Iraq and having such a hard time finding jobs was a pretty big deal for me," said the Virginia Commonwealth University business student.
Working with his mother, Laurie Phillips, he created a nonprofit organization to collect and refurbish computers, and then donate them to veterans centers with the aim of helping out-of-work and homeless vets find jobs and tap other resources.
"I wanted some way to help them out," said Chris Phillips, who lives in Richmond. "I just wanted a way to give back, a way to support them."
For vets who are unemployed, "it's hard to come by computers — they're expensive," he said. But "we knew there was a way to refurbish older computers instead of just throwing them away."
The Tech For Troops Project has already provided about 30 computers to the DLW Veterans Outreach and Training Center and the River City Comprehensive Counseling Services' Veterans Employment Program in Richmond, as well as the Freedom Support Center in Petersburg.
"We have them all hooked up and ready," said Petersburg City Councilman W. Howard Myers, who led the effort to establish the Freedom Support Center, "and the vets are enjoying resourcing information with respect to benefits and jobs.
"A lot of them have mental health issues, PTSD (and) some of them were homeless," Myers said, but the Tech For Troops Project "helps them get a better quality of life. It gives them a tool to reach out with."
River City Comprehensive Counseling on Richmond's South Side has a resource center where vets can use computers, but the space is limited.
"We only have about five desktops," said Melissa Canaday, the Veterans Employment Program's lead case manager, "and we service over 100 vets."
Tech For Troops' laptop computers have given the Veterans Employment Program greater capacity to assist the veterans, she said, by helping them develop skills, search for information, apply for services, and ultimately find employment so that they can live stable, self-sustaining lives.
Many veterans suffer from post-traumatic stress disorder brought on by combat service, Canaday said, and people with PTSD often are not able to tolerate confined spaces filled with noise and movement.
Thanks to Tech For Troops, the vets can take one of the laptops and find a quiet area to work using a wireless connection, she said.
Last summer, Chris Phillips and his mother began thinking about setting up a business, he said. "This was sort of a combination of my wanting to be in the military and her IT background," he said.
Laurie Phillips, a Henrico County resident, is CEO of Sundance Research, doing consulting and project leadership on custom software and enterprise mobile applications. Formerly, she was a senior IT project manager with Wachovia Securities and a partner with Andersen Business Consulting.
But rather than try to start a business as well as a not-for-profit organization, the Phillipses decided to focus on the nonprofit work.
"We have a clear group of people we're serving," Laurie Phillips said. "We serve the vets, and we serve the people who donate the computers."
Individuals and corporations have given about 70 computers and laptops to Tech For Troops.
The project needs PCs, working laptops with power adapters, working flat-panel monitors, and computer cables, keyboards and mice: "If you think your system might have a virus, we can still use it."
Once Tech For Troops gets a donated computer, "the first thing we'll do is totally wipe the hard drive using data-destruction software certified by the U.S. Department of Defense."
"We have a thorough process to both wipe data from drives and verify that the drive is blank before we reinstall software," said Laurie Phillips. "Every donor has been concerned about how we do it, and we had a partner at a Big 4 data forensics practice confirm that our method permanently wipes the drives."
The resetting process takes from a few hours to a day or two. Tech For Troops cleans the computers, loads and tests new software, and the refurbished device is ready for use.
Though Tech For Troops cannot take old-style CRT monitors, scanners and printers, the project can use "really old computers." "They don't even have to work. We'll wipe the drives, reuse the working parts and recycle the rest," Laurie Phillips said.
Recycling computer equipment the project cannot use pays for Tech For Troops' expenses.
What many people may not realize, said River City Comprehensive Counseling's Canaday, "is the number of vets who are unemployed, underemployed and not utilizing the services — frankly don't know the services — that are available to them."
With the revitalized computers, Chris Phillips said, military veterans can "get on the Internet, set up email accounts, look for jobs, create résumés, and do any other functions to help them in their daily lives."
Said Canaday: "We are very grateful."