Death by a thousand, unnoticeable cuts.
That's how inflation, declining enrollment and an opaque funding system for Virginia's institutions has felt to some of the institutions that do the most as an engine of economic mobility in the state.
"We're at a critical point where we have to decide if we're going to erode the quality and the retention of our strong faculty and advisers and staff due to the budgetary problems we're facing," said Karol Kain Gray, VCU's chief financial officer.
Virginia's unique structure for funding schools may be one of the most broken, according to critics — unique because schools don't work through a central university system, like they do in New York, North Carolina or Texas, which allot taxpayer dollars according to a formula; broken because the results have hurt poorer students, leaving them saddled with debt, experts say, as state dollars aren't going where they should.
In 2021, a State Higher Education Finance Report found that Virginia students shouldered thousands of dollars more in tuition costs than the average American student. Virginia students contributed $9,000 in tuition revenue, compared to a U.S. average of $6,700, according to SHEF data.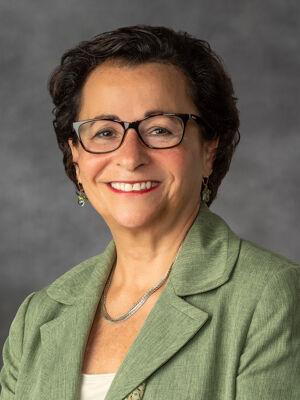 High graduation rate
The data seemingly runs counter to Virginia's brand as a bastion of higher education. It boasts the state's oldest university, the College of William & Mary, as well as one of the most highly ranked public universities in the University of Virginia. Across all its public universities, Virginia has one of the highest graduation rates in the country.
But that narrative does much to hide the truth: that wealthier universities are doing very well, while universities that accept a wider range of students are struggling and getting less help from the state legislature.
It's a point of concern to James Murphy, policy analyst with Education Reform Now, a national think tank focused on education access. In September, his organization released a report describing a state of "de facto segregation by income and race" in Virginia higher education.
Unlike states with a centralized university system, Virginia's legislature funds each university on a case-by-case basis, generally giving each a little more year after year but doing so in response to lobbying by each university, which pitch their needs to state Senate and House education committees.
The result is a disbursement system that even the state's own higher education has described as "irrational."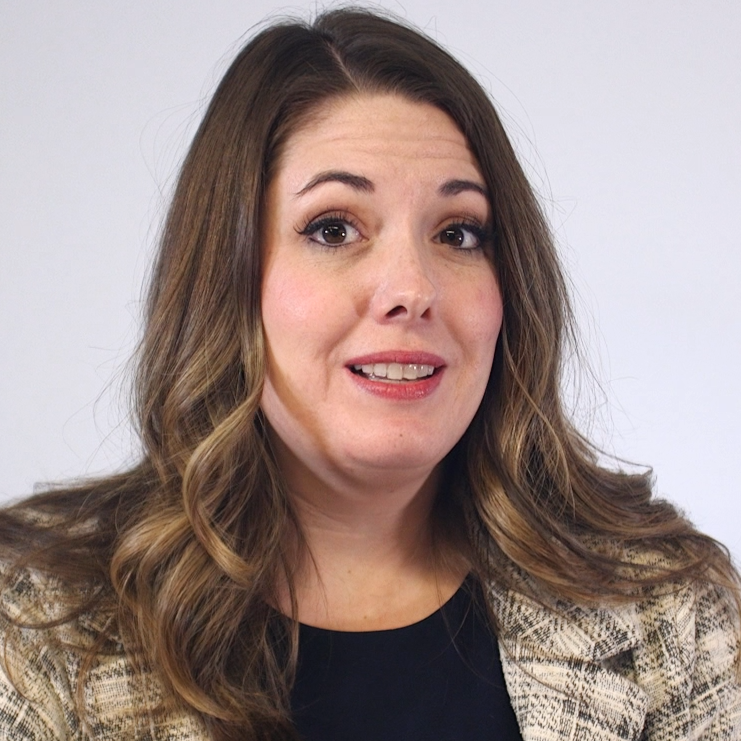 "If Virginia is going to invest in public education, it should probably focus its attention on the institutions that are moving the needle the most," Murphy said. "If you're a place like William & Mary, where close to half of the students don't even take out financial aid. Or if you're a place like UVa, where you're enrolling the state's wealthiest students, on top of more than a billion-dollar endowment, the state may not need to invest as much in you, because you're already wealthy. You're not enrolling the lion's share of students who come from low-income backgrounds."
Some money does go to the neediest schools. University of Virginia's Wise Campus, Virginia State University and Norfolk State University rank among the highest in terms of how much the state gives them per student. All three are schools that enroll high numbers of lower-income students.
But other allotments make less sense, such as the high allotments that go to Christopher Newport University, where just 13% of students qualified for Pell grants. Pell grants are federal grants awarded to students with exceptional financial need and don't need to be repaid.
Another that doesn't figure is George Mason University, which ranks highly in terms of the social mobility it offers its students: the ability to intake a student from a poorer background and output them with a career that allows them to move up the rungs of the economic ladder.
By comparison, William & Mary received double the amount per student in 2019, despite enrolling half the percentage. While nearly 30% of GMU students qualified for Pell grants, just 12% qualified at William & Mary, according to data from Third Way, a think tank that produced economic mobility rankings for schools nationally.
George Mason ranked last in terms of state appropriations.
"What's the best way to invest this money? We argue that the best way to [invest] money is in the institutions that are really having a transformative effect," Murphy said. "Virginia's not doing that."
In July of last year, a $300,000 report from the State Council of Higher Education for Virginia made a similar point. The report found that the state was "well below the national average" in funding public institutions, but well ahead of the rest of the country in the cost borne by students.
SCHEV found that the current system of last year's total, adding a bit more, and sending schools on their way — technically known as "Base Adequacy" — made less sense than a system that used formulas aligned with state goals.
And it highlighted the vulnerability of schools like George Mason.
"Institutions that are typically most affected by unpredictable state funding support are those that primarily serve higher proportions of low-income, under-represented students," the report said.
While the report was meant to drive change, it landed as a suggestion to legislators rather than as new marching orders. Employees with SCHEV tried to get their new framework adopted, but ultimately struggled to get a consensus of legislators to agree on the framework.
In a statement, SCHEV Director Peter Blake said, "Funding a higher education system as diverse as Virginia's requires compromise between many different stakeholders. It will always be difficult to get all involved to agree on a single set of guidelines."
Focus on taxpayer dollars
At the Capitol, lobbyists say it's not just a game of compromise, but one of mistrust. Politicians nationwide have grown less inclined to sign checks for higher ed and more curious about how schools use taxpayer dollars.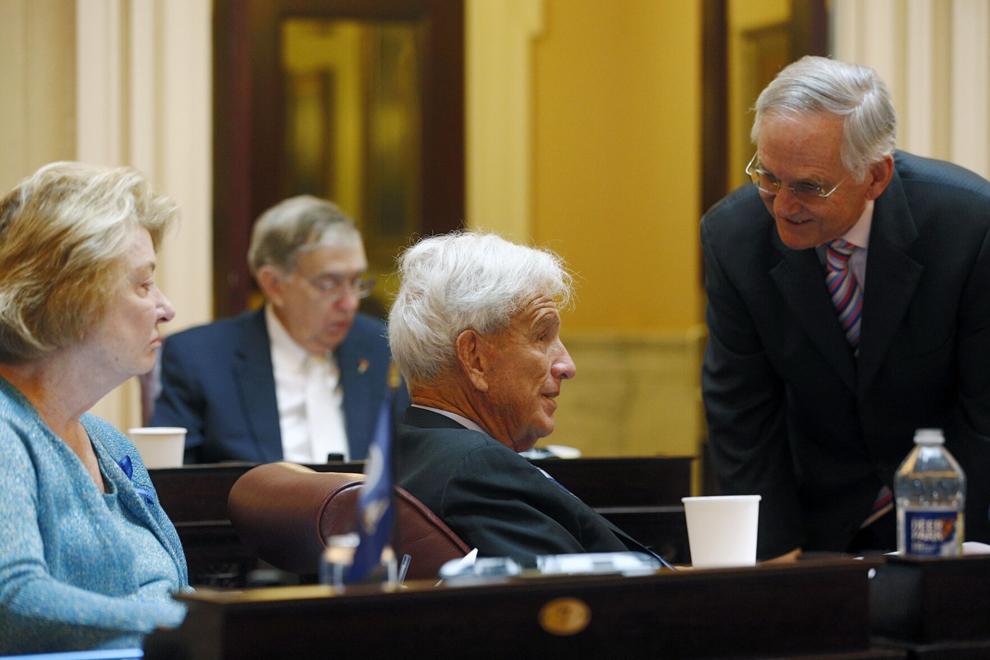 This month, state Sen. Tommy Norment, R-James City, introduced two bills that would require universities to detail their tuition spending and require approval from SCHEV for starting new programs.
In the House, Del. Kathy Byron, R-Bedford, introduced a bill asking the Joint Legislative Audit and Review Commission to perform a rigorous cost-efficiency study of universities.
Stacie Gordon, executive director of Partners for College Affordability and Public Trust, says Virginia legislators want more accountability.
"They want more accountability and more oversight. It all comes back to money," said Gordon, who lobbies legislators alongside liaisons from different universities.
"There's obviously a need to invest in higher education, and hopefully going forward, it'll be under a better model, once SCHEV's model is up and running," Gordon said.
By the numbers: President Biden at the two-year mark
6.5% annual inflation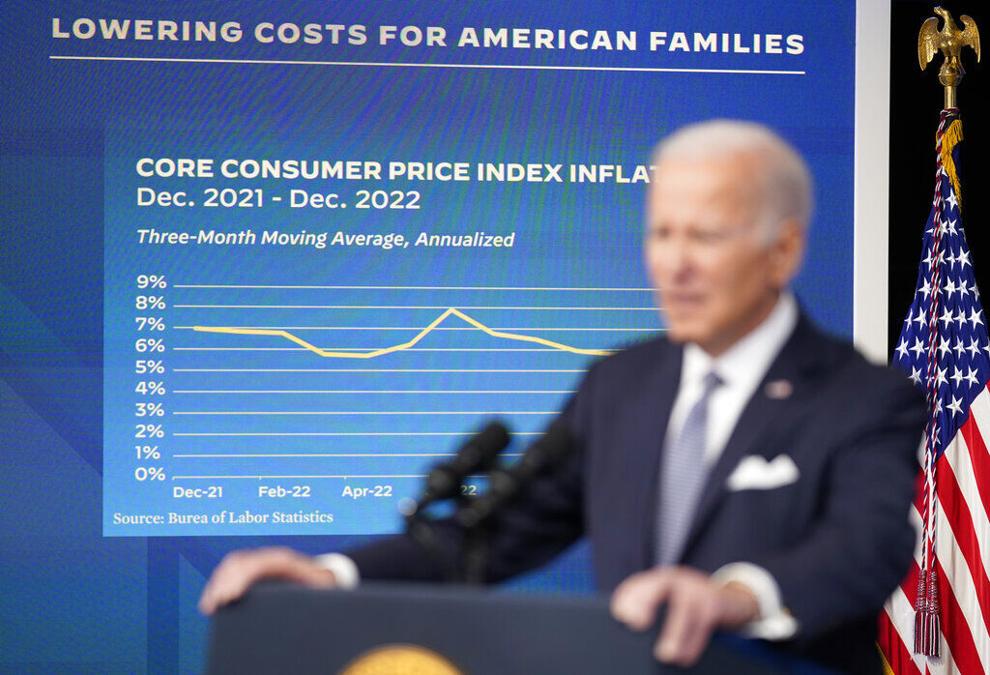 10.46 million job vacancies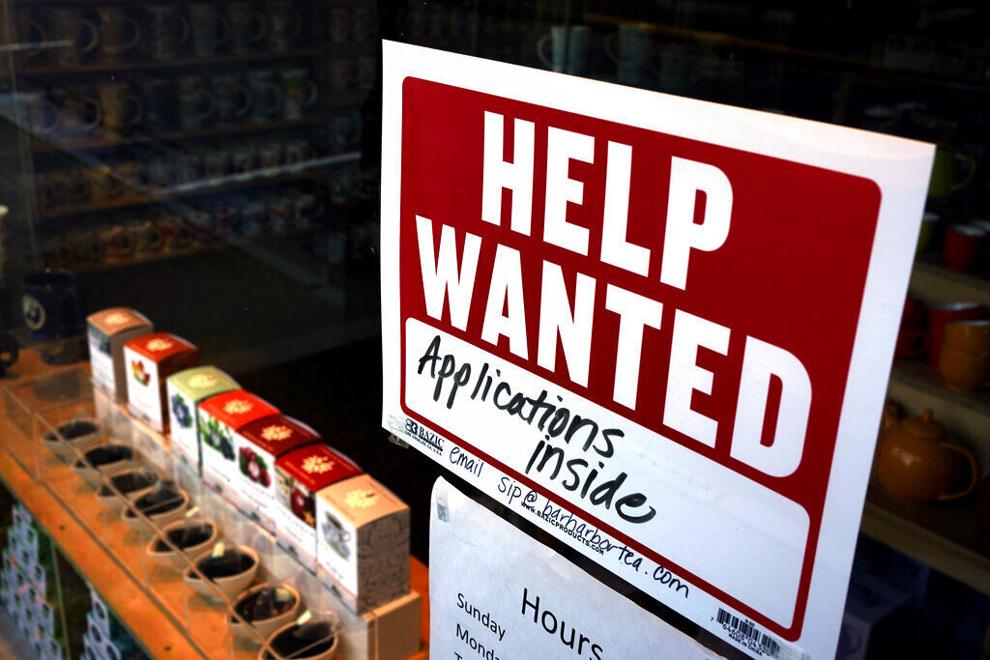 $31.38 trillion national debt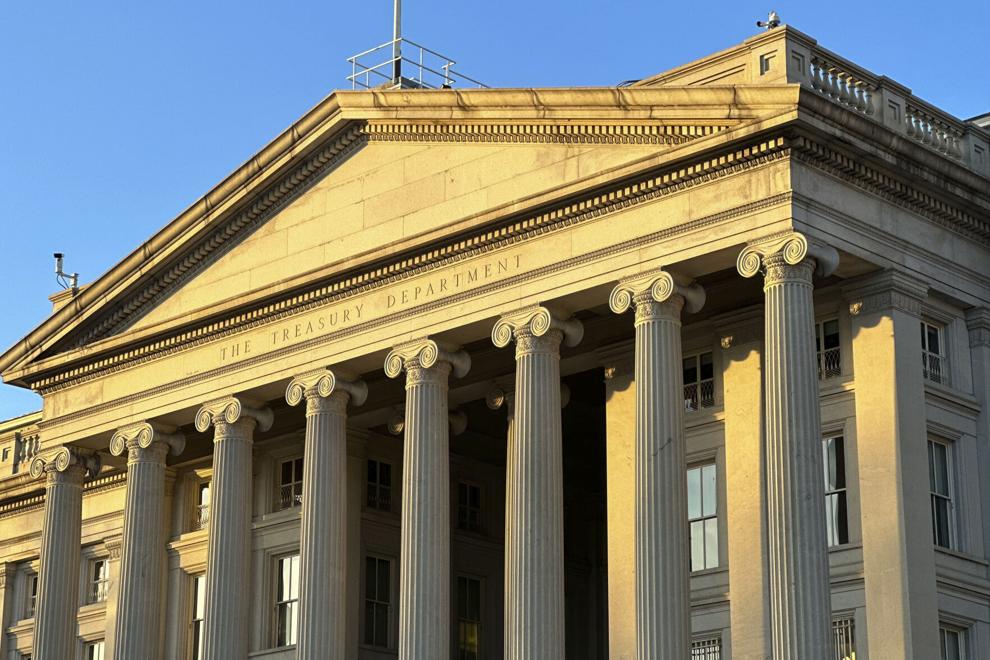 $24.2 billion in security aid to Ukraine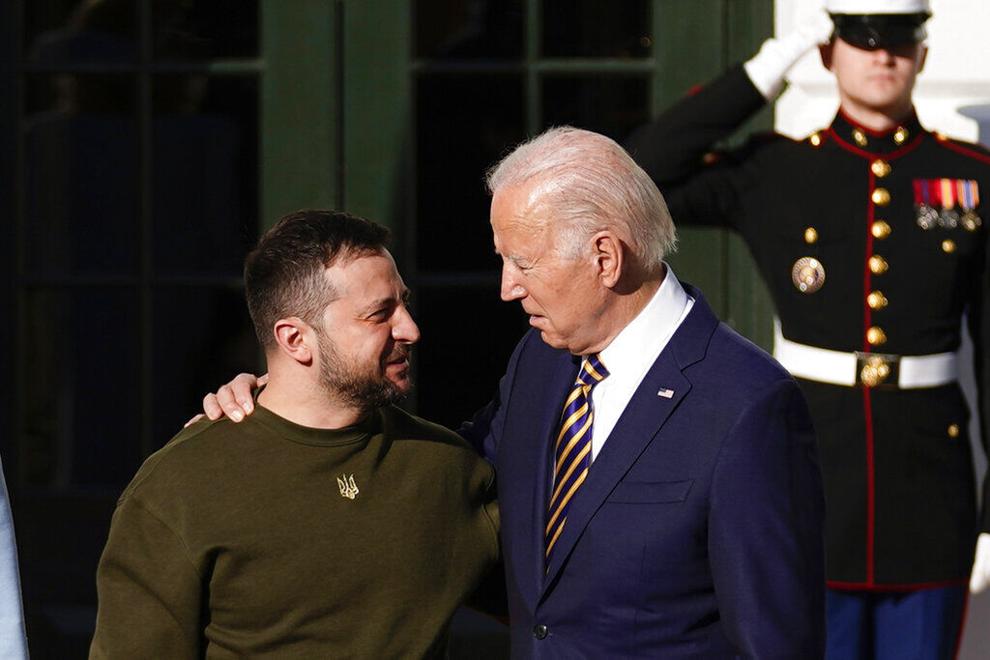 2.38 million migrants stopped at border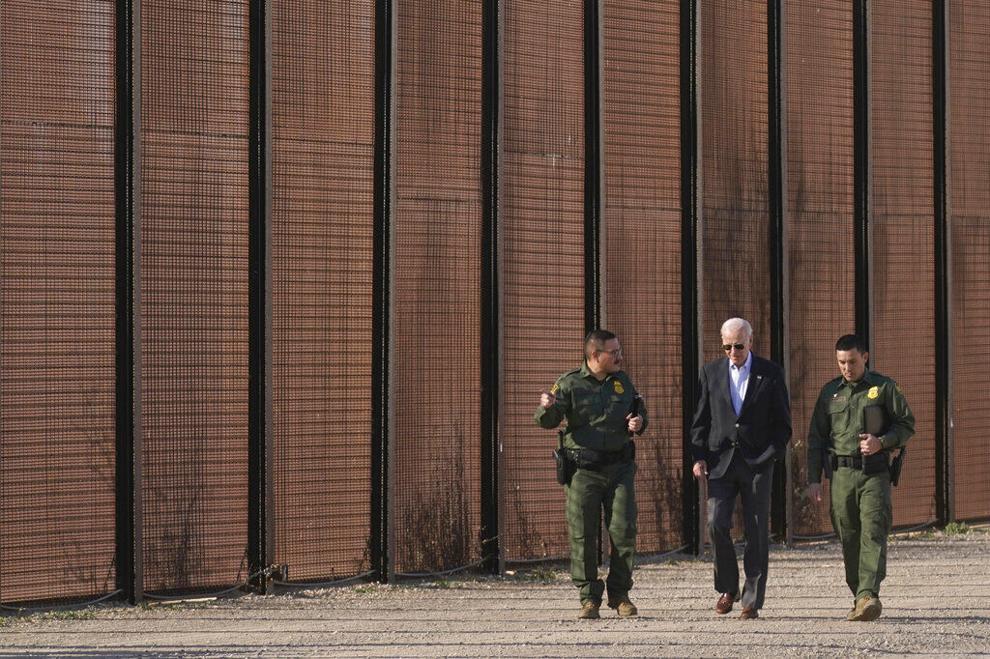 97 federal judges confirmed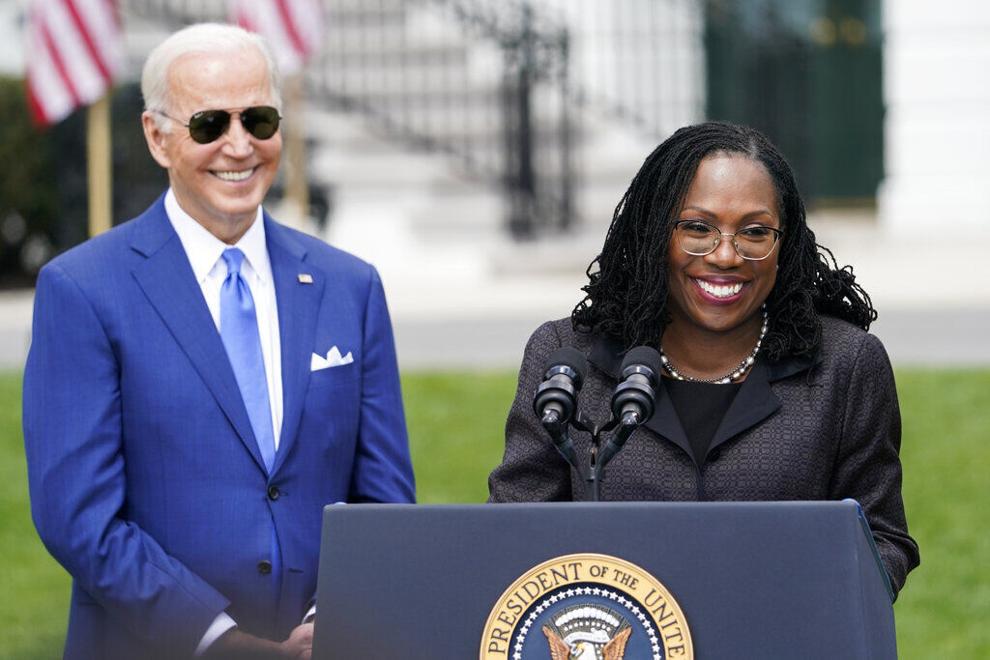 89 pardons and commutations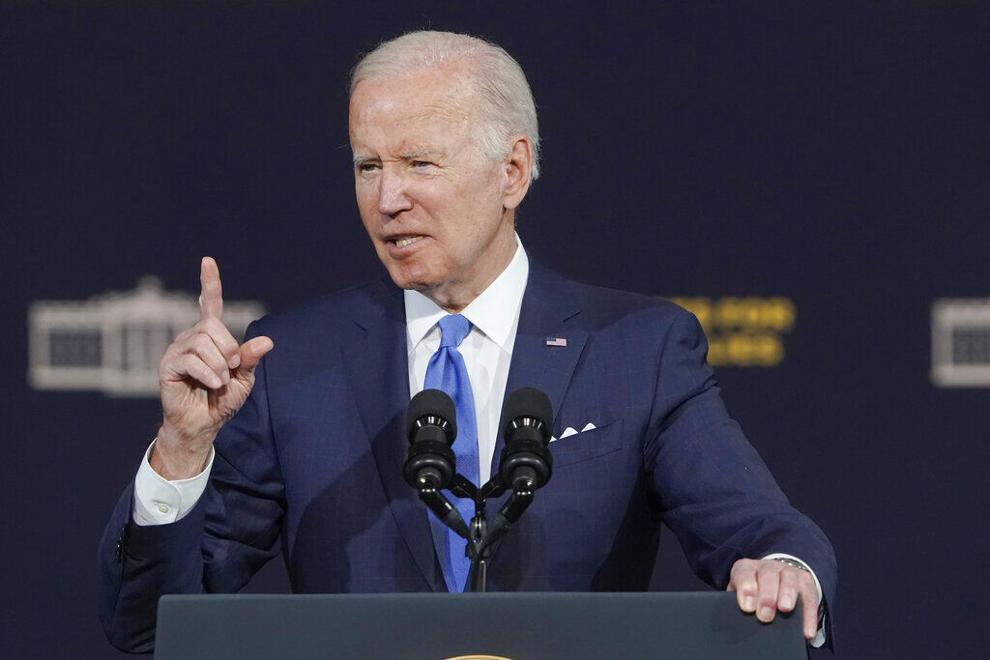 $3.36 average gas price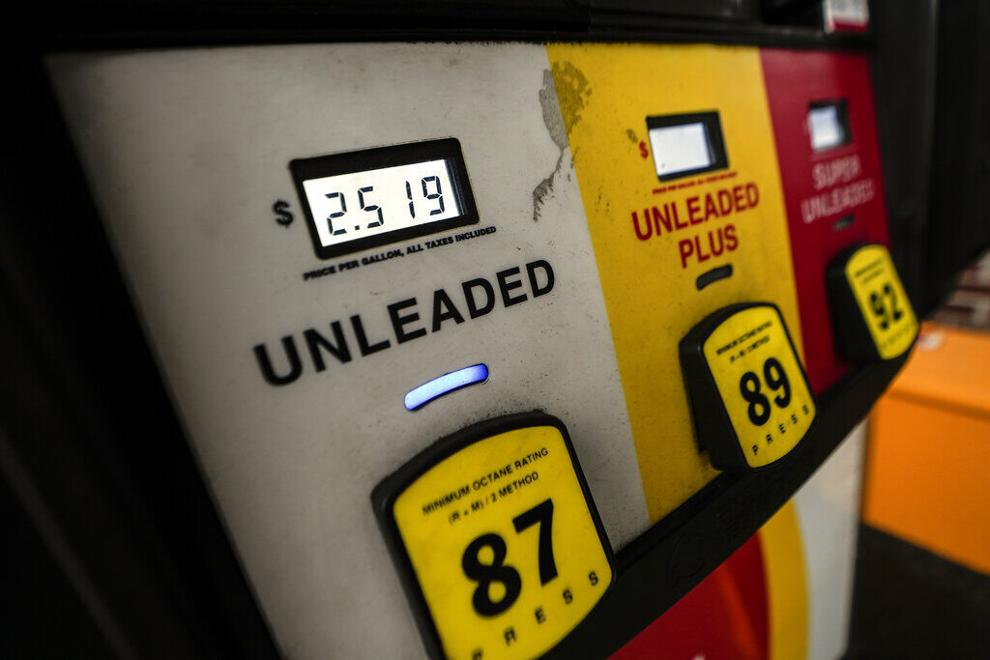 666 million vaccines administered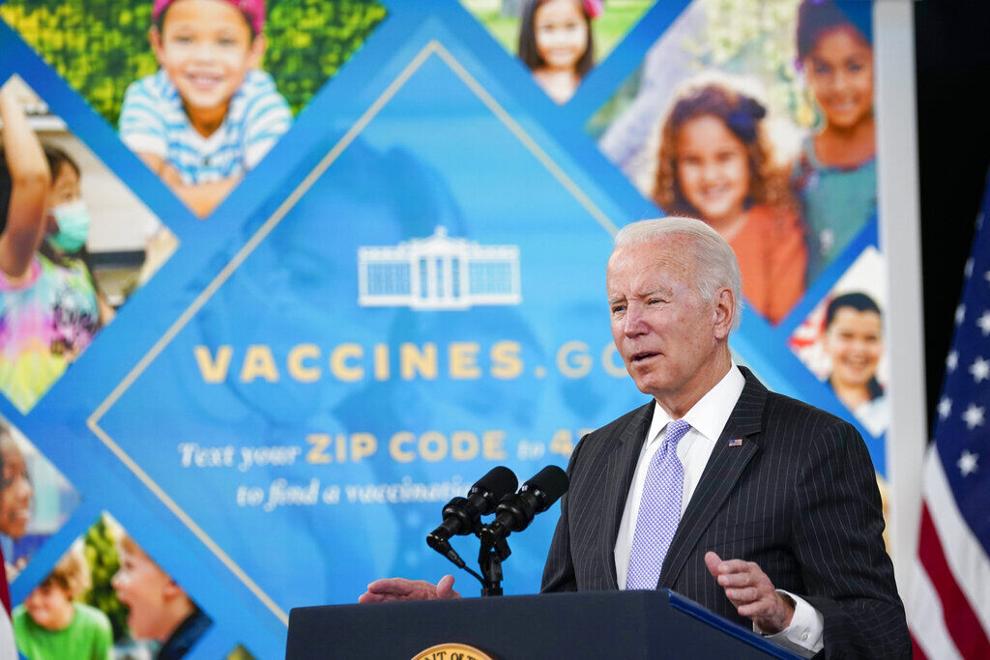 680,000 COVID-19 deaths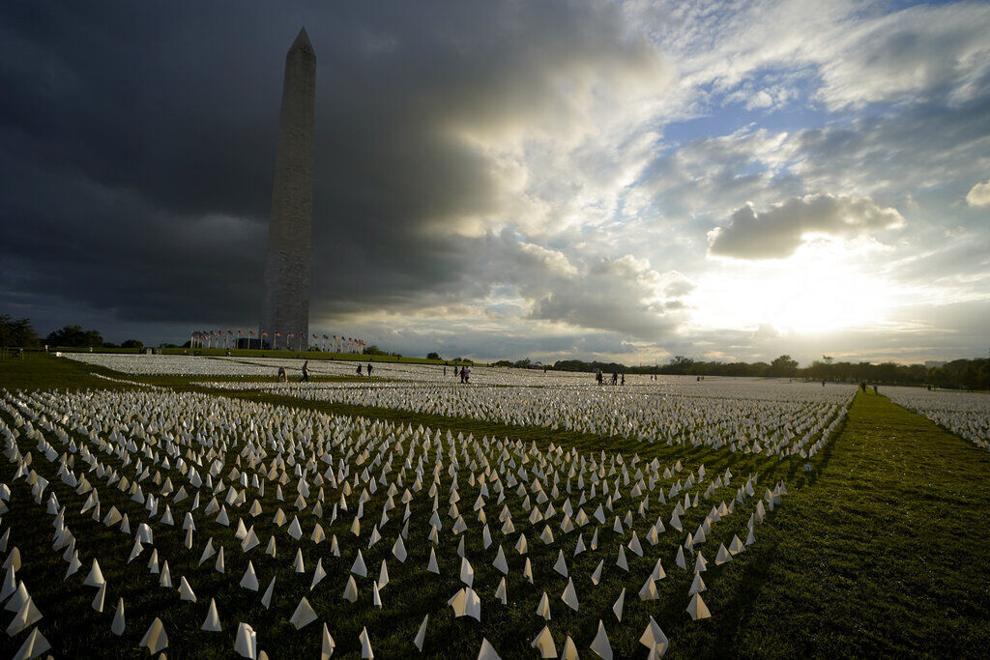 36 states visited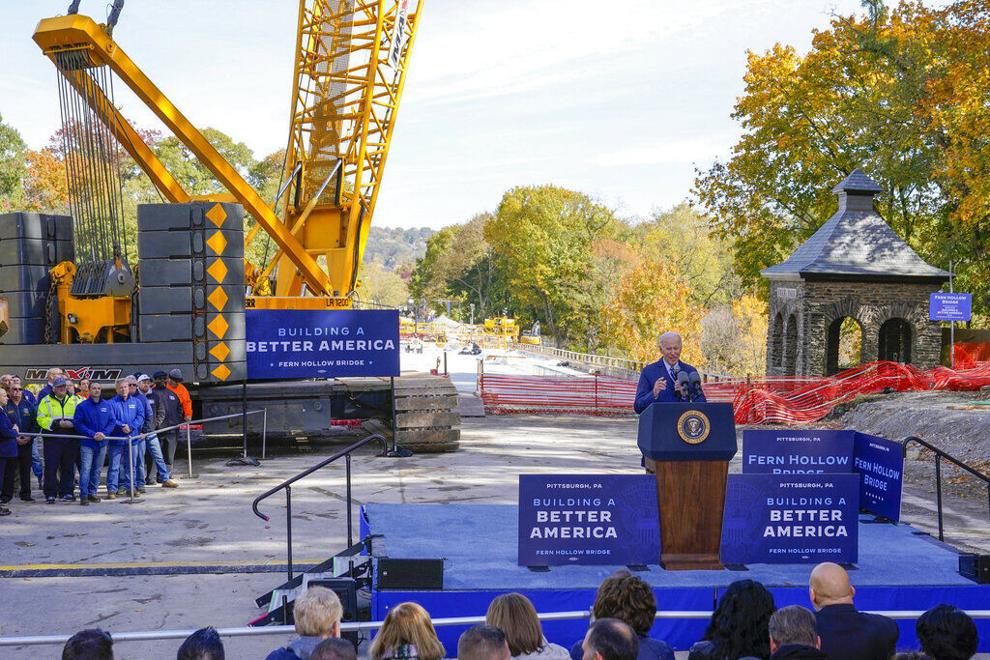 197 days in Delaware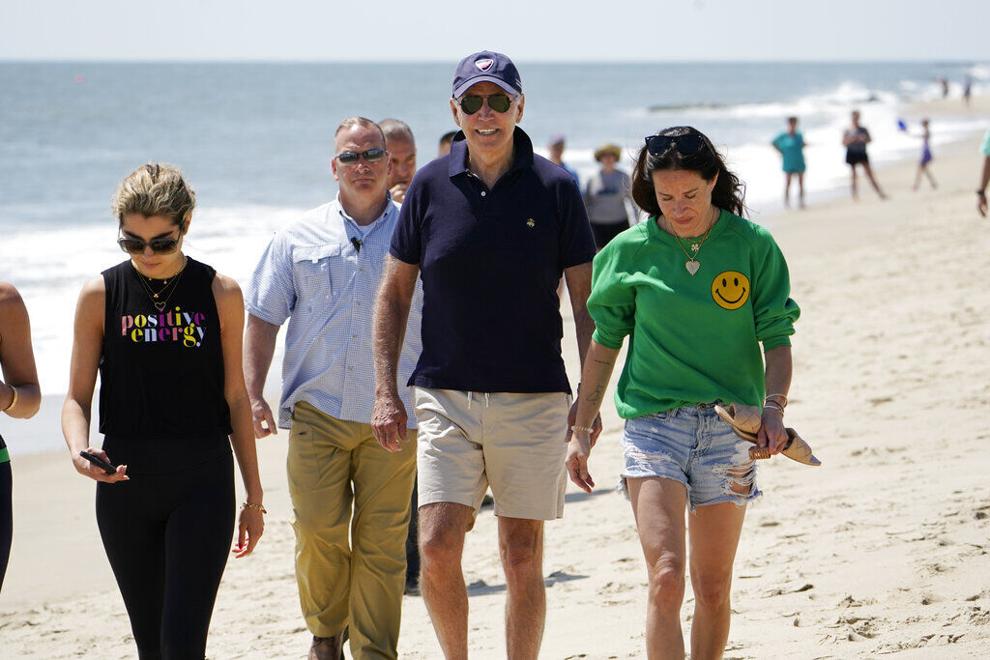 6 chats with Xi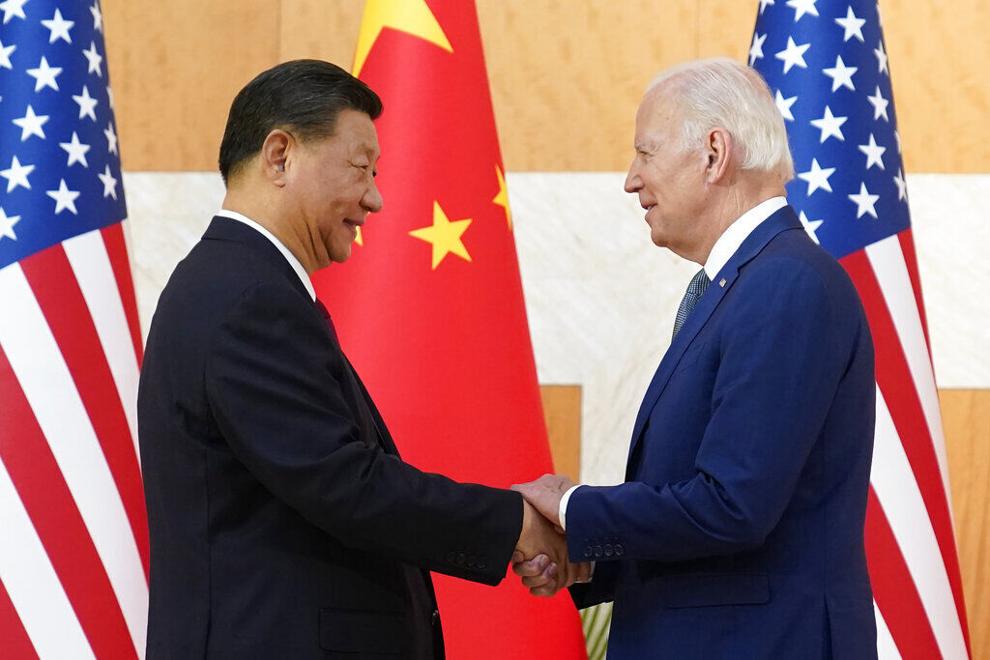 21 news conferences
$1 trillion in infrastructure
$40 billion for bridges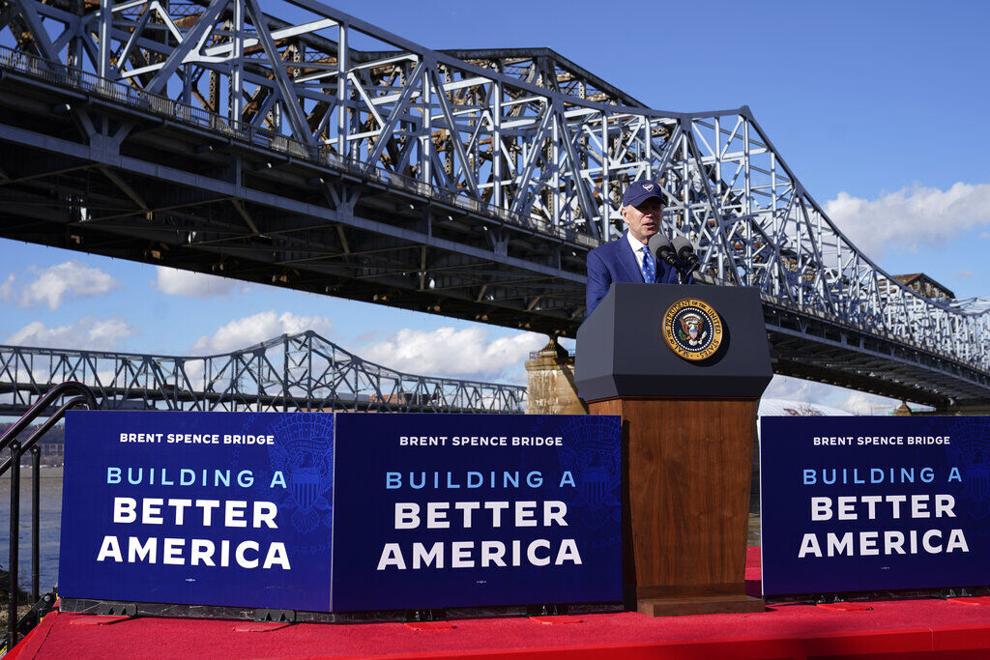 1 state dinner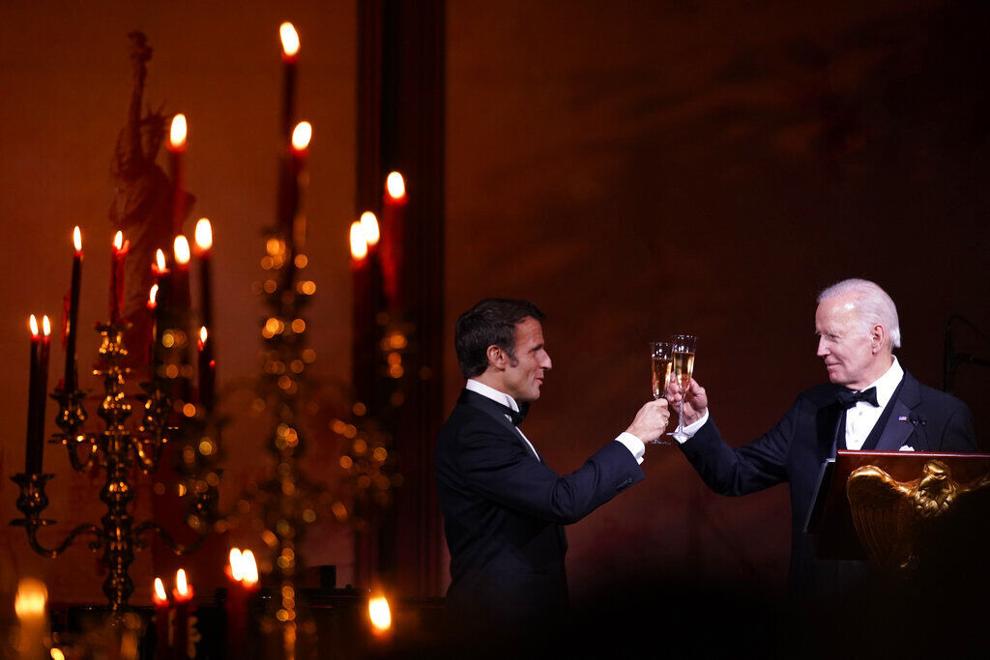 0 Cabinet departures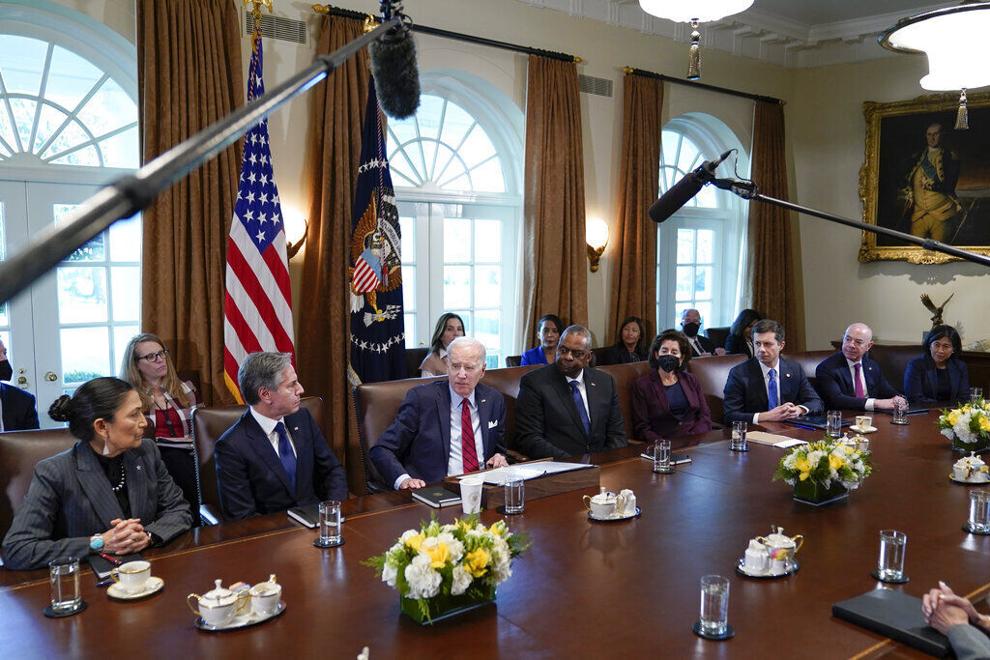 A closer look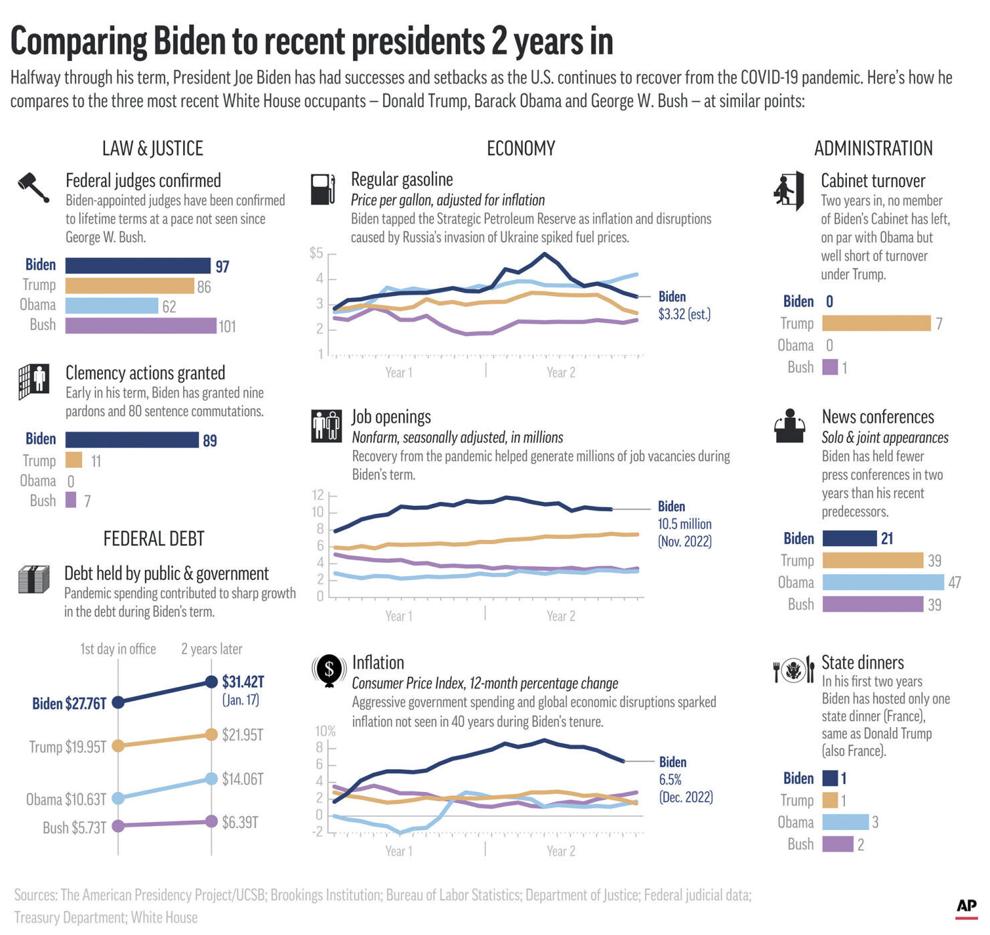 Luca Powell (804) 649-6103
@luca_a_powell on Twitter