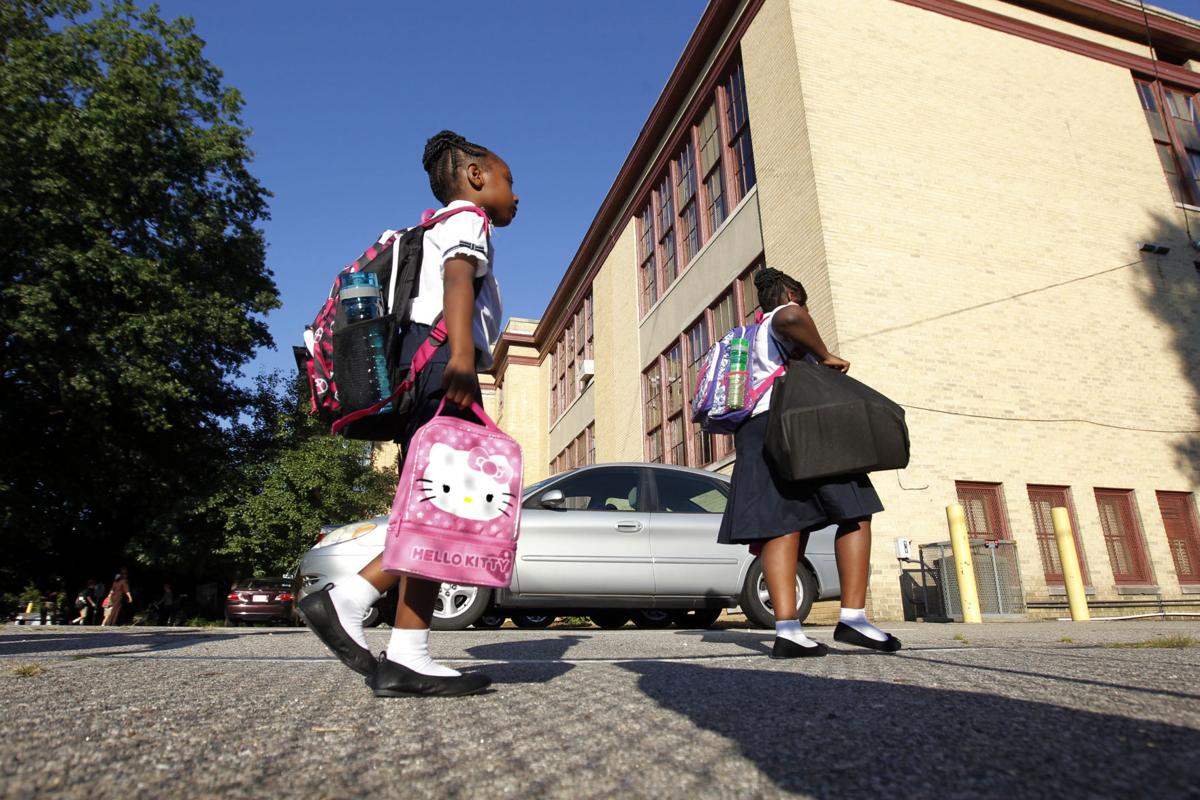 All 53 fourth-graders at the Patrick Henry School of Science and Arts in South Richmond are quarantined after four positive COVID-19 cases among students.
The positive cases have cropped up just days into the school year at Patrick Henry, a charter school that is part of Richmond Public Schools.
On Monday, Superintendent Jason Kamras reported in a newsletter that one student had tested positive and was last in the building on Aug. 4. He followed up that announcement later in the day and announced two more positive cases at the school, located at 3411 Semmes Ave. The two students were last in the building on Aug. 6. Officials at the Virginia Department of Health confirmed the cases and that 53 students are in quarantine.
A fourth case was announced Wednesday afternoon in a message from the school to parents. Later Wednesday, Kamras said in a newsletter that the student was last in the school on Aug. 5.
Patrick Henry began school last week. The school serves grades K-5 and last year had 330 students enrolled.
Sarah Milston, mother of a Patrick Henry fourth-grader, said there has been a severe lack of communication between the school administration and parents regarding the quarantines and COVID-19 precautions overall. She said that after hearing about her daughter's day at school and how she would sit with students at lunch, side-by-side without a mask, she grew concerned about the school's COVID-19 policies. She reached out to school Principal Fatima Smith and Kamras regarding her concerns.
Kamras confirmed that he has heard concerns from several families regarding the Patrick Henry procedures, specifically regarding the lack of physical distancing and students without face masks, but the school system can only do so much since it doesn't have governing power.
RPS can highly suggest and expect that Patrick Henry follow the school system's COVID-19 procedures, known as "#ReopenWithLove2.0," but the charter school's board of directors has management authority. He added that there needs to be more RPS oversight regarding the school.
"I think given what we saw over the first couple of weeks, we're gonna take a much more active role in that oversight and a more muscular approach to managing Patrick Henry and ensuring that all the protocols are followed," Kamras said.
A message to parents from school nurse Ta'Meia Farina before the fourth confirmed case states that only students in the fourth grade had been affected by the three positive cases, with two of them coming from students in one fourth-grade classroom and one from another, which Kamras confirmed in an interview. The message also states the decision to quarantine students was made by RPS and VDH.
In addition to the concerns Milston raised regarding physical safety, she said the transition to online learning during the two-week quarantine has been rocky. Messages sent to fourth-grade parents Tuesday told them to come to the school and retrieve Chromebooks.
Milston said parents were given little notice about the pickup, which is set to occur between 3:00 p.m. and 4:15 p.m. each day. She added that her daughter's class had yet to receive guidance regarding online schooling, while the other two fourth-grade sections began instruction Wednesday. Fourth-grade parents were sent a message at 2:30 p.m. Wednesday notifying them that the school was working to finalize a virtual lesson plan.
Regarding the Chromebooks, Kamras again cited the lack of control over the school and how it conducts online learning. RPS students will be given a Chromebook to use throughout the school year including if they need to quarantine. He added that he sympathizes with the parents of Patrick Henry.
"I do think there was a breakdown in communication and I empathize with that as superintendent, but also as a dad," Kamras said. "The worst thing is just not knowing."
The school's principal and a member of its Board of Directors did not respond to requests for comment. A secretary who answered a call to the school declined to comment or make someone available to discuss the matter and hung up the phone.
Aside from Patrick Henry, the rest of the RPS schools will be starting classes in the beginning of September. Kamras said preventing as many cases as possible is crucial in light of the rise of the COVID-19 delta variant, especially among children who cannot get vaccinated.
"I mean, look, delta is an extremely transmissible variant and we also know that the viral load is much higher," he said. "And, so I think folks need to be prepared, that there are going to be positive cases. We're going to do everything we humanly possibly can do to ensure that there aren't."
PHOTOS: Patrick Henry Elementary School