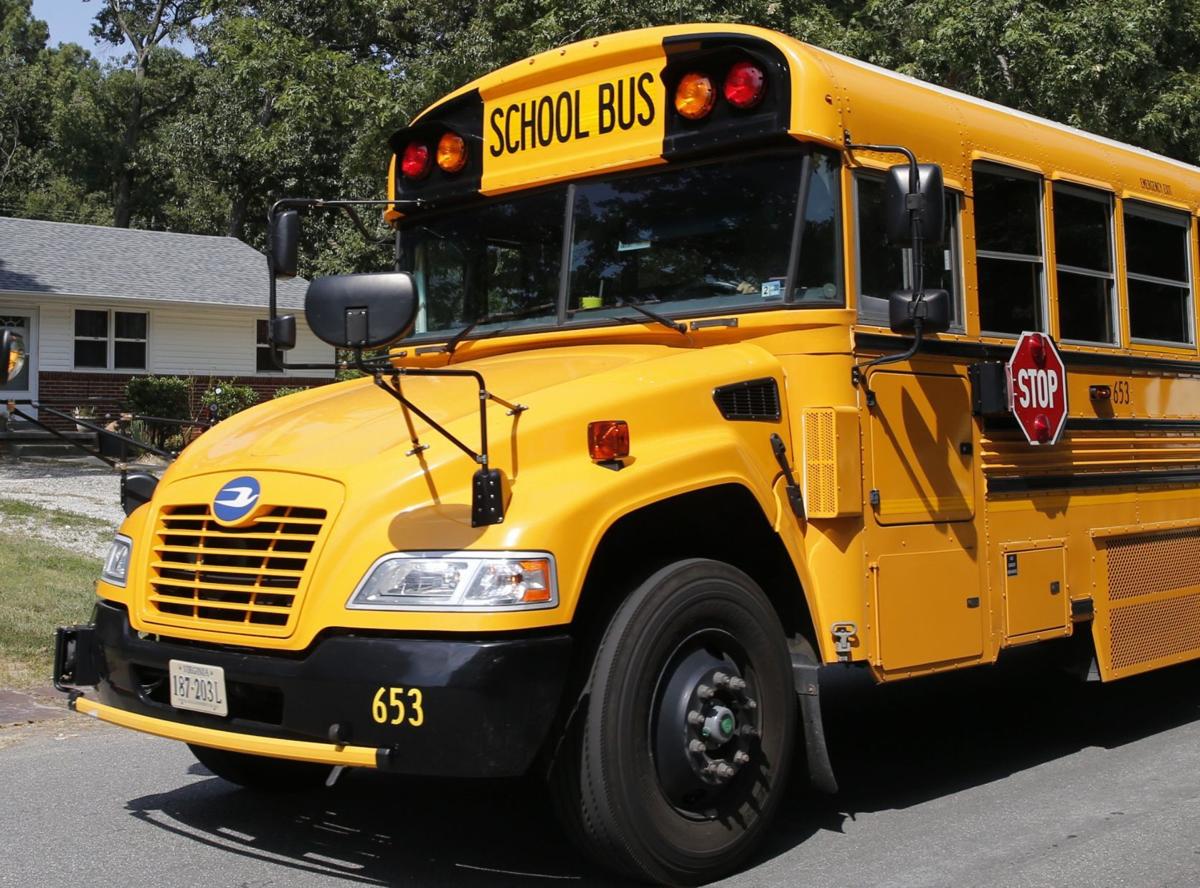 When the coronavirus pandemic forced the world to shut down in March, Lucy Wade, then a kindergartner with Chesterfield County Public Schools, struggled with the pivot to virtual learning.
Lucy has autism. She didn't want to sit in front of a computer and didn't like to see her classmates' faces on the screen, said her mother, Stephanie Wade. Now a first-grader at Watkins Elementary, Lucy is back in the classroom four days a week as part of the school district's first cohort to return to school.
"She's been very happy to be back at school," Wade said, "and it has been a lot less stress on me."
Chesterfield Public Schools is the second Richmond-area district, behind Hanover County, to swiftly bring large groups of students back into the classroom. Henrico County Public Schools is in the middle of discussions on when students should return, while Richmond Public Schools will come together in December to determine a plan for 2021.
Dividing students into four groups, Chesterfield brought back about 1,000 K-12 special education students on Sept. 29, with nearly 17,000 prekindergarten through third-graders following suit on Oct. 12.
Wade's other daughter, Zoe, a third-grader, returned to Watkins last week in the second cohort wave. Zoe has attention deficit disorder and was doing alright with virtual learning, but longed to be with her friends.
"Honestly, if my daughters didn't have phenomenal special ed teachers, they would be at home," Wade said. "The teachers at Watkins [Elementary] are amazing, caring and I can't say enough for that school."
The School Board, in August, charged a committee of health and risk management experts, which include Chesterfield Health District employees and a student health coordinator, to determine every two weeks if the next cohort should return to school.
The health committee recommended Oct. 13 that the third cohort — all fourth- and fifth-graders, about 10,600 students — return to school Oct. 26. Students in sixth through 12th grades tentatively are slated to return Nov. 9. Wade's oldest child, Gregory, an eighth-grader at Midlothian Middle, is part of the fourth and final group.
As Chesterfield maintains its full-speed-ahead momentum in its reopening plan, it comes with repercussions.
Staffing shortages are rampant, with at least 611 employees resigning or retiring this calendar year alone as of Sept. 21. Nearly 400 of the resignations occurred over the summer "due to the COVID issue," Superintendent Merv Daugherty previously said.
Free, remote meal distribution sites dropped from about 170 to 65 on Monday because transportation staff can no longer deliver the meals. There is a bus driver shortage as well, school system officials have said.
A school system spokesperson did not respond to multiple requests for updated numbers of teacher and bus driver vacancies.
For now, the district is getting by with having school administration employees who have teaching degrees step in and teach in-person classes; encouraging parents to transport their children to and from school; establishing "double backs," where a bus driver does their route once then goes back and picks up all remaining students. All in-person students receive free breakfast and lunch, with some receiving dinner bags at qualifying schools.
"Frankly, we need you. Normally I would say school buses are the safest way to get to and from school and that will remain true; however, given the extremely limited capacity of our buses we do need help from parents," said Josh Davis, chief operations officer, during an October town hall.
Despite having months to prepare for reopening, Chesterfield parent Meredith Baker said in an interview that some of the plan "has an ad hoc feeling to it," especially around transportation. Baker would like to see the data supporting why parents are being asked to drive their children to and from school.
Her oldest of three children returned to their Midlothian area elementary school on Monday on the school bus.
While following all social distancing and health guidelines, "we want face-to-face instruction to look as much like school as possible," said Rachel Foglesong, director of elementary school leadership, during an October town hall.
One way is by having outdoor recess where elementary students can play soccer, dance with Hula Hoops and use sidewalk chalk, without a mask on.
"It's a good time for students to get outside and get a break from their masks," Foglesong said.
The county Department of Risk Management gave the all-clear for allowing recess as long as students use hand sanitizer before and after going on the playground equipment, the playground is disinfected before the next class uses it, and only one class is on the playground at any given time.
Students also eat lunch together in their respective cafeterias, again with risk management guidelines in place: maintain 6 feet of social distancing between students, assign seats for contact tracing, no more than 250 students in a cafeteria, have hand sanitizer available and ensure lunch tables are disinfected after each lunch period.
Inside school, masks are required for all students and staff, unless there is an outstanding medical reason.
Chesterfield families are being asked to perform a daily COVID-19 self-assessment of their child's health before leaving for school each morning. A student is not allowed to come to school if they are sick, answered yes to any self-assessment questions or has a temperature of 100.4 degrees or higher.
"There's definitely an element of trust in any social situation now. Are people making the right decision to look out for their neighbors? This is one of those situations and because they are our kids, I hope people are taking this seriously," Baker said.
Any child experiencing COVID-19 symptoms at school will immediately be isolated and picked up "in a timely fashion," according to the school system.
If a student or staff member tests positive for COVID-19, they will not be allowed back in school until at least 10 days have passed since initial symptoms, they are 48 hours fever-free and respiratory symptoms have improved. A written note from a licensed health care provider is required upon return; employees need additional approval from the Chesterfield County Employee Medical Center.
The school district will notify all employees and families if there is a positive case in a school or school bus, but the name of the infected individual will not be shared.
Since the start of school, Sept. 8, there have been 24 confirmed cases among school employees. The first student case, at Watkins Elementary, was reported Thursday.