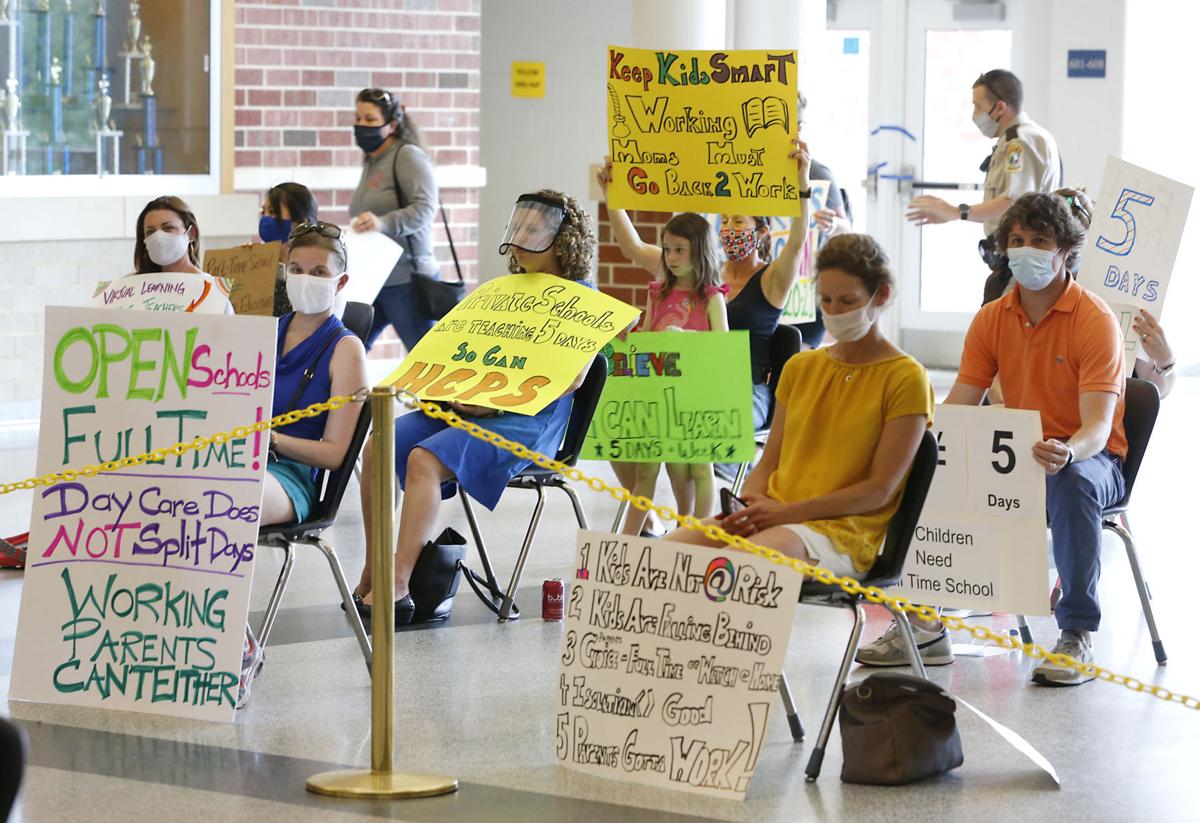 On Thursday, the Henrico County School Board is slated to weigh expanding in-person learning for up to 50,000 students — a decision that comes amid tears, frustration and optimism from families and teachers with competing hopes.
Some are begging the School Board to think about physical safety. Others want the option of in-person instruction.
"When I get COVID, not if, but when, who is going to care for me? I can't quit. I love my job, but I also can't quit," said Dana Franson, a county teacher whose father has a heart condition, during a Tuesday night listening session with School Board members Kristi Kinsella and Marcie Shea.
"Every time we get close to this choice, I lose sleep. I'm not going to give up my job that I worked hard for and got three degrees for; this is my dream job," Franson continued. "Parents, I'm begging you to take us into consideration."
The School Board in July voted for virtual learning to prevent the spread of COVID-19. Many welcomed the decision. As time has passed, some parents are reporting that their children have become anxious and depressed due to the virtual school year.
Dr. Danny Avula, who leads the Richmond and Henrico Health Districts and serves on the health committee that will make a recommendation to the board, said those parents are telling the truth.
"I do think that, in terms of social-emotional health, in terms of academic gains for the student population … that cost outweighs the potential risk of getting COVID," Avula said in an interview Wednesday. "It's obviously not a discussion just about the students," he added.
Cases in central Virginia are ticking up, according to data that has been presented to the School Board every two weeks from the Virginia Department of Health. On Wednesday, there were 52 new cases of COVID-19 reported in Henrico, and the seven-day average for new cases is 32. There have been more than 200 deaths related to the coronavirus in the county to date, according to state data.
James Lincoln, a teacher at Varina High School, said at the meeting Tuesday that although virtual learning was wearing on everyone, pushing to return for the second nine weeks of school would not be worth the risk.
"We're not going to gain anything instructionally by going back [then]," he said.
In early October, Superintendent Amy Cashwell's administration sent surveys to families and employees to gauge their interest in returning to school buildings. For all three models, decisions among families seem split, with about half of the 34,389 household respondents saying their children will return and half planning to keep their children home.
While 75% of employees said they would be willing to return to work if HCPS reopened buildings, 55% said they would also consider requesting some form of accommodation or leave, or resigning. Workers were allowed to select more than one box.
Avula said he thinks teachers should have a choice.
"My advice when I talk to teachers on a regular basis ... if you're in a high-risk category, I would say it's not worth a gamble," he said. "We can't create a zero-risk proposition."
Chesterfield and Hanover counties are allowing in-person instruction. If Henrico goes back to school in November, which will mark the second nine weeks, Richmond Public Schools will be the only district in the region that has remained virtual. The Richmond School Board has made clear that RPS will not be returning until at least 2021.