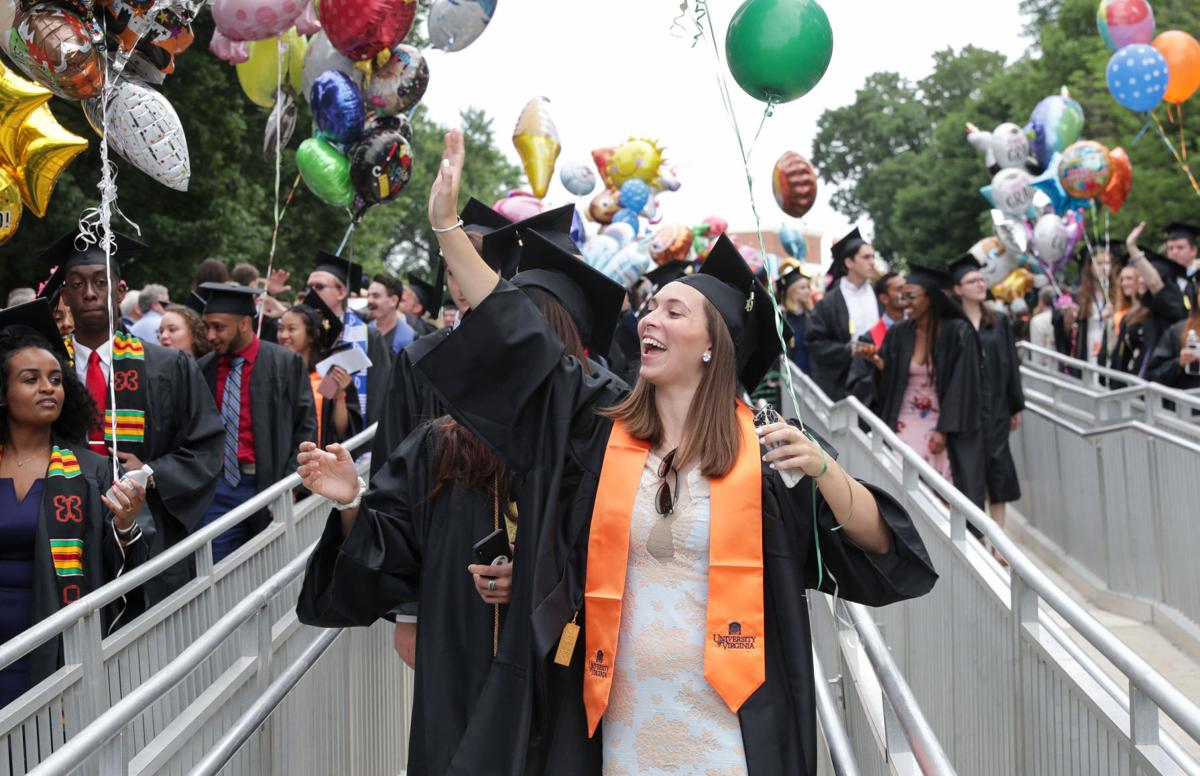 Universities to host in-person graduations
The University of Richmond will host four in-person graduation ceremonies next month.
The university will host separate events for Robins School of Business graduate students, School of Professional & Continuing Studies students, law school graduates and undergraduate students.
Each graduate can invite two guests, and ceremonies will be streamed online. The undergraduate ceremony will be held Sunday, May 9 at Robins Stadium.
The University of Virginia will host in-person ceremonies for both the Classes of 2020 and 2021 next month. Both classes will be able to walk down the Lawn, a university tradition. Graduates from 2021 will receive their diplomas at Scott Stadium between May 21-23 in five different ceremonies. Each student can invite two guests for the Scott Stadium portion of the ceremony.
The College of William & Mary will hold six in-person ceremonies during three days separated by major and school at Zable Stadium. The events will take place between May 21-23, and each graduate can invite up to four guests.
Virginia Tech will host 15 ceremonies at Lane Stadium between May 10-16. Students can invite up to four guests.
Event marks rewriting of state constitution
James Madison University and Norfolk State University will hold a virtual event commemorating the 50th anniversary of the 1971 rewriting of the Virginia Constitution.
The rewriting was aimed at erasing racially based barriers to voting, ending racial segregation in public schools and prohibiting governmental discrimination based on religion, race, sex or nationality.
The event hosted by JMU and Norfolk State is called "Looking back, looking forward: the 50th anniversary of the 1971 rewriting of the Virginia constitution" and will feature Dick Howard, a University of Virginia professor, and Elizabeth McClanahan, a retired Virginia Supreme Court justice, who will discuss the impact of the rewriting.
The event will be livestreamed on Facebook and YouTube.
VT's Marr receives highest faculty award
Virginia Tech professor Linsey Marr, who studies the aerosolization of viruses, has been given the university's top honor for faculty, the Ut Prosim Scholar Award.
Marr is one of a handful of aerosolization experts in the country, and she has been quoted more than 4,000 times in media reports. She was one of the first to explain how COVID-19 spread through the air and how to mitigate its spread.
As part of the award, she wins $250,000 in funding over five years for support of her research.
W&M sees increase in COVID -19 cases
William & Mary has seen an uptick in COVID-19 cases the past two weeks. There were 97 active cases among students and nine among staff as of Thursday. There have been 302 total cases this semester.
The university responded by ramping up testing, administering more than 5,000 tests last week. Its positivity rate this week was 1.9%.
UVA plans in-person instruction this fall
UVA became the latest university to announce plans to return to in-person instruction in the fall.
Freshmen will be expected to live on campus, and more normal operations will return to dining halls, housing, libraries, recreation and transportation.
The university will relax limits on gathering and travel, it said.
Virginia Commonwealth University, Virginia Tech and the University of Richmond have announced similar plans.
"These plans are based on our expectation that vaccines will be widely available by the beginning of the fall term, and the prevalence of the coronavirus will be much lower than it is today," President Jim Ryan, Provost Liz Magill and Chief Operating Officer J.J. Davis said in a statement. "In the event that the trajectory of the pandemic worsens, it may be necessary for us to revisit some of these decisions."
UVA particpates in Moderna vaccine study
UVA is participating in a study to determine the infection, viral shedding and transmission risks among college students who have received the Moderna vaccine for COVID-19.
The university hopes to enroll 600 students in the "Prevent COVID U" study, which was started by the COVID-19 Prevention Network and the Fred Hutchinson Cancer Research Center.
Half the students enrolled will receive the vaccine, and the other half will receive it four months later. Participants will complete daily questionnaires, nose swabs and submit blood samples.