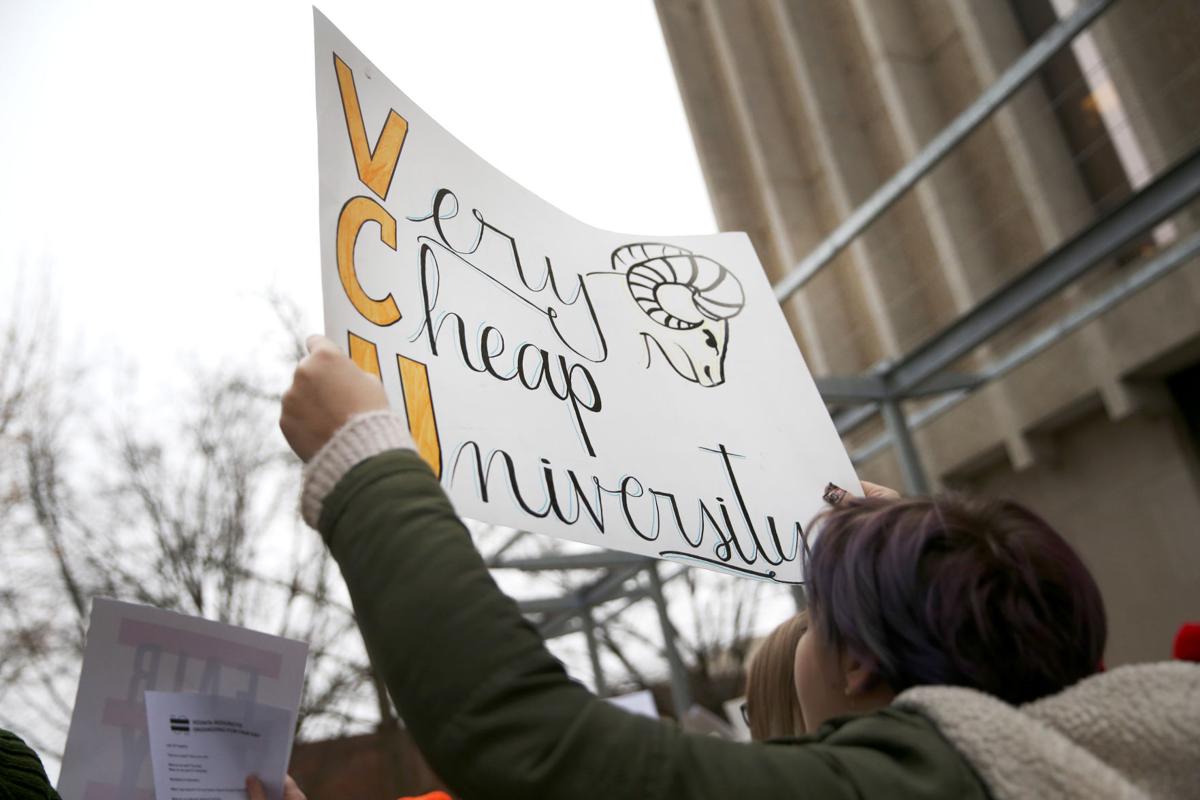 A report by the faculty senate at Virginia Commonwealth University claims some departments are over-reliant on the use of adjunct faculty and need to hire more full-time instructors.
The report says VCU uses adjuncts to cover courses "instead of hiring full-time faculty as a way to cut costs and still be able to meet student demand."
VCU announced last month that it would limit the number of classes an adjunct faculty member can teach in a semester to two. The decision came days after employees and graduate students announced the formation of the union called United Campus Workers. Adjunct professors say they often teach three classes, the maximum number allowed, but earn about $25,000 a year.
The university said it agrees that an adjunct instructor should not have to work full-time hours because an adjunct position is part time. The labor union says VCU made its decision in retaliation for employees starting a union.
"Adjuncts are just as crucial to our students' success as every other member of the teaching faculty, and when the administration puts forth a policy like this, it shows no respect for the work they do and the contributions that they make," said Jesse Goldstein, an assistant professor of sociology and a member of the union and the faculty senate.
"I was really encouraged to see such overwhelming support amongst the faculty senate and across classification in defense of our adjunct colleagues."
It's unclear if the adjunct professors who teach the maximum number of classes will be given full-time jobs. Rose Szabo, an adjunct instructor and a member of the labor union, said the university has committed to not cutting hours for adjunct instructors. A university spokesman did not respond to a request for comment.
According to the faculty report, 567 adjunct instructors taught this semester, and 86 of them taught the maximum three classes. About half of the adjunct instructors who taught the maximum number work in the arts department. Business and humanities and sciences had the next highest numbers of adjuncts teaching a full load.
"Adjunct faculty should not be treated as pseudo-full-time faculty and hired under perpetually-renewed adjunct faculty contracts," the faculty senate's report states.
The faculty senate urged the university to identify funding sources to create new full-time positions so that adjuncts aren't consistently teaching the maximum number of classes.
University of Richmond lowers COVID response
On Saturday, the University of Richmond de-escalated its COVID-19 campus status from orange to yellow for the first time. Masks will still be required indoors, but they will be required outdoors only when distancing isn't possible.
Gatherings can be held with up to 50 people indoors and 100 outdoors. Some events can take place off campus, and visitors may be invited to campus.
UR moved from the red stage, its most stringent set of requirements, to orange in March.
Students graduated earlier this month, and some summer classes began Monday.
VCU votes to extend president's contract
Virginia Commonwealth University on Friday renewed the contract of President Michael Rao for two more years, extending him through June 30, 2026. Rao will receive a 5% increase in pay, consistent with other state employees.
Rao will earn roughly $660,000 plus $260,000 in deferred compensation and $78,000 for housing allowance, the university said. VCU does not have an on-campus home for its president.
State funding and tuition payments make up 28% of Rao's compensation. The VCU Health System and VCU foundations support the rest.
"Dr. Rao has been outstanding leading our two institutions, especially during an unprecedented, challenging time," said Keith Parker, the university's rector. "The university and health system have carried out their missions and made progress on priorities such as access, affordability, student success and patient experience. The board is pleased with Dr. Rao's performance and looks forward to continued success."
Rao heads both VCU and the VCU Health System.
VCU considers making vaccines mandatory
Virginia Commonwealth University said it will make a decision in the coming weeks about requiring vaccines for the fall. On Friday, the university's board of visitors voted to authorize President Michael Rao to make the final call on a vaccine requirement.
VCU administration will consider the guidance of health and safety experts and seek feedback from students, faculty and staff before making a decision, a university spokesman said.