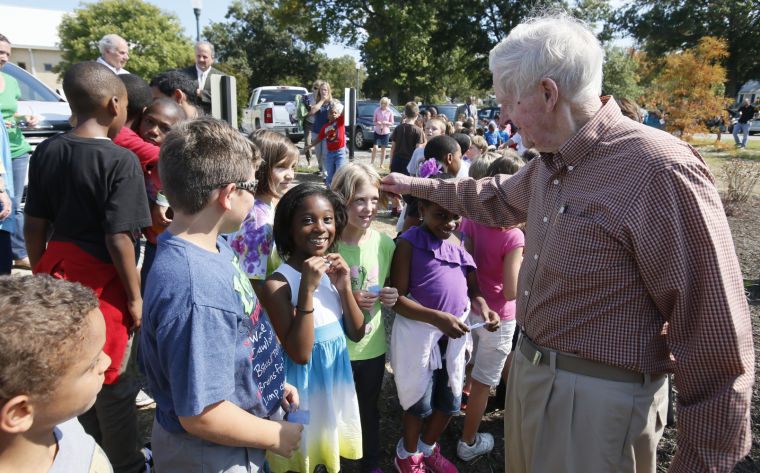 A spry Linwood Holton tried pulling off mock shock, but he was smiling too wide for it to work.
"No!" the former governor said after the third-grade choir from his namesake elementary school sang "Happy Birthday" to him Wednesday.
When someone asked if the kids knew how old Holton is, they shouted 90.
"He can't be standing up if he's 90 years old," said Holton, who turned 90 in late September.
But Holton stood all afternoon as the North Richmond school feted him and unveiled its latest environmental wonder — a rain garden in the middle of the front parking lot.
The garden will help clean water that runs off the school roof, the parking lot and about an acre of land at the corner of Laburnum Avenue and Hermitage Road. Set in the middle of a circular asphalt parking lot, it takes the place of what had been a grass-covered drain field that easily flooded.
"Improving our environment is not the job of just one individual," said Ann Jennings, the Virginia director of the Chesapeake Bay Foundation. "It's really going to take all of us working together as a team."
Her team was stocked Wednesday, with other members of the foundation and a number of other local and state environmental groups on hand to help the third-graders dig in and finish the garden.
When the crowds clear, the front rain garden is the responsibility of Ryan Owenby's third-grade class.
"It's something we've been working on," he said as the students were digging holes to plant flowers. "It ties into what we're doing in class."
Other classes at the school work on a second, smaller rain garden behind the school. There's also a butterfly garden, an outdoor classroom with a living roof, grade level-specific growing areas and several strands of fruit trees that have been planted in recent years.
"This school is just an amazing place," said Principal David Hudson. "The parents and teachers here really make it happen. It's easy to say 'yes' when you have so many people willing to help."
The help at Holton was aimed at improving water quality in a wider area. The school sits atop an underground branch of the Upham Brook, a waterway that winds through nearby Bryan Park and stretches from the West End near St. Christopher's School north and west toward the Chickahominy River.
The Chickahominy feeds into the James River, which flows into the Chesapeake Bay, making the Holton project part of a wider multistate effort focused on water quality in the bay.
"We've got to make sure what goes down that drain is as clean as can be," said Ann Jurczyk, the Virginia outreach and advocacy manager for the Chesapeake Bay Foundation.