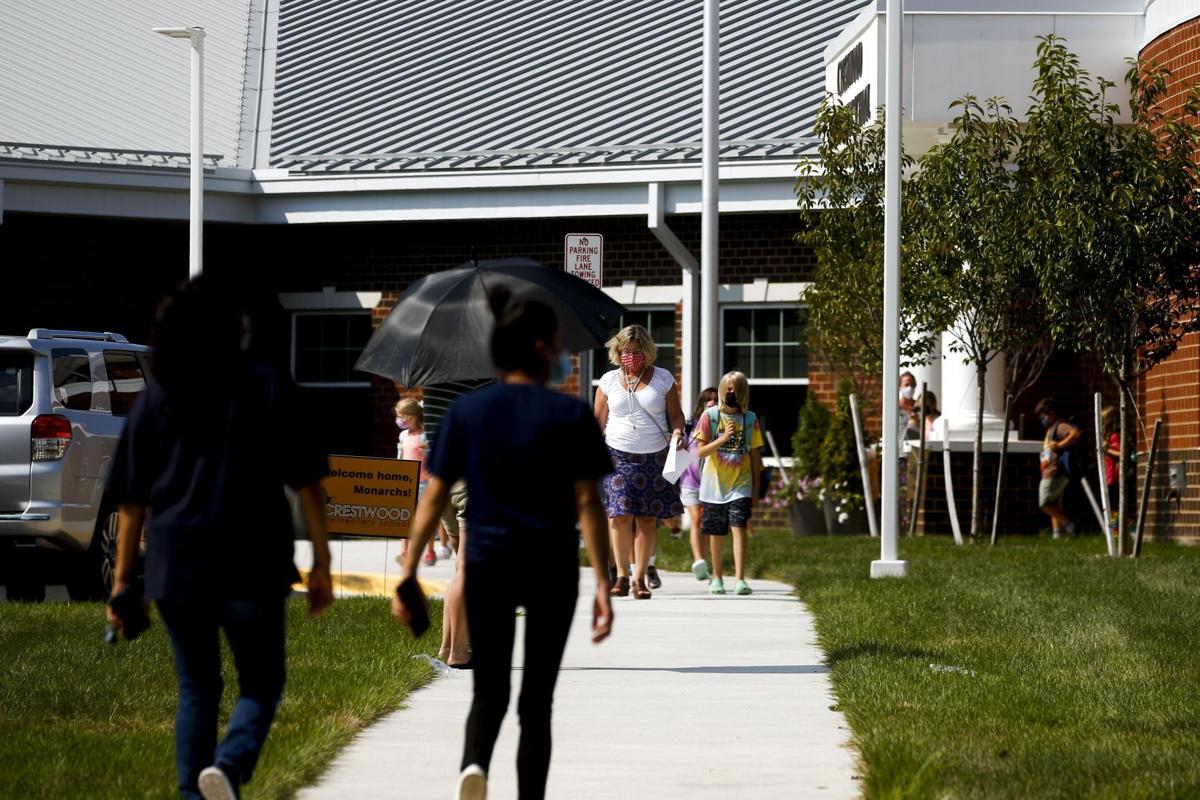 Chesterfield County Public Schools had 2,231 students quarantined on Monday, according to the district's daily coronavirus dashboard.
The majority of children in quarantine — 1,250 — are in elementary school or prekindergarten, grades where most students aren't eligible to be vaccinated for COVID-19. Middle schools had 501 quarantined students and high schools had 480.
At the high school level, Thomas Dale High reported 252 students in quarantine on Monday, the most out of all Chesterfield schools. Falling Creek Middle reported the highest number of middle school student quarantines at 100. And the 122 student cases at Winterpock Elementary were the most among elementary schools on Monday. Chesterfield began publishing student quarantine numbers by school on Monday.
"The information reported for each day includes the students who are coded in the school's attendance system that day as quarantined," said Shawn Smith, spokesman for the school division of about 60,000 students. "This includes those who are in quarantine because they tested positive for COVID-19 as well as those who are in quarantine due to an exposure, whether it occurred in school or elsewhere."
There were more than 250 children hospitalized for COVID last week in Virginia, the highest figure reported in federal data that goes back to July 2020.
There are two quarantine routes for Chesterfield students who are considered close contacts. Fully vaccinated students who are close contacts but don't have symptoms do not have to quarantine. Unvaccinated students who are close contacts must remain out of school for 14 days.
For households with multiple Chesterfield students, only the exposed child is required to quarantine. If the exposed child develops symptoms, then all children in the house have to quarantine.
Students who test positive for COVID cannot return to Chesterfield schools until 10 days have passed since they first showed symptoms, their symptoms have improved and they are free of fever for 24 hours without medication.
Quarantined students, or any students with an extended absence, are able to access school assignments and communicate with teachers through Canvas, an online learning management system, Smith said. At this time, in-person learning is not converting to virtual learning or live online classes with teachers.
Of the district's 679 recorded cases as of 1 p.m. Tuesday, 590 cases were reported among students, with the remaining 89 split among staff, transportation, central office and virtual learning staff. The nearly 700-case count starts from when the district reopened on Aug. 23. In the past week, Chesterfield has reported 294 students and 35 teachers tested positive for the virus.
Hanover County Public Schools, which has had seven students test positive as of Tuesday afternoon, does not have quarantine numbers readily available, according to a schools spokesperson.
"The total number of students quarantined is not readily available, as this would require substantial work to compile, reconcile, and produce an accurate count," said schools spokesman Chris Whitley.
According to the Henrico County Public Schools COVID dashboard, as of Tuesday there are 108 cases among students for the week and no staff cases. It's unclear when the week time frame begins. A division spokesperson said he was working to find quarantine figures on Tuesday but did not have an immediate answer.
Richmond Public Schools, which opened last Wednesday for the school year, does not have quarantine numbers, according to a school official. RPS has reported 102 student cases and 14 staff member cases since schools opened last week.
In August, shortly after the beginning of the school year for the Patrick Henry School of Science and Arts, all 53 fourth-graders were placed into quarantine after four positive COVID-19 tests. The charter school is part of Richmond Public Schools but has its own board of directors.
All Virginia school districts are required to provide five days a week of in-person learning this year, a result of a new law adopted by state lawmakers. Under the law, schools are not allowed to close unless there is a severe outbreak of the virus.
According to joint guidance from the Virginia Department of Health and the Virginia Department of Education, temporary school closures should be necessary only if COVID-19 cases or outbreaks need to be brought under control within a school.
Twitter: @jessmnocera
Staff writers Kenya Hunter and John Ramsey contributed to this report.