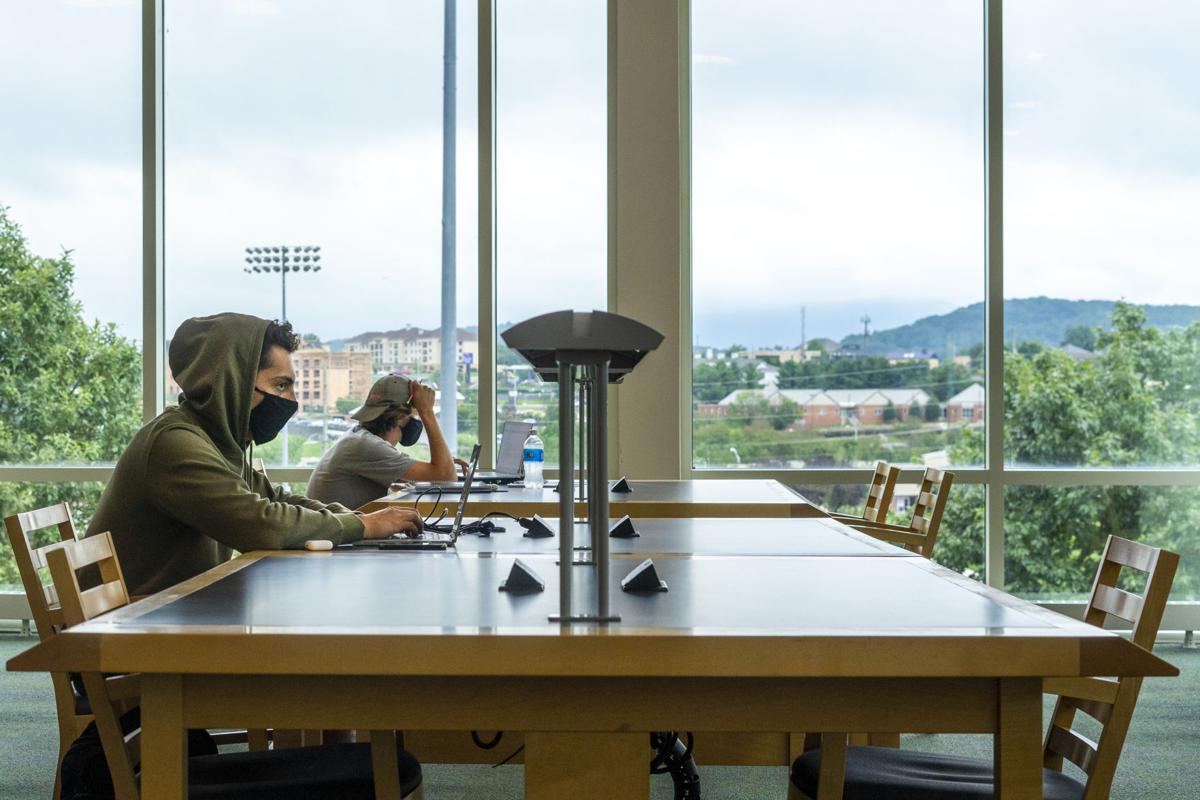 After reporting more than 500 active coronavirus cases less than a week after in-person classes started, James Madison University on Tuesday announced it would send students home and shift to primarily online courses starting Monday.
In a message posted to the school's website Tuesday evening, university President Jonathan R. Alger wrote that the decision came after consultation with the Virginia Department of Health. Students are being asked to leave campus by Monday.
"What we have observed is a fairly steady and abrupt uptick in the positive cases of COVID-19 in our student body," university spokeswoman Caitlyn Read said in an interview Tuesday evening. "We saw numbers come in from over this past weekend, particularly a high number of self-reports. And so that was absolutely one factor we looked at.
"The other factor we looked at was we were becoming very concerned with our ability to offer isolation and quarantine space to our on-campus residents who needed it."
Virginia colleges had reported more than 1,400 coronavirus cases as of Tuesday. The 528 at JMU are the most in the state.
The Harrisonburg school becomes the first in the state to retreat from in-person classes after trying them to start the semester, though classes are scheduled to be held in person through the end of the week unless students hear otherwise from a professor, according to Alger's message.
Some licensure, graduate and upper-level coursework at JMU will continue in person through the end of the month. Read said such hybrid course formats are the exception, but the overwhelming majority of undergraduate instruction will be online.
University officials will continue to monitor trends and developments and announce by Sept. 25 whether in-person instruction may resume on or after Oct. 5.
Students staying in on-campus housing — more than 6,000 — need to move out by Monday unless they have a compelling reason to stay. Read said she expects many students living off campus to stay in town.
The number of total positive cases at JMU skyrocketed after students started to move into dorms on Aug. 21. Classes began Aug. 26. The day before classes began, the university released a publicly available COVID-19 dashboard showing 23 self-reported student cases and six faculty.
On Tuesday, a week later, the school reported 513 active cases.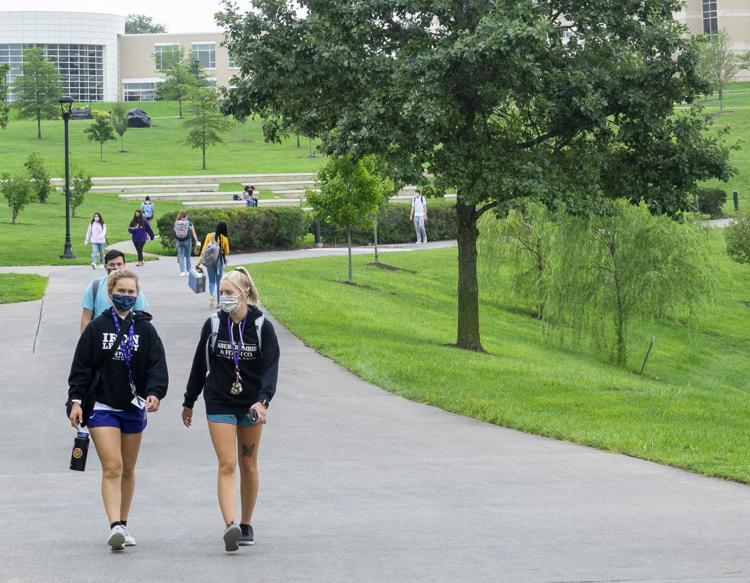 Jacob Seefried, a JMU freshman from Harrisonburg, said he's noticed since the beginning of the semester that some people take safety precautions seriously, but others don't.
"Some organizations and some groups and clubs are doing a good job at promoting social distancing and showing that you actually can have these activities and have campus life carry on, if you just change a couple things," Seefried said. "I don't know any specifics, but I've heard about other activities that pretty much don't care and they've all been getting together and not distancing at all. Things like that."
The school, which has an enrollment of 19,943 undergraduate students, reported Monday that 64 of its 143 isolation beds were being used. A daily case count shows that three of the highest daily positive student test totals through the university's health center were recorded since Friday — 37 on Friday, 36 on Saturday and 30 on Sunday.
The school on Tuesday reported its highest daily rise in self-reported student cases: 120.
JMU did not require students to be screened for COVID-19 before returning to campus like some schools in the state.
The university found many of the cases were contracted through socializing, according to Read.
"Through social gatherings," Read said. "So college student behavior where they're hanging out with their friends. And the overwhelming majority is at off-campus events."
Seefried, in the early morning hours Tuesday, posted a video to Twitter of his Problem Solving Approaches in Science and Technology class, a general education course where so many people were packed into a ballroom that there weren't enough seats and about a dozen students were huddled on the ground in the back.
He had the class again Tuesday afternoon, but this time online.
"I think and a lot of other people, after getting to that class for the first time, I think we're all just deciding to do it from online instead," Seefried said.
Seefried, a computer science and business double major, had a mix of hybrid classes like that, and online courses, out of the four he's currently enrolled in.
Outside of class, Seefried observed challenges in dining halls, where distancing was erased while students waited in lines.
"And there's nothing being enforced," he said. "And there's just a huge amount of people inside a small space at once."
Over the next few weeks, as it evaluates the next move, JMU will examine the prevalence of COVID-19 in the surrounding community, including Harrisonburg and Rockingham County. It will also look at increasing isolation space and the university's own testing capabilities.
Gov. Ralph Northam was asked about the rise in cases at colleges and universities in the state at his briefing Tuesday before JMU's announcement and said it's something that's being watched "very closely."
"We expect our colleges and universities to continue to follow their plans, and also to work with the local health districts," Northam said. "And as long as we see that continuing to happen, then I think we can proceed. But if it's not ... I certainly have the opportunity to intervene and make changes."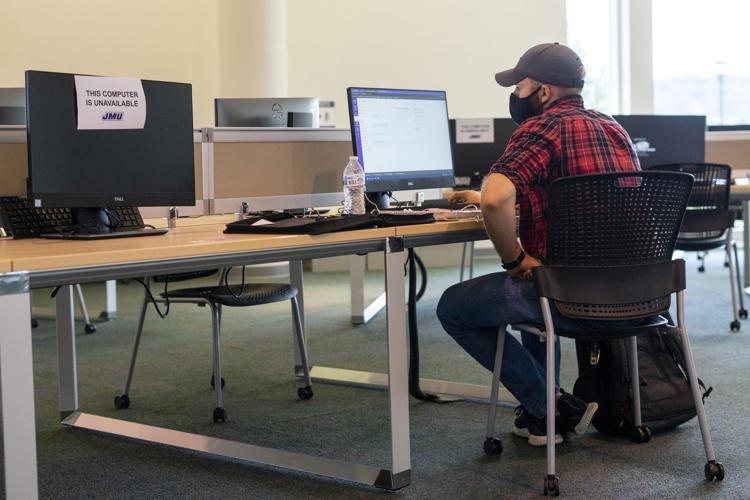 Across Virginia, the extent of coronavirus outbreaks has varied at college campuses. Some schools have seen numbers climb quickly, though none as high as at James Madison: The University of Virginia, Virginia Tech and Virginia Commonwealth University have between 100 and 200 cases.
Others have seen their totals remain relatively low. The College of William & Mary has experienced just 15 students and fewer than 10 employees and staff test positive.
These numbers represent small percentages of overall student enrollment. Students are young and often asymptomatic, and hospitalization rates are often low. So just how worrisome is it when 100 or 500 coronavirus cases spring up on a college campus?
The answer, said Lisa M. Lee, a professor of public health at Virginia Tech who specializes in epidemiology and bioethics, depends on a university's capacity to keep students in quarantine or isolation and the resources the school has to handle an outbreak.
"Five hundred cases at one university might be within the scope of what they can handle, and it might overwhelm another university," Lee said.
By Tuesday, JMU students had occupied 45% of 143 isolation beds available. Colleges often use the term "isolation" to refer to students who tested positive and are waiting out their illness and "quarantine" to refer to students exposed to the virus and staying home. That was another factor at JMU.
"As a result of a rapid increase in the number of positive cases of COVID-19 in our student population in a short period of time, the university is concerned about capacity in the number of isolation and quarantine spaces we can provide," Alger said in his announcement. "Protecting the health of our Harrisonburg and Rockingham County community — including students, faculty, staff — is our top priority, and we need to act swiftly to stop the spread as best we can."
Lee said Virginia Tech has filled 24% of its isolation space, so the school currently does not have cause to worry. VCU has used 21% of 160 beds, and UVA, which hasn't resumed in-person classes yet, reports it's not using any of its isolation beds.
VCU created more isolation capacity by adding beds at the Honors College dorm, raising its total from 50 to 160.
Every university spent the summer creating plans to handle outbreaks, Lee said. If a university sees 100 cases pop up from a particular event, and if the university can quickly identify the cases, contact the participants and quarantine the necessary individuals, 100 positive cases might not represent a large hurdle.
The positive tests that have occurred so far come as no big surprise, generally speaking, she said. Colleges spent the whole summer making plans for handling the coronavirus because positive cases were inevitable. It's going to happen when distant populations are brought together in one place, Lee said.
To some extent, Lee said, a university's total case count in the first two weeks is luck of the draw. In some of those cases, students bring the virus to campus with them.
But after two weeks, after the initial incubation period is over, university communities then face a turning point. Will counts plateau, or will they continue to increase? This is the bigger test of how well a university's plan for handling positive cases will hold up, Lee said.
But JMU was overwhelmed before reaching two weeks.