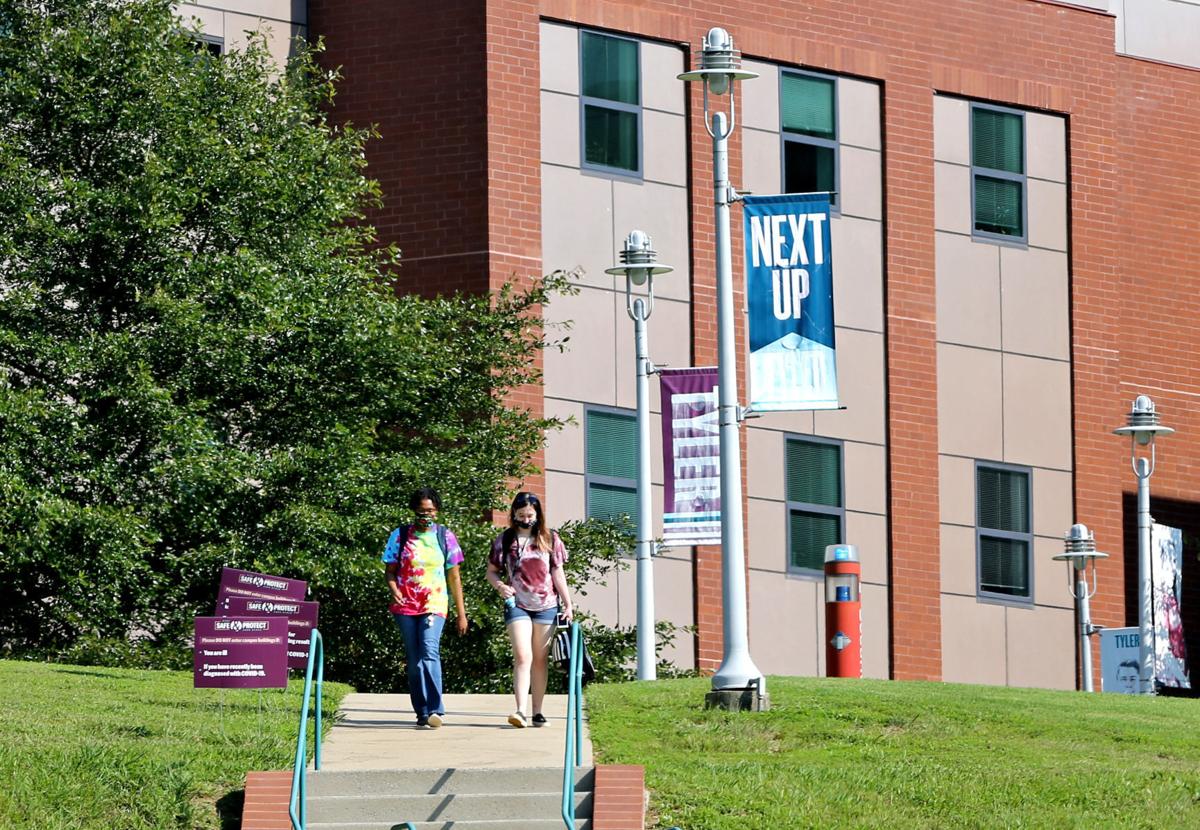 John Tyler Community College plans to become Brightpoint Community College because the former U.S. president the school was named for was also a slaveowner who joined the Confederacy.
The proposal comes a year after the State Board for Community Colleges asked the commonwealth's schools to reassess the appropriateness of their school names. The board will vote on the name change next week.
In November, a John Tyler task force made up of students, staff and others at the Chesterfield County college voted unanimously to change the school's name. Tyler, who was the 10th U.S. president, owned slaves, was elected to the Confederate Congress and buried under a Confederate flag in Richmond's Hollywood Cemetery when he died in 1862, less than a year after Virginia seceded from the union.
In May, the state board developed guidance for what kind of names the state's 23 community colleges should bear. The board called on the colleges to have names that reflect values of inclusion with special emphasis on diversity, equity and opportunity and that are relevant to the students and geography of the region. Tyler's task force also determined it would not name the college after a person.
Tyler chose the name Brightpoint because it connects to the experiences people have at the college, said school spokesperson Holly Walker.
"It reflects the uplifting and welcoming environment we strive to create for all," she said. "Brightpoint also aligns with our mission, vision, values and commitment to diversity, equity and inclusion."
The task force chose the name from a list of finalists that included Archway, Bellwether, Quest and Two Rivers. Names were submitted by students, employees, members of the community and Brand Federation, a company that consulted with the college during the renaming process. Students and members of the community were asked to share their opinions before a decision was made.
"The name is vibrant, like the people and communities we serve, our employees and the work we do," Tyler President Ted Raspiller wrote in a letter to Virginia Community College System Chancellor Glenn DuBois.
The college intends to complete its name change by the end of 2022.
Two other colleges also opted to change their names: Lord Fairfax in Warrenton and Thomas Nelson in Williamsburg. Lord Fairfax has proposed changing its name to Laurel Ridge, a nod to a flower native to the region, the symbolism of the word "laurel" and a reference to the Blue Ridge Mountains. Thomas Nelson says it will propose a new name by September.
Two other community colleges initially chose not to change their names, but were asked to reconsider: Patrick Henry in Martinsville and Dabney S. Lancaster in Clifton Forge. Patrick Henry wants to add a hyphen to its name, calling itself Patrick-Henry, a reference to the two counties it serves, Patrick County and Henry County. The college was never named for the famed Virginia colonist, said Janet Copenhaver, chair of the college's board. But Patrick County and Henry County were named for the former Virginia governor and slaveholder.
Patrick Henry Community College also suggested the name Patrick & Henry Community College as an alternative.
"There is far greater representation regarding Patrick Henry the man in Richmond, VA than is present at Patrick Henry Community College or the communities served," Copenhaver wrote.
The college also suggested two other names in the event that its request is denied: Patriot Heights and Patriot Hills. Both names reflect the geography and allow the school to keep its popular abbreviation, PHCC.
Lancaster said it will propose a new name later.
The John Tyler task force also recommended changing the names of campus buildings named for former Virginia politicians Mills E. Godwin and Lloyd C. Bird. Walker said those renamings will be addressed after the college's renaming is finished.
The name Brightpoint is part of a growing trend of naming schools not after a person or place but after a theme, said Kelly O'Keefe, a former professor at the Virginia Commonwealth University Brandcenter who is now head of Brand Federation. Brightpoint follows other thematic names such as Liberty University and Full Sail University in Florida.
"We're seeing more that are named metaphorically almost," O'Keefe said.
Most schools are named for places or people. Places tend to work fine, O'Keefe said, but people can be problematic, because of their flaws. Picking a thematic name works well, even if it isn't well-received at first. A large chunk of society doesn't like any name change initially but accepts it eventually. Names like Verizon, Nike and Amazon sounded strange when conceived and had nothing to do with their products.
Thematic names often "stand the test of time even if they tend to be a little odd when they're first introduced," O'Keefe said.